Recipe: Coriander Carrot Ginger Soup
April 16th, 2018
Like an herb garden, in soup form
---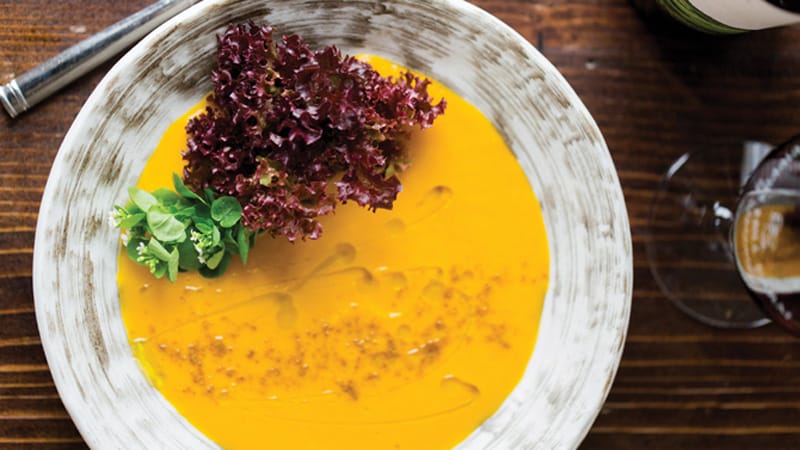 Pippin Hill Farm & Vineyards is one of those picturesque, oasis-in-the-mountains kind of place that you wouldn't believe even existed in Virginia until you saw it for yourself. They're known for their fresh ingredients, succulents wines, and farm-to-table dishes.
So it only makes sense that this fresh, savory soup would come from their own executive chef, Ian Rynecki.
Serves 8-10 people
1 teaspoon coriander*, toasted and ground
Drizzle of parsley oil or crème fraîche for garnish
---
Heat the olive oil in a medium stockpot. Add the leek, onion, garlic and ginger. Allow vegetable mixture to cook for 5-10 minutes over medium heat until vegetables are softened.
Add cumin, coriander, fenugreek and harissa paste to the softened vegetables. Cook for two minutes before adding the carrots and vegetable stock.
Simmer for 15-20 minutes, until carrots are soft and tender. Transfer soup over to a blender (alternatively you can use an immersion blender) in four separate batches. While soup is blending, slowly drizzle in olive oil and sherry vinegar until a smooth texture is reached. Finish by straining soup through a coarse mesh strainer.
Serve hot with a drizzle of parsley oil or crème fraîche.
*Preferred preparation for spices: purchase the whole spice then toast gently in a dry sauté pan. Allow the spice to cool, then grind.
---
Recipe courtesy of Pippin Hill Farm & Vineyards.