Remembering John Lennon
| December 7th, 2018
---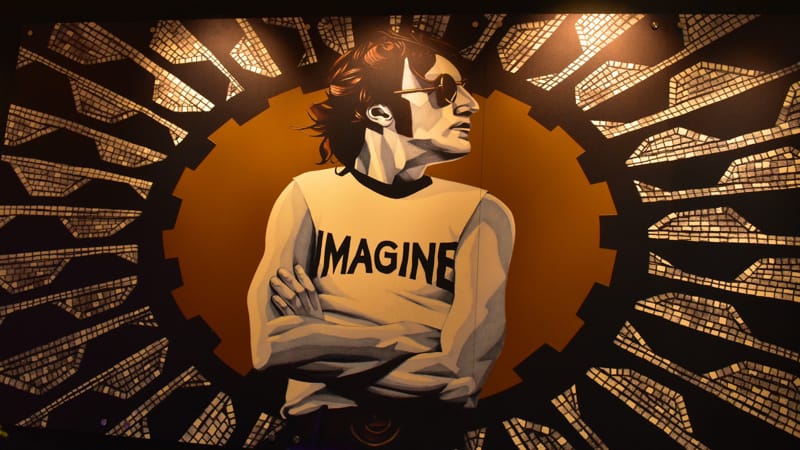 December 8, 1980, the day that John Lennon was assassinated, is a day that lives in infamy for millions of baby boomers who grew up with the Beatles as a constant presence in their lives.
Fans continue to mourn this man they never met, a man who aspired only to play rock and roll but who, between 1964 and 1970, unwittingly became the de facto leader of a global youth movement; a political agent. Lennon inspired a generation to successfully challenge the uptight conformity and perceived hypocrisies of the World War II generation.
When America met the Beatles – seventy-nine days after the assassination of JFK – young people across a fifteen-year age span saw immediately that these four gender-fluid young men represented a new New Frontier. Amused older observers dismissed the Beatles as a passing fad, but boomers were enthralled – not only by the band's sound and appearance, but by their casual rebelliousness and promise of fun and freedom. Early Beatles factoids told us that John was the leader, and that rang true.
With "I'm A Loser" in the fall of '64 and "Help!" the following summer, John expressed a complex, mature vulnerability not heard in pop lyrics. Young men and women related to these pop confessionals and used them, along with other increasingly sophisticated Beatle lyrics, to make sense of their own lives.
For six years, the Beatles engaged millions of children and adolescents with a nonstop flow of sounds, images, and ideas; a constant flow of new. Indeed, growing up with the Beatles was like following a dazzling alternative curriculum, more interesting and more useful for daily life than than what boomers were learning in school.
---
Like nostalgia? Browse celebrity nostalgia on our website.
Or sign up for our monthly Nostalgia e-newsletter or other e-newsletters tailored for boomers!
---
Fans and critics alike began listening more closely in December '65 with Rubber Soul, the album that elevated the Beatles from pop stars to artists. Fans' trust and reliance on the Beatles as a source of something much more than entertainment was deepening. On this album, on "The Word," Lennon claims he is "here to show everybody the light" and exhorts millions of young listeners to embrace love as a guiding principle in their lives – something he would do repeatedly over the years.
John challenged fans again two months later in "Nowhere Man," a political song with a call to action. Fans heard the Beatles urging them to "pay attention," "be engaged in the world," and "have opinions." Three months later, in "Rain," Lennon rejects conformity as he demonstrates and calls for critical awareness. He reframes conventional behavior – what "they" do – as foolish.
---
'Top of the Mountain: The Beatles at Shea Stadium 1965'
Imagine growing up with John Lennon, with his half-sister Julia Baird
---
By the summer of 1966 – after Lennon's Jesus kerfuffle and Dylan's motorcycle accident – the "voice of a generation" baton passed to the Beatles. They were now widely acknowledged, by young people and the media, as leaders of the counterculture. Lennon's disdain for intellectuals, authorities, and ideologues, combined with his intermittent self-loathing, made him uncomfortable in the role. But he was also an impassioned communicator with deeply held views, well aware of the power he wielded over a very large and very impatient generation. With Yoko's support, he found purpose in his celebrity.
John and Yoko were an auxiliary spectacle to the Beatles, challenging fans with their unique blend of conceptual art and peace activism. And though many fans disliked Yoko, or didn't appreciate the bed-ins and the "War Is Over" campaign, they were listening and watching. And they knew John – outspoken, playful, and authentic – was on their side. They were entertained, but they were also inspired by his willingness to speak up for what he believed, even when his ideas, methods, and wife were ridiculed.
With Yoko's support, John also developed a feminist consciousness – an important part of his legacy rarely talked about. In addition to feeling genuine remorse about his sometimes violent past, Lennon came to understand the foolishness of male supremacy; how it harms women in their every day lives and how all of humanity loses when half of humanity is not allowed to flourish.
Acknowledging that he used to be a "chauvinist," John was eager, as can be seen in this clip from the Dick Cavett Show in 1971, to once again show everybody the light. This time the issue is women's rights. Could John have raised the consciousness of all those men who grew up hanging on his every word?
The historically unique relationship between the Beatles and their fans defies description: Not quite like older brothers or friends, not quite like dads or uncles, and not quite like teachers or ministers. And definitely not like relationships with any pop stars before or since. And while Lennon wasn't everyone's favorite Beatle, he was the one who most often brought the weirdness and big ideas that were such a compelling and enriching part of the blend.
Fans' relationship with Lennon was new and modern, and so their reaction to his death is a new and modern kind of grief – but no less real than what one would feel for a dear friend or family member. We miss his wit and his intellect. We're sad for his wife and sons. We wonder what he would have created, and what he'd think about the twenty first century.
Lennon was larger than life during his life, and has grown even larger in death. He remains a cherished figure to the global siblinghood of Beatle fans who grew up with him, as well as to younger fans who are drawn to the Beatles music and their unlikely story. Lennon was just a guy who wanted to play rock and roll, and he was by no means a perfect human being, but he shines on as a worldwide symbol of humanity's highest aspirations.
---
Candy Leonard is a sociologist, qualitative research consultant, and the author of Beatleness: How the Beatles and Their Fans Remade the World. She has written for the Huffington Post, Next Avenue, and CultureSonar. Twitter: @BeatlenessBook  Facebook: www.facebook.com/beatleness/
---
As an Amazon Associate, Boomer Magazine earns from qualifying purchases of linked books and other products.