Revel Market and Bar
| March 30th, 2023
What's not to love?
---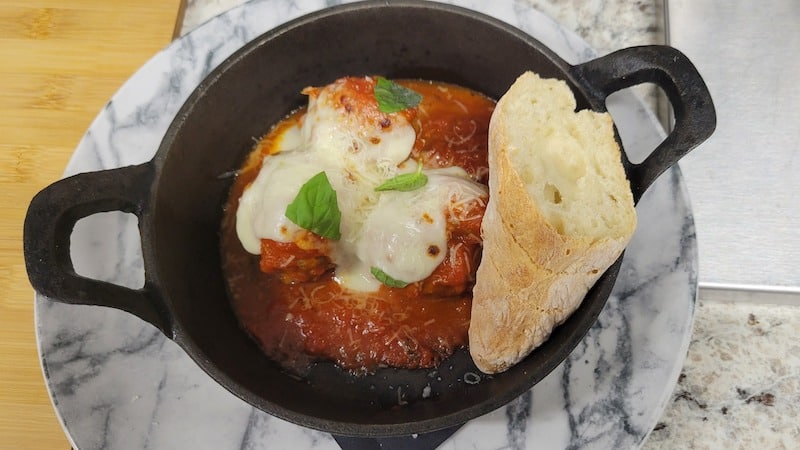 A new restaurant from experienced restaurateurs has hit Richmond, and food and travel writer Steve Cook is in love. Read his first take on Revel Market and Bar on Lakeside Avenue.
---
I've recently fallen in love and you know how exciting young love can be. You want to shout it from the rooftops. In West Side Story, Tony sang, "All the beautiful sounds of the world in a single word, Maria, Maria, Maria, Maria."
I'm singing "Revel, Revel, Revel." Yes, I do tend to gush, but Revel, my new love, is a restaurant about which it's easy to gush.
Yes, didn't I mention it? My new true love, Revel, is the name of a really excellent eatery over on Lakeside Avenue. I had often walked down that street before, but the pavement always stayed beneath my feet before. Okay, that'll be the end of my medley of Broadway love tunes.
Actually, the full name of the place is Revel Market and Bar, at 6223 Lakeside Ave. I call her Revel for short. I've been hearing about Revel for years. It was back in 2019 that Amy Cabiness, owner of Julep's New Southern Cuisine https://juleps.net on Grace Street in Downtown Richmond, announced that she and Julep's executive chef Cory Chaney were teaming up to open a place in Lakeside. Lakeside Avenue is only about a two-minute drive from my place, so I started getting excited at the idea that the people responsible for Julep's, a truly excellent dining spot, were going to be opening a restaurant in my neck of the woods.
Of course, back in 2019 we were all so innocent. We'd never heard the word Covid-19. The idea that life as we know it would come to a virtual standstill for months, yes even years, was laughable. That was back in the days when we called the little box in our cars the glove compartment rather than the mask compartment.
So Amy and Cory's Revel was put on the backburner. I'd drive up and down Lakeside looking for some signs of life at that address. And then, just weeks ago, I spotted it. Yes, there it was. There really was a Revel Market and Bar. Although I really had no idea what to expect, I did expect that it would be delicious.
I was not disappointed. I love this place. While I was expecting more of a market, I was happy to discover that Revel is more of a bar and restaurant. I was also happy to discover that the place is more of an Americanized tapas bar. I love the concept of small plates and when you combine those small plates offering a variety of well-prepared, tasty delicacies with some really very reasonable prices, what's not to love. Yes, I'm in love.
But I'm not a jealous suitor. I want you to share my love, especially at the daily Happy Hour between 3 and 6 p.m. on Tuesdays through Fridays. The huge wrap-around bar is the focal point of the dining area and yes, the Happy Hour features some excellent drink options, but let's talk about the food first. The selected appetizers on the Happy Hour menu are nothing short of amazing. On our first visit, my wife and I sampled virtually every item that menu. It's hard to tell you just what I loved the most. But let me give it a try.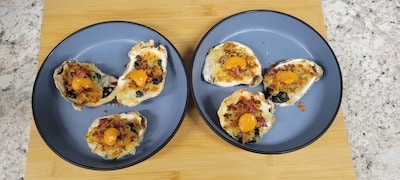 We started with the Oysters Rockefeller. At $4.50 for three, how could I resist. Here's a warning: three may not be enough. I could have gone back for several more but there were so many things on the menu that I wanted to try.
Perhaps my favorite appetizer was the beef tartare. I'm a big fan of a tasty tartare. A generous portion was only $6. However, now that I think about it, I think my favorite may have been the $4 sausage roll, featuring tasty sausages encased in the most delicious, flaky, buttery croissant. I had to go back for seconds for the sausage roll. Just sitting here thinking about it, makes me want to head back over to Revel right now.
The house-made sausage, venison, and pork meatballs did not disappoint. Well, I was slightly disappointed that Amy and Cory are not yet serving wooly mammoth meatballs, which I've been reading so much about. But I don't think even the most delicious wooly mammoth to come out of a test tube could compare with these excellent meatballs. And at $6 for three, I'm guessing the mammoth meatballs would come with a more mammoth-like price tag.
Now, as for the drinks, I'd say the Happy Hour prices on adult beverages are about as good as any bar in the region. Select cocktails start at $4. That's the same price you'll pay for an excellent choice of wines by the glass. I enjoyed a nice Tempranilla, which is not a typical option on most Happy Hour wine lists. Beers are $3 and $4, and that includes some excellent craft beers, too.
There is a small market in the front of the house offering wines and prepared foods. I think it's high time Lakesiders had a place like Revel in which to revel. On both of my visits, the parking lot has been packed. There is some on-street parking on the other side of Lakeside. I'm not sure why the chicken crossed the road, but I'm willing to cross Lakeside Avenue to get to Revel. But, really, young love can make you do strange things.
Revel Market and Bar 
Facebook.com/RevelRVA2022
6223 Lakeside Ave.
Richmond, Virginia
---
Steve Cook has lived in the Richmond area for most of his life, working as a writer and editor and in marketing and radio. He loves to keep abreast of the local restaurant scene and researches the subject voraciously. "I used to think I was a foodie," he says, "but then I realized I just like to eat a lot." He once co-hosted a local Richmond restaurant radio program with BOOMER editor Annie Tobey. Steve completed his first novel in 2017 and says he hopes to read another one this year.