Roasted Corn and Tomato Tostadas
| June 15th, 2022
A delicious lunch and snack provides satisfaction and inspiration
---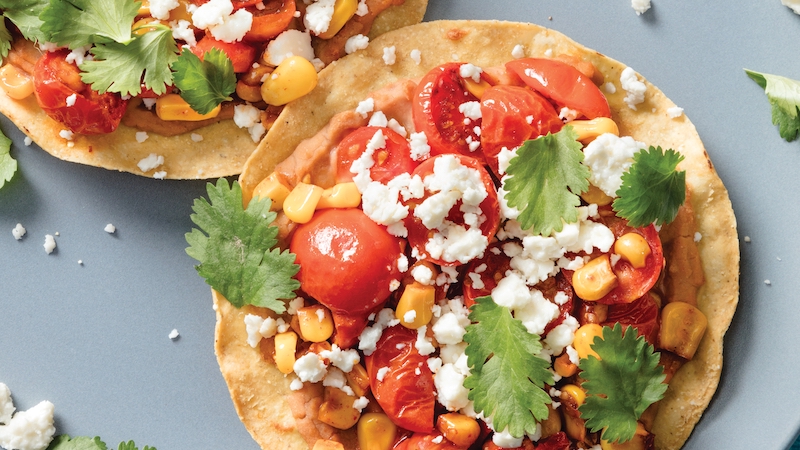 Crispy tostadas topped with beans and veggies make a great lunch or a snack you can share! Start with this recipe for Roasted Corn and Tomato Tostadas from America's Test Kitchen, then experiment with your own favorite toppings.
---
Tostadas are crispy, flat corn tortillas sold in the supermarket. They are a great base for lots of quick meals and snacks. In this recipe, they are topped with a flavorful combination of roasted tomatoes and corn plus refried beans. A sprinkling of queso fresco (a crumbly, mild Mexican cheese) adds creaminess and a slight tang, and cilantro brings freshness.
Roasted Corn and Tomato Tostadas
Serves 2 to 4
Ingredients:
2 1/2 cups cherry tomatoes, cut in half
1/2 cup frozen corn
1 tablespoon plus 1 teaspoon vegetable oil, measured separately
1/2 teaspoon chili powder (optional)
1/4 teaspoon salt
1/2 cup refried beans
4 (6-inch) corn tostadas
1/2 cup crumbled queso fresco or feta cheese
1/4 cup fresh cilantro leaves
Directions:
Adjust oven rack to lower-middle position and heat oven to 400 degrees.
In a medium bowl, stir tomatoes, corn, 1 tablespoon oil, chili powder (if using), and salt until well combined.
Spread tomato mixture into a 13-by-9-inch baking dish. Bake until tomatoes are soft, 20 to 25 minutes.
Meanwhile, in a small bowl, stir refried beans and remaining 1 teaspoon oil until smooth. Use the back of a small spoon to spread beans evenly over tostadas. Place tostadas on a rimmed baking sheet.
Transfer the baking dish to a cooling rack. Use a large spoon to carefully spoon tomato mixture evenly over tostadas. Bake tostadas until the beans are warm, about 5 minutes.
Transfer the baking sheet to a cooling rack. Sprinkle with cheese and cilantro. Use a spatula to carefully transfer tostadas to plates. Serve.
---
Turkey Picadillo with Ancho Chiles and Bell Peppers
Pinto Beans Chilaquiles for a fun fiesta meal
---
For 25 years, home cooks have relied on America's Test Kitchen for rigorously tested recipes developed by professional test cooks and vetted by 60,000 at-home recipe testers. The family of brands – which includes Cook's Illustrated, Cook's Country, and America's Test Kitchen Kids – offers reliable recipes for cooks of all ages and skill levels. See more online at www.americastestkitchen.com/TCA.
© 2022 America's Test Kitchen. Distributed by Tribune Content Agency, LLC.