Richmond Joins National Trend
October 19th, 2017
RVA Bike Share marks another local step encouraging active transportation
---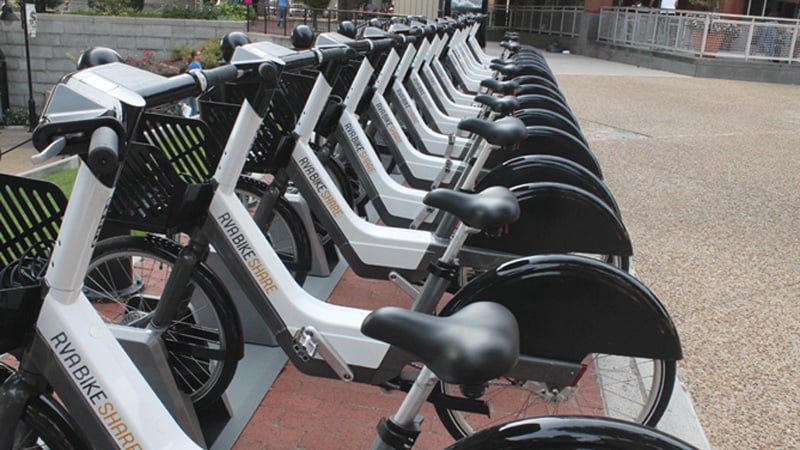 If you've been in downtown Richmond recently, you may have noticed the sudden smattering of bike stations or the distinctive white bikes being pedaled around town. It's all thanks to RVA Bike Share, which launched officially on Aug. 29.
Designed as an inexpensive and convenient way for users to navigate the city – for business or for pleasure – there are currently 220 bikes dispersed among 16 stations throughout the city. Bikes are basic and accessible, with eight speeds, lights on both ends and with a basket in the front. Starting northwest in Scott's Addition, stations can be found intermittently around the Fan, VCU, downtown and all the way to Church Hill. The RVA Bike Share website and the app display a map marking each station and how many bikes are available at the time.
To use the program, simply find a station and select a bike. Unlock it with a membership pass or the RVA Bike Share app … then go! When you're done, find the nearest docking station and return your ride.
A pay-as-you-go pass is $1.75 to unlock a bike and ride for 45 minutes, plus $3 for every 30 minutes after that. Riders can also register for an annual or monthly pass or for a day pass or weekly pass.
The bike share creates a cost-friendly, environment-friendly and heart-friendly vessel for residents and tourists to get to a destination or to simply enjoy our city.