Savor Spirits from Virginia Distilleries
| September 28th, 2023
Explore a variety of fine liquors, including from these three Richmond distilleries
---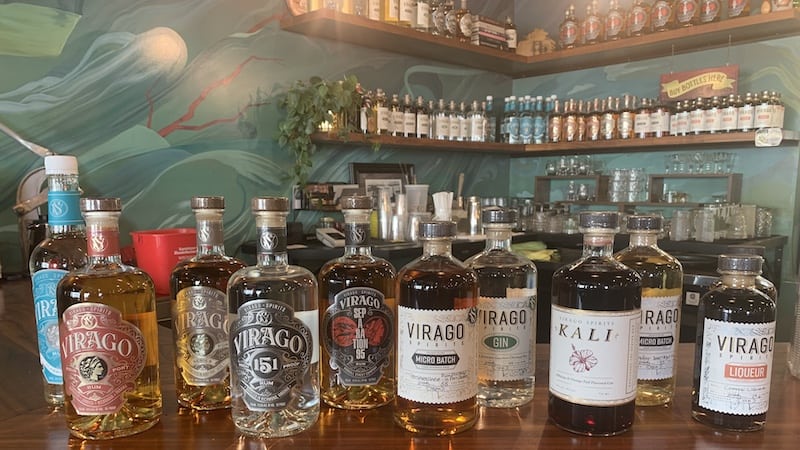 As part of a proud 400-year distilling history, 21st-century Virginia distilleries have joined the wave of independent craft beverages. Today, more than 70 licensed distilleries are operating across the commonwealth.
Distilleries across the Commonwealth of Virginia produce a diversity of spirits. Consumers can enjoy an abundance of whiskey – including rye, single malt, bourbon, and moonshine. They can please their palates with gin, rum, brandy, liqueurs, aquavit, and absinthe. They can even pour a sprinkling of tasty creative and historic liquors as well as ready-to-drink canned cocktails. Many quality Virginia spirits are available in the distillery tasting rooms and at Virginia ABC stores.
Thanks to Virginia's agriculture industry, many distilled products are made with local ingredients, from botanicals in gin, to fruit in brandy and flavored spirits, to corn, barley, wheat, and rye in whiskey. Virginia's climate brings out the best in barrel-aged spirits. The humidity and the daily and seasonal temperature fluctuations encourage the wood to expand, contract, and "breathe," pulling the liquor into the wood and squeezing it back out.
As part of a growing industry, Virginia distilleries receive support from the Virginia Spirits Board (VSB), which fosters development of the industry by expanding spirits research, increasing education, and promoting the growing of grains and the production of spirits in the Commonwealth.
The Virginia Spirits Board Marketing Office, established in 2023, works to elevate the profile and awareness of Virginia-made spirits through its website and social media.
Consumers can also sign up for the mobile Virginia Spirits Passport. Earn points for visiting distilleries and redeem the points for local prizes: from swag to shrubs, bar tools, and chances to win weekend getaways. You can also pick up a print copy of the Virginia Spirits Guide in Virginia Welcome Centers and distilleries or request one at the Virginia Spirits website.
A tasting of Richmond distilleries
On a recent tour organized by the Virginia Spirits Board Marketing Office, I visited three local tasting rooms, each serving distinctly different liquors.
Virago Spirits
The Haneberg family, Barry, Vicki, and Brad, embrace a mission beyond the production of liquor. They opened Virago Spirits to produce underrepresented and misunderstood liquors (i.e., not whiskey or vodka). They wanted to embrace history while achieving modern quality, to master tradition while continuing to innovate.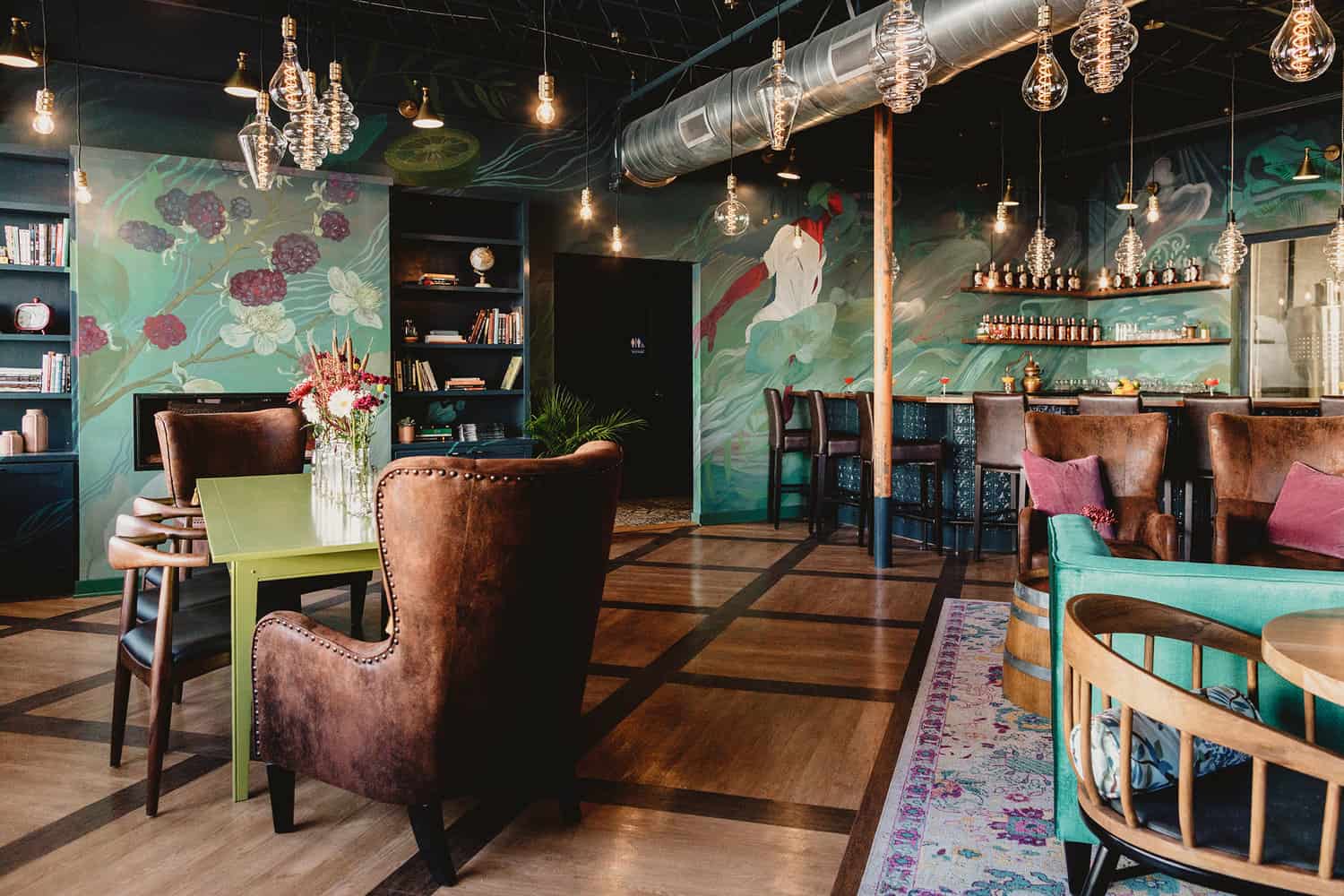 The distillery's vintage copper Cognac still fits this philosophical blend. It also has the advantage of using direct fire for internal hot spots, creating the rich, caramelized notes of the Maillard effect.
The name also honors their mission. While "Virago" came to mind as a mash-up of the families' two locations at the time – Virginia and Chicago – they quickly realized the name had a more important meaning. The ancient deity represented someone with fortitude and courage, someone true to their convictions. In fact, if you let your eyes wander around the Emily Herr mural in the Virago tasting room, you'll see names of men and women who, in one way or another, represent that spirit.
The business opened in 2018 with rum, a very historic American liquor. Four Port Rum was a blend of rums from four countries, i.e., ports: Barbados, Jamaica, Nicaragua, and Panama. Since then, the distillery has released nine more rums, including cask-finished (ruby port, sherry, cognac), high proof, and a white rum that's great for mixing (and especially easy on the pocketbook).
Another blend of history and innovation are Virago's gins. Modern Gin with Oolong Tea begins with the European spirit and celebrates the family's Asian connections using tea, lemongrass, and Szechuan peppercorns. Kali Hibiscus Gin includes hibiscus and orange peel. Madhu barrel-aged gin spent time aging in ex-port barrels that also held rum and honey and prickly pear mead, for a distinctive, complex, and slightly sweet and spicy spirit.
The Virago team continues to play with flavors. Liqueurs have included chocolate, coffee, and black cherry. For its 5th anniversary in November 2023, Virago hopes to release a yet-to-be-announced spirit.
The tasting room at Virago provides a treat for the eyes and the palate. The comfy seating and intimate bar are enveloped by the Emily Herr mural, with its inspirational subject and strong but muted colors. Cocktails showcase the spirits with classic and creative cocktails alongside delicious non-alcoholic options.
Virago Spirits 
1727 Rhoadmiller St., Richmond
Belle Isle Craft Spirits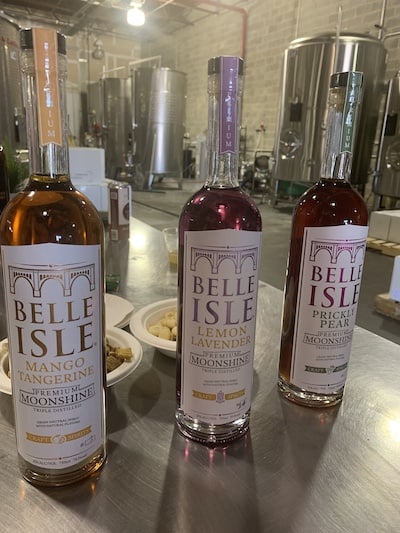 Belle Isle Craft Spirits began with its premium Black Label corn moonshine. Made with 100% organic corn, without artificial colors, sweeteners, or flavors, Belle Isle moonshine is an unaged corn spirit. In this sense, it's like vodka, and can replace vodka in cocktails. What it's not like is homemade 'shine you might've sampled from Mason jar stowed in the trunk of a moonshiner's car. No, Belle Isle moonshine is carbon-filtered. That gives this smooth liquor less alcohol heat to detract from the subtle flavor.
After the distillery hit the ground running with Black Label, it added related products, all with a base of its organic moonshine. Belle Isle infusions use natural ingredients to add delicious flavors, for sipping straight or contributing brilliant blends to cocktails. The distillery's ready-to-drink products make cocktail hour or party time easy and delightful. Canned cocktails blend moonshine and bubbles in 12-ounce cans: 110 calories or less and 5% ABV.
Products include:
Infusions, including Honey Habanero, Cold Brew Coffee, Ruby Red Grapefruit
Ready-to-drink canned cocktails, including Shine & Soda, Ruby Red & Soda, Honey Hab & Pineapple, Bramble On with blueberry and lemon, and Transfusion with grape, ginger, and lime.
Bottled ready-to-drink cocktails: Lemon Drop, Gold Fashioned
Seasonal infusions, like Spiced Apple, Blood Orange, Lemon Lavender, Prickly Pear
Aged moonshines (a great starter for someone wanting to ease into brown whiskey)
The modest tasting room offers the ideal opportunity to taste the moonshine and infusions (up to four ½-ounce tastings per visit, per ABC regulations), so you can decide which of the products to take home.
Belle Isle Craft Spirits 
615 Maury St., Richmond
Reservoir Distillery
Appreciation for Reservoir's whiskey begins with its quality of production. The distillery sources as many local ingredients as possible, including rye and wheat from Charles City. It uses both brewers yeast and distillers yeast. Distiller Mary Allison's process uses open fermentation – considering the many alcohol producers nearby in the Scott's Addition neighborhood, that's bound to contribute some delightful notes.
The aging begins in five- and 10-gallon barrels with thinner staves, offering a greater spirit-to-wood ratio than standard spirits barrels.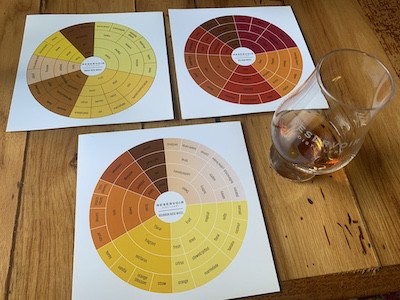 But consumers who want to mix their whiskey with education can find fulfillment at Reservoir, too. Each of the three founding whiskies is made with 100% of a grain – wheat, corn, and rye. A taste of each, side by side, reveals the distinctive different among the grains. Reservoir Rye provides the spicy bite of rye grain. Reservoir Corn Bourbon brings out a hint of sweetness. Wheat makes a wonderful "gateway" brown spirit, offering a smooth, subtle experience.
Should you want to take your whiskey education beyond the glass, Reservoir can do that, too. Ask for the tasting note wheels, a different wheel for each of the three founding whiskies, to expand your experience and tasting vocabulary. Or chat with the bartenders, who have been trained by Shelley Sackier, Director of Distillery Education.
Other Reservoir whiskies use blending and aging. Hunter & Scott Bourbon Whiskey begins with Reservoir single grain whiskies and adds Kentucky and Indiana spirits. Holland's Ghost bourbon ages a 70% corn, 15% wheat, and 15% rye blend in new oak, alligator char, small casks for two to three years, then finishes it in a stout barrel from a local brewery. Holland's Blade Rummer uses a finishing aging in a rum barrel.
Keep your eye open for other limited releases for more creativity for your palate.
Reservoir Distillery 
1800 A Summit Ave., Richmond
Other Richmond area distilleries
Cirrus Vodka
Potato vodka that makes a great cocktail but is smooth enough to be sipped. The tasting room offers tastes of the vodka alongside handcrafted cocktails, merchandise, cocktail kits, and local mixers.
Cirrus Vodka  
1603 Ownby Lane, Richmond
Three Crosses Distilling
Located in rural Powhatan County, the distillery creates a variety of products, including gin, rum, and whiskies. Its roomy tasting room also serves an elevated selection of foods, from appetizers and healthy salads to flatbreads, entrées, and locally made desserts.
Three Crosses Distilling  
3835 Old Buckingham Rd., Powhatan
Trial & Error Distilling
You'll find a wide diversity of spirits at this small-batch distillery, such as grappa, sloe and classic gins, limoncello, maple and hopped whiskeys, aquavit, and golden, silver, spiced and Pepo rums.
Trial & Error Distilling  
1606 W. Main St., Richmond
A sampling of other Virginia distilleries
I've yet to visit each of the 70 Virginia distilleries, but others that I've had the pleasure of savoring and would recommend include:
Copper Fox, Sperryville and Williamsburg
Smith Bowman, Fredericksburg
Catoctin Creek, Purcellville
Cape Charles Distillery, Cape Charles
Vitae Spirits Distillery, Charlottesville
Mt. Defiance Cidery & Distillery, Middleburg
Virginia Distillery, Lovingston
Tarnished Truth Distilling, Virginia Beach
Silverback Distillery, Afton
KO Distilling, Manassas
Ironclad Distillery, Newport News
The Vanguard, Hampton
Devil's Backbone, Roseland
Spirit Lab Distilling, Charlottesville