Shake Shack Richmond
| June 29th, 2023
Is it all that it's shacked up to be?
---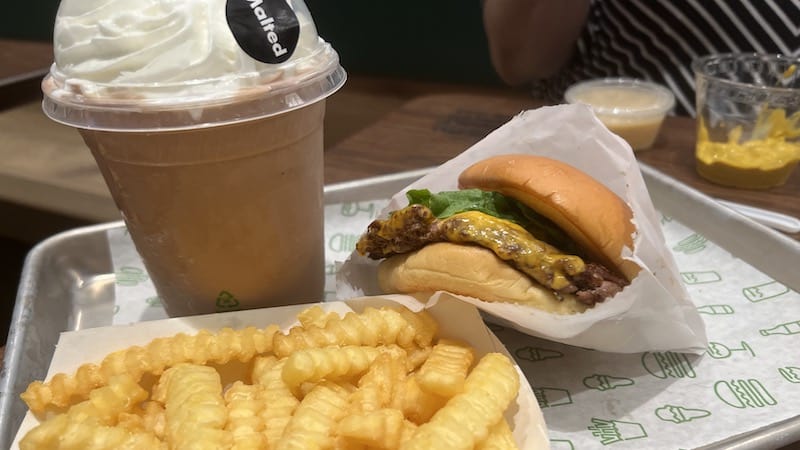 The fast-growing burger chain, Shake Shack, comes to town, and food writer and travel writer Steve Cook dispenses with his usual philosophy of positivity as he weighs in on the hyped-up Shake Shack Richmond.
---
One of my fondest memories as a child was the day my mother introduced me and my brothers to fast food. It seems that a lot of my fond memories revolve around food. But this day especially stands out.
I guess we're going back to about 1962. I would have been 12 years old. My mother announced to the three of us that she was taking us out for dinner. Now, that was special in itself. Back in those days, folks, at least us folks, rarely went out to dinner. There were very few restaurants to go to.
Anyway, we hopped into the car and drove over to the newly opened Kelly's Hamburgers at Horsepen and Broad. The restaurant was directly beside the old Cities Service gas station that my stepfather owned.
My mother pulled her little Ford Falcon into Kelly's parking lot but before we could all get out and pile into the restaurant, she says, "Wait here. I'll be right back."
Wait there? Huh? What did she think she was going to do – run up, pick up hamburgers and fries, and come right back? You see, if you don't recall those glory days of old, those days before Richmond got its first McDonald's, all you knew was that you typically would wait for a half an hour or so for burgers and fries.
So, you can, perhaps, imagine my joy and delight when within five minutes, my mother was back with the goods. The prices back then didn't amaze me because, well, because that was 1962 and I had never heard the word "inflation." Fifteen-cent hamburgers, twelve-cent fries, and soft drinks at a dime seemed normal.
What doesn't seem normal today is all the hubbub that arose with the recent opening of Shake Shack in Richmond, at 5400 W. Broad St. I'd heard Richmonders raving about Shake Shack coming to town. I couldn't imagine why, with all the food this town has to offer, anyone, make that everyone, could get so excited about a new fast food joint. So, I fell victim to the hype and headed over to Shake Shack.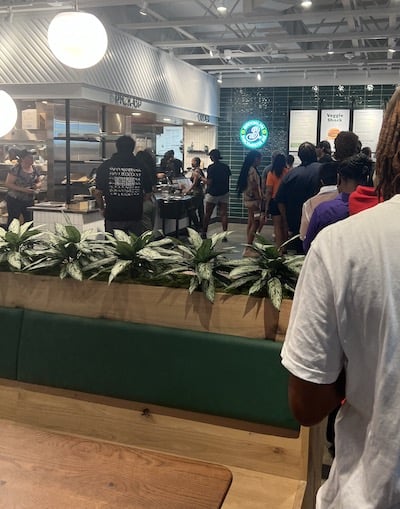 If my intention was originally to use the drive-thru, that evaporated when I saw a line that stretched from the restaurant, through the Willow Place shopping center parking lot, and into the right lane of Broad Street. Interestingly, as my wife maneuvered her car through and around the waiting automobiles and into the parking lot, I discovered that there was no line out the door for those going in to order and/or eat their burgers and suck on their shakes.
There were several people in front of us waiting to order and one kiosk where you could order via computer. The other kiosks were out of order. That seemed a little strange for a brand new restaurant, but I figured the counter experience would be more authentic.
Now, as I said, I wanted to find out what made Shake Shack so wondrous that everybody and his brother had to try it out in its first week in business. In other words, I was curious to find out if this new franchise restaurant, which started as a small hot dog stand in New York City in 2001, was all that it was shacked up to be.
Maybe I'm a cynical old man, but to be honest, I can't say that it is.
As far as a hamburger stand goes, it's okay. The single Shackburger is no great shake, so to speak. And at $5.29, it really isn't any great bargain, either. Since I don't take a scale or a ruler to hamburger joints, I can't give you a totally accurate comparison, but I'd say my Shackburger compares with a Whopper Jr. in size, and the last time I was at a Burger King, that sandwich was under three bucks. As for taste, while the Shackburger is okay, I don't think it stacks up to a Whopper, Jr. in taste.
As for the fries, again, no great shake. Perhaps it was because my fries were cold. Cold French fries are terrible. Fast food fries have been known to turn to garbage right in my bag if I don't eat them before they get cold.
I really don't know how long my fries were sitting there before they were delivered to my table. This is, in truth, not a fast-food place. Perhaps the line was long because there was only one person working the registers at the counter. I think there were three other registers but no one to operate them. The young man who took my order was pleasant but he needed the assistance of a trainer who was there alongside him. That's not a complaint. It's just a reality.
But even after I placed my order, we waited about 20 minutes for two burgers, one fry, and one shake to be brought to the table. And while I'm not complaining about the service, I get easily intimidated when the counter person asks if I want to add a tip. For what? For somebody to stand behind a counter and take my order? I hope the tip I was intimidated to leave is shared with the person who eventually brought me my food. Or is it me? Am I just being a grumpy old man? Don't answer that.
As for the shake, now, that's a great shake. I'll have to say that I truly enjoyed the rich, chocolatey taste of the thick, but not too thick, shake. We had paid about 50 cents extra to "make it malted," so perhaps that contributed to the taste.
But, bottom line, I don't get the hype. I'm thinking this latest Emperor looks okay in his underwear but if you're looking for a purple robe and a crown, you might want to look elsewhere.
---
Editor's note: Most any new location has its opening wrinkles, and any restaurant has detractors and loyalists. So don't take our word for it either way. Decide for yourself.
---
Steve Cook has lived in the Richmond area for most of his life, working as a writer and editor and in marketing and radio. He loves to keep abreast of the local restaurant scene and researches the subject voraciously. "I used to think I was a foodie," he says, "but then I realized I just like to eat a lot." He once co-hosted a local Richmond restaurant radio program with BOOMER editor Annie Tobey. Steve completed his first novel in 2017 and says he hopes to read another one this year.