Sheila Battle Emphasizes Importances of Soul Care
| March 28th, 2016
BOOMER recently caught up with soul care advocate, Sheila Battle as she prepares for her talk at this year's TEDxRVA circuit.
---

BOOMER recently caught up with Sheila Battle, a soul care advocate as she prepares for her talk at this year's TEDxRVA circuit. She recently earned her spot through her performance at the TEDx Open Mic competition.
Sheila Battle, Soul Care Advocate
1.) Tell us about your experience at Open Mic Night. What went through your mind when you found out you had won?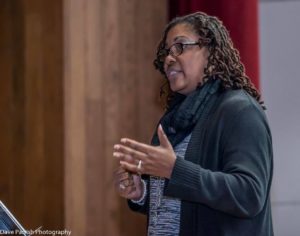 "Open mic night was like experiencing the highs and lows of a wild roller coaster ride without a seatbelt. I was so incredibly nervous that I couldn't watch the results as they came in. The crowd was really engaged and their energy was electrifying. There were so many talented people there with positive messages that I really had no idea how it would go. When my family started screaming I knew it was close, but it still didn't register that I was one of the winners. Before the event started one of the TEDxRVA reps told us this night could change our lives. When I heard the MC call my name, I had a strong sense that could be right. I'm grateful that so many people were affected by the message. I am still humbled by the entire experience."
2.) What is soul care, and why is it important to you?
"For me, soul care is about helping people incorporate intentional practices into their lives that promote holistic well-being. It's about taking care of the total person and acknowledging that we all are triune beings. I believe we are all spirit beings, who have a soul and live in a body. Whenever we over-engage with one of those aspects without tending to the others, we get out of balance. This imbalance creates stress, tension, and disease. The consequences are dire but once we make a decision to implement even small changes, the possibilities for our lives become endless."
3.) Without giving away any spoilers, what can people expect from your talk at TEDxRVA 2016?
"Hopefully they will be challenged to reconsider the power of grace, silence and self-reflection. We've been sharing this message for over five years now and the results have been amazing. We hear stories all the time about how this simple practice is creating clarity, peace, and courage in people's lives. I believe that fundamentally people want to live better, love better, and engage better with others. The problem is we forget that the effectiveness of that engagement is an inside job first. I'm excited about offering people a chance to dive in and experience the work of grace and growth in a new way that is powerful and completely doable every day."
---
You can see Sheila live at TEDxRVA on Friday, April 8 from 9 a.m. to 5 p.m. at the Carpenter Theatre at Dominion Arts Center. Get your tickets here.
TEDxRVA, now in its fourth year, will feature a central theme, and like themes of the past, this year's is elegant in its simplicity: ARTFUL. ARTFUL is a way of perceiving, a way of doing, an effect. Through being ARTFUL we are led by passion; we contribute value and bring about a healthier, more fulfilled society.