For Sizzling Seafood, Try Potros Mexican Restaurant
| May 19th, 2022
You'll discover a diverse and creative menu at this West End eatery
---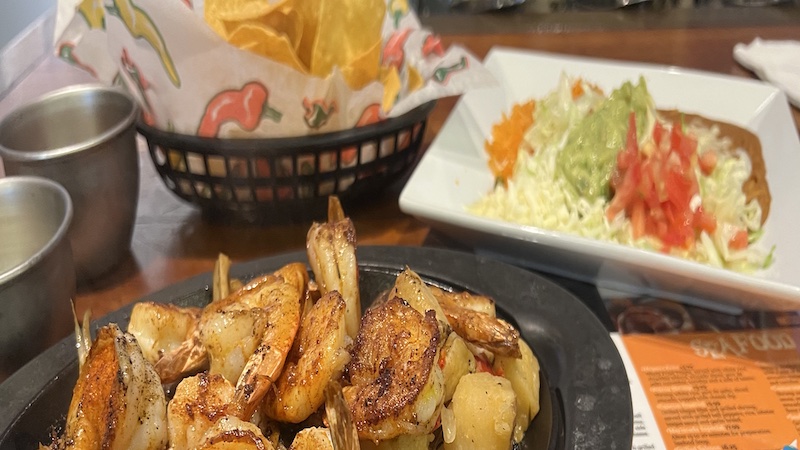 Richmond food and travel writer Steve Cook, taking advice from his family, pays a visit to Potros Mexican Restaurant in Richmond's West End, where he discovers, much to his amazement delicious sizzling seafood.
---
I often hear locals complain that there are no great seafood restaurants in the Richmond area. I'm not going to weigh in on that debate because what constitutes "great" lies in the tastebuds of the taster. But I recently discovered some excellent seafood at a small and relatively new restaurant near my home. It's Potros Mexican Restaurant and tequila bar, located at 9074 Staples Mill Road in Staples Mill Marketplace shopping center. That's right, Mexican. Now, for the most part, the seafood is grilled but when they brought that sizzling seafood to me, I was mesmerized by both the aroma and the visual.
I have heard others, including my wife and daughter, rave about this place, both its food and its friendly service. So, I decided to try it for myself. I came away impressed.
Because I was alone, I sat at the bar. Perhaps it's just me, but when I spot someone sitting at a table alone in a restaurant, they look so pitiful. But when you sit at a bar, you kind of look sophisticated. At least that's what I tell myself and it makes me feel better.
In this rather small space, with the bar right next to the kitchen, I got to see and speak with several of the servers. All of them were very friendly and took the time to speak and ask if I was enjoying my meal. I was.
This was especially true of a young lady named Iris, who stopped by the bar a couple of times to speak as she scurried back and forth tending to her customers.
I was also impressed by the menu, which seems quite extensive and offered many traditional as well as some non-traditional items, which I do not see on most Mexican restaurant menus. Potros Mexican Restaurant has a very diverse seafood selection. My daughter had already told me that I should try the Charola Mixta. Knowing how cheap I am, she even offered to pay for the dish ($35), which features crab legs, shrimp with bacon, and shelled shrimp. The entrée comes with French fries and garlic bread, certainly not traditional.
I knew that dining alone, it would be pointless to order such a huge meal and, yes, I am cheap. But my daughter had told me that the sauce in which the seafood is served is absolutely delicious. Maybe I'll give it a go next visit.
But I was impressed by the variety of seafood choices at Potros Mexican Restaurant, such as the seafood platter, featuring grilled shrimp, scallops, and tilapia. I was tempted to try the Mariscada Especial, which is a seafood soup. However, the menu warned that one should allow 15 to 20 minutes and I was hungry.
Here it comes … sizzling seafood at Potros Mexican Restaurant!
So, I went with the Shrimp Bourbon. At $16.25, the price is extremely reasonable, especially considering the huge portions. Again, I really love it when I'm served sizzling seafood and that's exactly what I got. I wish I could have captured the sizzle in the photograph.
The shrimp is grilled with onions, peppers, and rosemary potatoes (another rather non-traditional complement to a Mexican meal) and it was absolutely delicious. I'm not so sure I detected any bourbon, but the shrimp had a subtle, yet distinctive, sweetness, which combined well with the spiciness of the dish. The potatoes, onions, and peppers were grilled to perfection. The dish also came with guacamole salad, rice, and refried beans. So, there was enough to feed a relatively small army. I enjoyed the fact that the salad was crisp and fresh and the guacamole was seasoned just like I like it.
Iris told me that the tacos are her favorites. She said that the kitchen has just added some newer tacos options. The new Potros Taco with shrimp, bacon, queso fresco, and avocado sounds like something I may be ordering soon, that and the ribeye taco, which sounds like a winner.
My wife said that she especially loves the Potros Mexican Restaurant fundido (grilled chicken and sautéed onions served over sizzling melted cheese). I almost ordered that, but dining by myself, I knew I would never finish it all. I've always thought it was ridiculous to hear one make the comment that their eyes must be bigger than their stomach. I am tempted to reply (but rarely ever actually do), "If that were true, your head couldn't have fit through the doorway." Anyway, I didn't want to make the mistake of ordering food that I knew I'd never eat. By the way, did I mention that I'm cheap?
All in all, I was very satisfied with my meal and certainly intrigued enough after perusing the menu to make a return visit or two in the near future. I also want to try their Mexican version of tiramisu. If I were actually a restaurant critic and knew all the lingo, I'd give this place four stars. But, hey, I'm just a guy who loves to eat.
Potros Mexican Restaurant, Richmond 
9074 Staples Mill Road, Henrico
---
Dig in to more restaurants and other recommendations from Steve Cook