Sourdough Turkey Stuffing Recipe
November 12th, 2020
Try this zesty spin on traditional stuffing, from Chef Josh Horevay of Allegania Restaurant
---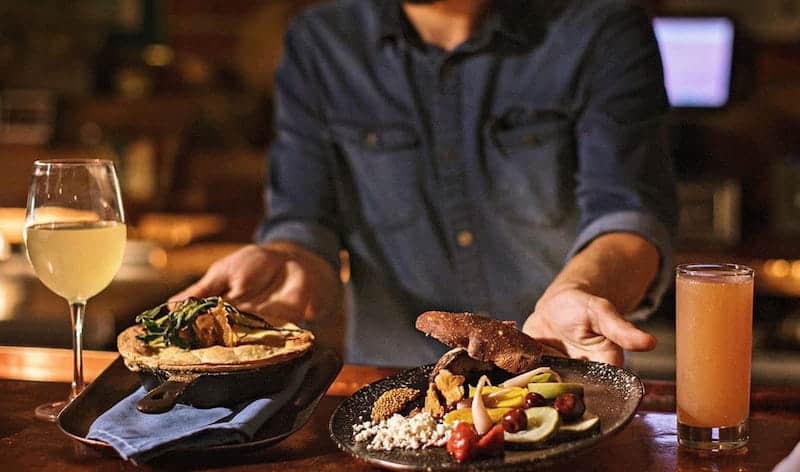 Tucked in the Appalachian Mountains of Western Maryland is the town of Cumberland, home to tree-lined streets, a vibrant arts community, and several regionally inspired restaurants that feature fresh and innovative farm-to-table fare. One of those places is Allegania Restaurant, which prides itself on sourcing and serving modern interpretations of Appalachian, Pennsylvania Dutch, and Mid-Atlantic cuisine. Chef and owner Josh Horevay was kind enough to share his popular Sourdough Turkey Stuffing recipe that uses sourdough bread for a zesty spin on traditional stuffing.
Sourdough Turkey Stuffing
Recipe from Allegania Restaurant, Cumberland, Maryland; provided by Mindy Bianca Public Relations
Serves 12
1 cup chopped celery
1 cup chopped onion
1 cup chopped apples
1 cup melted butter, divided
2 one-pound loaves day-old sourdough bread, chopped
3 cups homemade or packaged turkey stock (Chef Horevay makes stock from a 25-pound heritage breed turkey from the nearby Savage Mountain Farm)
3 tablespoons rosemary, minced
3 tablespoons thyme, minced
3 tablespoons garlic, minced
3 tablespoons sage, minced
1 tablespoon each salt and pepper
3 eggs
1. Sauté the chopped celery, onion and apples mixed with 1/4 cup of the butter on low to medium heat for 10-12 minutes. Reserve the remaining butter.
2. Combine all ingredients, including the cooked vegetables, chopped bread, turkey stock, spices, eggs and remaining butter into a mixing bowl and toss until well incorporated.
3. Spread the mixture evenly into a baking dish or sheet pan. Bake at 350 degrees uncovered for 30 minutes. Uncover and bake for an additional 10 minutes, until slightly golden on top.
---
< Stuffing Recipes Around the U.S.
< Previous recipe: Hambone Baby Root Stuffing from Hambone restaurant, Mandeville, Louisiana
---