Stuffed Red Velvet Cookies
| July 26th, 2023
Red velvet cake in cookie form? Yes, please!
---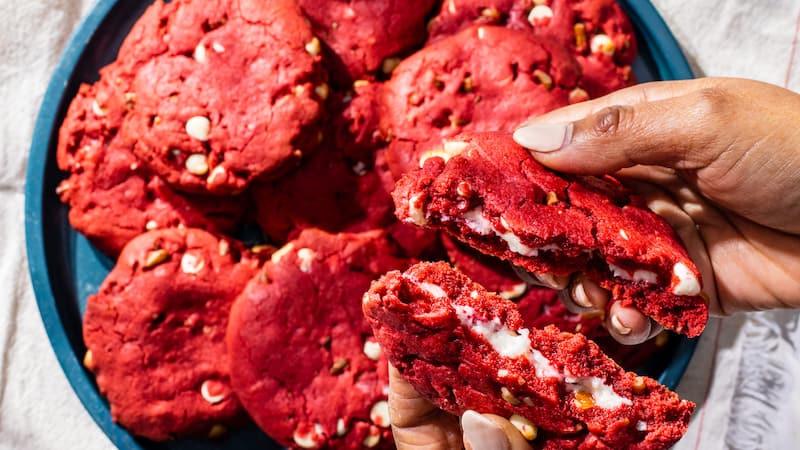 When you want to make a scrumptious dessert for your summer soiree, these stuffed red velvet cookies are the perfect grab-and-go sweet for your guests.
And while you might not find these ingredients in a red velvet cake, the lemon zest, pecans, and white chocolate chips used in this recipe enhance the flavor of the cookie dough, blending harmoniously with the classic red velvet and tangy cream cheese.
Quick tips
Adding some whole-wheat flour to the dough contributes added structure, making it easier to shape when raw and less fragile after fully baked and cooled.
Making a relatively stiff cream cheese filling (keeping the ratio of sugar to cream cheese and softened butter low) ensures a neat, sturdy stuffed cookie.
Freezing portions of the filling for a minimum of two hours firms it up, making it easy to handle and wrap up in disks of cookie dough.
Stuffed Red Velvet Cookies
Makes 12 cookies
Ingredients:
For the filling:
1/2 cup (2 ounces) powdered sugar
4 ounces cream cheese, softened
2 tablespoons unsalted butter, softened
Pinch table salt
1/8 teaspoon vanilla extract
For the cookies:
2 2/3 cups (13 1/3 ounces) all-purpose flour
2/3 cup (3 2/3 ounces) whole-wheat flour
1 tablespoon unsweetened cocoa powder
1 1/4 teaspoons table salt
1 teaspoon baking soda
16 tablespoons unsalted butter, melted
1 cup packed (7 ounces) light brown sugar
1/2 cup (3 1/2 ounces) granulated sugar
2 large eggs
1 1/2 teaspoons grated lemon zest
2 teaspoons vanilla extract
1 tablespoon red food coloring
1 cup (6 ounces) white chocolate chips
1/2 cup finely chopped pecans
Directions:
For the filling:
Using a stand mixer fitted with a paddle, beat all ingredients on low speed until sugar is mostly moistened, about 1 minute. Increase speed to medium-high and beat until fluffy and smooth, 2 to 3 minutes, scraping down bowl as needed.
Line a rimmed baking sheet or a large, flat plate with parchment paper. Using a tablespoon measure and a small spoon (or a No. 60 scoop), divide filling into 12 equal portions on the prepared plate. Use the back of the spoon to lightly flatten each portion into a rough disk shape (no greater than 1 1/2 inches in diameter). Freeze until solid, at least 2 hours. (Filling can be frozen for up to one week.)
For the cookies:
Adjust oven rack to middle position and heat oven to 425 degrees. Line two rimmed baking sheets with parchment paper. Whisk all-purpose flour, whole-wheat flour, cocoa, salt, and baking soda together in a large bowl.
Whisk melted butter, brown sugar, and granulated sugar in a second large bowl until smooth. Whisk in eggs, lemon zest, vanilla, and food coloring until smooth and creamy, about 30 seconds. Stir in half of the flour mixture with a rubber spatula or wooden spoon. Stir in chocolate chips, pecans and remaining flour mixture. (Mixture will be stiff; once dough begins to stiffen, you can mix with your hands until dough is evenly combined.)
Divide dough into 12 equal portions (about 31/2 ounces or 1/3 cup each). Flatten each dough portion into disk shape, about 3 inches in diameter. Working quickly, place one disk of frozen filling in the center of each dough disk. Wrap edges of dough up and around filling, seal dough, and shape into smooth disk shape (about 3 1/2 inches in diameter and 1/2-inch thick), taking care to ensure filling remains in the center of each cookie. Space cookies evenly on prepared sheets, six cookies per sheet.
Bake cookies, one sheet at a time, until edges of cookies are beginning to puff and crack, 7 to 8 minutes. Let cookies cool completely on sheets, about 2 hours. Serve.
---
Thick, Chewy Chocolate Cookies
S'mores Cookies, at Seniors Guide
---
For 25 years, home cooks have relied on America's Test Kitchen for rigorously tested recipes developed by professional test cooks and vetted by 60,000 at-home recipe testers. The family of brands – which includes Cook's Illustrated, Cook's Country, and America's Test Kitchen Kids – offers reliable recipes for cooks of all ages and skill levels. See more online at www.americastestkitchen.com/TCA.
©2023 America's Test Kitchen. Distributed by Tribune Content Agency, LLC.