Tips and Recipes for Summer Melons
| August 9th, 2023
Make the most of melon season
---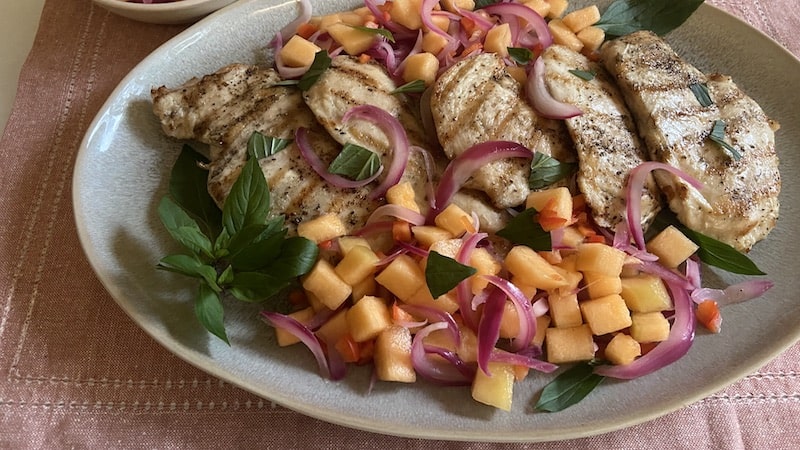 Sure, there's plenty of cantaloupe, watermelon and honeydew at the supermarket, but now is the time to see a wide array of cultivated varieties of summer melons at farm stands and produce markets. Look for Galia, crenshaw, orange-fleshed honeydew, casaba and more. Most of these melons sport flavors reminiscent of honeydew and cantaloupe with more intense sweetness and juiciness.
Look for melons that are heavy for their size with no visible soft spots or bruises. Let melons stand on the counter until ripe – that is, no longer rock-hard. Also, give them a sniff at their stem end (the place they would have been attached to their vines); you should smell melon.
Mostly, we enjoy summer melons very cold and sliced into wedges. Diced and paired with ripe berries, we pile the mixture over granola and oat milk at breakfast. Super-ripe melon makes a phenomenal smoothie with plain yogurt and blueberries.
Savory elements prove terrific with melon. Think of the classic prosciutto and melon appetizer. A generous grind of fresh black pepper or grains of paradise transforms nearly any melon into a suitable side dish for dinner. Paired with salt and/or red chili, melons welcome vegetables and lean proteins.
Case in point is the recipe below for grilled chicken cutlets topped with a melon and pickled red onion relish. This beautiful dish cools off any summer day; serve it warm or chilled at a backyard party. The relish also tastes terrific with grilled salmon or pork cutlets.
Sweet and savory watermelon salads captured our hearts over the past few summers. This summer, our go-to salad pairs other summer melons, like the pale-green fleshed Galia or honeydew melon, with ribbons of raw zucchini, feta crumbles and salted pistachios.
For a casual appetizer to serve with sangria or sparkling wine, spread a 1/2-inch thick layer of labneh (thick Middle Eastern yogurt) or plain Greek yogurt over a serving platter. Cover the yogurt with a generous layer of diced ripe melon, such as cantaloupe, Galia or honeydew. Sprinkle with dried cranberries or barberries and chopped salted nuts. Season with grated lemon rind or sumac and generous shakes of za'atar or another favorite spice rub. Drizzle everything with balsamic glaze or agave syrup. Serve with thick slices of toasted country-style bread.
To easily cut up a whole melon, slice off both ends of the melon. Stand melon on one cut edge on the cutting board. Use a large knife to cut away the rind, rotating melon as you go. Cut melon in half and scoop out seeds. Lay melon flat on a cutting board rounded side up. Slice as desired. Cut slices into chunks as desired.
Grilled Chicken Cutlets with Melon and Pickled Red Onion Relish
Makes 4 to 6 servings
Note: If chicken cutlets are unavailable, set a boneless skinless chicken breast half on a cutting board. Slice horizontally in half. Place each piece between two sheets of plastic wrap. Pound to flatten the pieces into a uniform 1/4-inch thickness.
Ingredients:
For the pickled red onions:
1/4 cup cider vinegar
1 teaspoon honey or agave syrup
1/2 teaspoon salt
1 medium-size (10 to 12 ounces) red onion, halved, very thinly sliced
1/2 of a small red bell pepper, seeded, finely diced
For the chicken:
6 boneless skinless chicken breast cutlets, each about 1/4-inch thick, about 1 1/2 pounds total
Garlic salt, freshly ground black pepper to taste
4 tablespoons olive oil
1/2 of a small (3 pound) orange-fleshed honeydew or cantaloupe melon, peeled, seeded
1 tablespoon piri-piri hot sauce or other red hot sauce to taste
1/4 to 1/3 cup torn fresh basil leaves
Directions (for both):
For pickled onions, mix vinegar, honey and 1/2 teaspoon salt in a medium-size bowl until salt is dissolved. Heat a medium-size saucepan of water to boil. Have a colander ready in the sink. Drop sliced onions into boiling water, stir well, then drain immediately. Put drained onions into the vinegar mixture. Stir well. Stir in red bell pepper. Let stand covered about 30 minutes (Onions can be made up to 2 days in advance; let come to room temperature before using.)
For chicken, put cutlets onto a baking sheet. Season cutlets on both sides with garlic salt and pepper. Drizzle chicken cutlets with 2 tablespoons of the oil and turn to coat both sides with oil. Refrigerate, covered, until ready to cook (or up to several hours.)
Cut peeled, seeded melon into 1/2-inch dice. Put melon into a large serving bowl. Stir in pickled red onion, remaining 2 tablespoons olive oil, the hot sauce and salt to taste.
Preheat a gas grill to high. Or prepare a charcoal grill and let heat until coals are covered with gray ash. Put the cooking grate in place and let it heat for 5 minutes. Clean the grate with a wire brush or scrunched up aluminum foil. Reduce heat to medium (325 degrees if you have a grill or oven thermometer). If using a charcoal grill, adjust the air vents to have a medium grill.
Place chicken on the grill, directly over the heat, in a single, uncrowded layer. Cover grill and cook without turning for 3 minutes. Flip and cook to brown the other side, 2 to 3 minutes more.
Remove chicken to a serving platter. Scatter the melon mixture over the chicken. Top with basil leaves and serve.
Melon and Zucchini Ribbon Salad with Feta and Pistachios
Makes 4 servings
Note: Half of a honeydew melon can be substituted for the Galia melon. Refrigerated raw zucchini "noodles" can stand in for the homemade zucchini ribbons.
Ingredients:
1 small Galia or, about 3 pounds
1 large orange
2 tablespoons olive oil
1 tablespoon white balsamic or white wine vinegar
1/2 teaspoon finely grated orange zest
1/4 teaspoon each: salt, freshly ground pepper
2 medium-size zucchinis, about 8 ounces each
1/2 cup crumbled feta or goat cheese
1/2 cup lightly chopped shelled salted pistachio nuts or pecans
Fresh mint leaves
Directions:
Slice ends off melon. Stand melon on end on the cutting board. Use a large knife to remove rind from melon. Cut melon in half and scoop out seeds. (Reserve one half for another use.) Cut the other half into 1/4-inch thick slices. Arrange slices attractively on a serving platter.
Use a zester or grater to zest or grate orange rind (orange part only) into a large bowl. Cut remaining rind off orange. Use a small knife to remove orange segments so they have no white pith. Arrange orange segments on the platter with melon. Squeeze the remaining orange flesh to let the juice run into the bowl with the zest (you should have about 2 tablespoons juice). Whisk in oil, vinegar, salt and pepper in a small bowl.
Use a mandolin or a wide vegetable peeler to shave zucchini lengthwise into very thin ribbons. Add to the bowl with oil mixture. Toss gently to mix. Pile the ribbons attractively over the melon slices.
Drizzle any dressing remaining in the bowl over melon and zucchini. Sprinkle with feta, pistachios and mint leaves. Serve.
---
JeanMarie Brownson is a James Beard Award-winning author and the recipient of the IACP Cookbook Award for her latest cookbook, "Dinner at Home." JeanMarie, a chef and authority on home cooking, Mexican cooking and specialty food, is one of the founding partners of Frontera Foods. She co-authored three cookbooks with chef Rick Bayless, including "Mexico: One Plate at a Time." JeanMarie has enjoyed developing recipes and writing about food, travel, and dining for more than four decades.
© 2023 JeanMarie Brownson. Distributed by Tribune Content Agency, LLC.
Also from JeanMarie Brownson, this recipe for a satisfying meatless burger. Really!
As an Amazon Associate, Boomer Magazine earns from qualifying purchases of linked books and other products.