Sunday Mornin' … at The Park RVA … Comin' Down
| July 6th, 2023
A generous brunch, nestled among fun and games – with apologies to Kris Kristofferson
---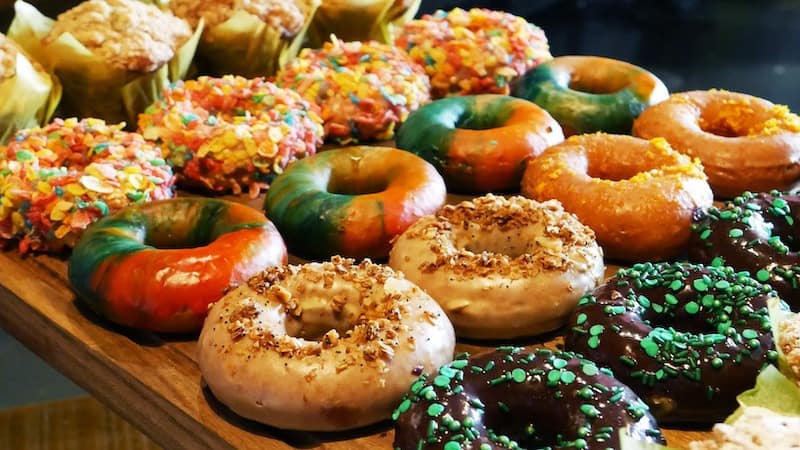 Does anticipation of dining out make you as happy as a lark? It does for Boomer food and travel writer Steve Cook, who waxes poetic and descriptive at his most recent visit to The Park for food and entertainment.
---
Well, I woke up Sunday morning and I had a strong craving for dessert
So, I fumbled through my closet and found my cleanest dirty shirt
And I washed my face and combed my hair and I was feeling as happy as a lark
Because my wife had suggested that we have Sunday Brunch at The Park.
Okay, first an apology to Kris Kristofferson and an admission that it didn't happen exactly that way.
What did happen is that when I woke up this past Sunday morning, I had a strong craving for an omelet. It's just not as easy to fit omelet into lyrics. But, anyway, when I mentioned to my wife that I was craving a western omelet, she saud, "Let's go to The Park."
So, I thought that she was probably right. Rather than waste the morning eating, a little exercise would be a great idea. So, after I washed my face and combed my hair, I put on my jogging outfit, and I came bounding down the stairs with a sweatband around my head and packing a bottle of water.
"What's up with you," she asked.
"Well," I replied pleasantly, "didn't you suggest we go to the park?"
"I meant The Park RVA," she explains. "They have an amazing all-you-can-eat Sunday brunch."
Ahh, sweet music to my ears. She had said the secret four-word, three-hyphen phrase – All-You-Can-Eat.
She had already tried the brunch a few weeks ago and had raved about the buffet. So, I was anxious to try it out, myself.
I put my water bottle back in the fridge, removed my headband, and we headed out, passed The Diamond on Hermitage Road, and over to The Park for food. For starters, I have to say that I was very impressed with the building as we entered the parking lot and even more impressed once we entered the place. I think I must have been expecting something that had all the class of a Myrtle Beach boardwalk arcade. But The Park is a beautiful place.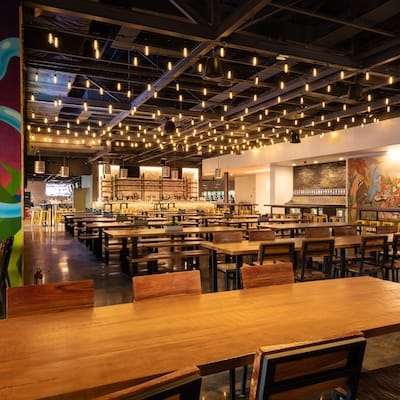 And their Sunday brunch, which is served from 10 a.m. Until 3 p.m. every (you guessed it) Sunday, only enhanced my appreciation for this wonderful little playground, which features indoor miniature golf, duckpin bowling, virtual golf, and so much more.
That "so much more" includes six (count 'em, six) restaurants. Regardless of just what your taste buds may be craving, I have a feeling you're gonna find something to satisfy them at The Park. Check out their website for a full rundown. You'll discover burgers and shakes, pizzas and subs, creative desserts and cocktails, both Asian and Mexican fare, and the list goes on.
And if that isn't enough, The Park also offers karaoke, a comedy club, even space for your own private events.
Back to The Park for food at brunch
But I'm supposed to be telling you about the Sunday brunch, so here goes. Now, as I said, when I woke up, I was craving an omelet, so, once my wife and I were seated, I headed over to the omelet station.
"I'll have a Western omelet," I told the young woman behind the table.
"I don't know what that is," she told me. But she said it pleasantly and continued, "Just tell me what ingredients you want. The station offered most of my omelet favorites, such as peppers, onions, cheese, and bacon. I took everything but the bacon.
I must admit that when she told me that she didn't know what a Western omelet is, I was a little worried that maybe my omelet was in the wrong hands. I'm very picky about my omelets. I want them cooked just enough so that I'm not eating raw eggs. I like them light and juicy with gooey cheese. Anyway, my fears were unfounded. My omelet was done to perfection.
While my omelet was being prepared, I checked out the rest of the options on the buffet. I selected a very good-looking cheeseburger slider and a couple of tater tots. I figured I was just doing a tasting for starters and I could always come back for more.
My wife had raved about the waffles with their crispy edges, which she had enjoyed on her first visit. So, she brought a waffle to the table, which she shared. She said this time it wasn't quite as crispy, but it was still very good.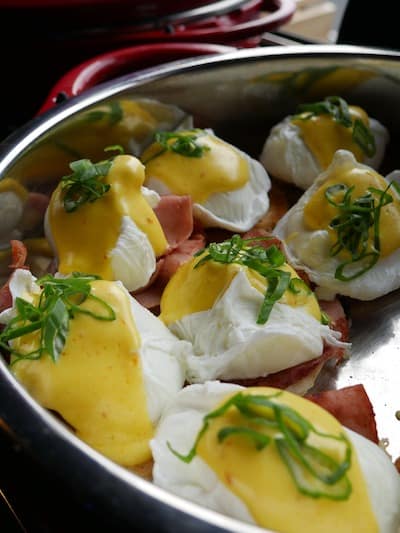 To be honest, by the time I had finished the omelet, the slider, my two tots, and one-third of a waffle, I was beginning to fill up. I think if I'd gone later in the day, I would have had a chance to work up an appetite. Personally, I would have stopped eating at this point, but that wouldn't have been fair to you. You deserve to know just what's on the brunch. So, I continued to sample.
First, I needed a little respite from the heavier foods, so I had a beautiful and very tasty parfait. The parfait was light but, at the same time, delightfully heavy on the fruit.
My wife told me after we had left that they also have a crepe station. I didn't even see that. She says that you can choose bananas, strawberries, blackberries, blueberries, and even Nutella in your crepes. Gee, I wish I'd known about that. Now, I know I need to go back.
After the parfait, I discovered the shrimp and grits. I may be Southern boy, but I'm not a grit lover. I do, however, love shrimp and these shrimp were fantastic. They were served with a subtle garlic flavor. I even tried a few of the grits and I suppose if you like grits, you'll like these.
The eggs benedict looked great, but I was just too full. I was also too stuffed to try the chicken and waffle casserole-type dish. I did try a piece of the fried chicken. It looked like it may have been too heavily breaded, but in reality, the breading was rather light and the meat proved to be very tender and moist.
I sampled a little something from the bagel and toast area, which offered such toppings as avocado and salmon. And right next to that was a delectable looking dessert and pastry station. I really wish that I had saved room for dessert. Because some of these desserts looked amazing. Yes, while I'm trying not to use the word "amazing" this year, sometimes no other word will do.
Now, if you're like many Richmonders who mainly do brunch so they can have an excuse to drink before noon, you'll be happy to know that this brunch offers $3 Bloody Marys and Mimosas. The coffee, which was quite good, and a selection of fruit juices are included in the buffet, which is about $30 for adults. Kids 3 to 12 eat for $14.99 … all in all, a great deal.
Our server told us that the selections rotate and that next week they'll be offering some different items. You know what that means, don't you? I'm going to have to spend another Sunday in the Park.
The Park 
1407 Cummings Dr., Richmond, Virginia 23220
---
Steve Cook has lived in the Richmond area for most of his life, working as a writer and editor and in marketing and radio. He loves to keep abreast of the local restaurant scene and researches the subject voraciously. "I used to think I was a foodie," he says, "but then I realized I just like to eat a lot." He once co-hosted a local Richmond restaurant radio program with BOOMER editor Annie Tobey. Steve completed his first novel in 2017 and says he hopes to read another one this year.