Telluride Blues and Brews Fest
| August 19th, 2016
Few things pair finer than excellent tunes and finely crafted brews. Throw in the picturesque backdrop of Telluride, Colorado, and you've got yourself a mighty remarkable time with 9,000 of your closest friends.
---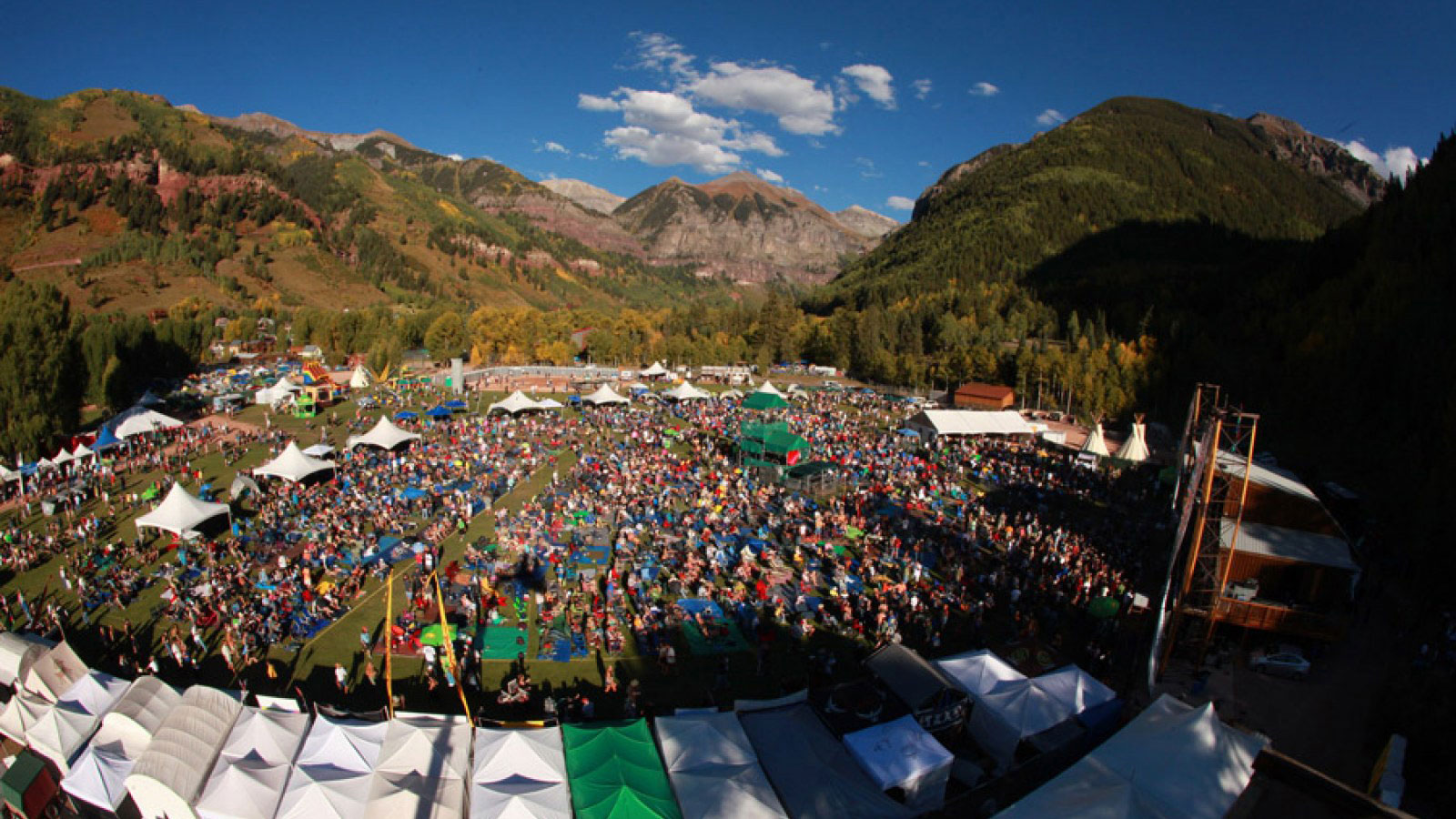 Few things pair finer than excellent tunes and finely crafted brews. Throw in the picturesque backdrop of Telluride, Colorado, and you've got yourself a mighty remarkable time with 9,000 of your closest friends.
THE BIRTH OF A FESTIVAL
Telluride Blues & Brews founder Steve Gumble still gets giddy thinking about the night he was invited into Phil Lesh's dressing room for a celebratory pre-show huddle. "It was pretty amazing. Warren Haynes was there!" he says.
Things have changed for Gumble since he first moved to the quaint mountain town in the late 80s with aspirations of being a ski bum. "Immediately, I knew I had caught the bug – I could feel it," says Gumble. He explains he made a conscious decision to do more than drive snowcats and wait tables. Enter the liquor store for sale downtown. "I figured since my monthly bill was a mortgage payment that I should just own it," he adds with a laugh.
The endeavor introduced him to the blossoming microbrew industry of the 90s and sparked the idea of a local beer festival to complement the town's annual wine festival.
In 1994, Gumble founded the Telluride Brewers Festival, featuring 20 breweries, with all proceeds going to charity. They hoped for at least 500 people, and well over 1,000 showed up.
"It was pretty good for a little ol' beer festival on Main Street," he says. "Back then it was just like a keg party on the street; I can admit that now." The town applied a bit of pressure to make the fest less alcohol-centric, so he decided to add blues to the mix, a genre he adored after a friend introduced him to Muddy Waters. And so the Telluride Blues & Brews festival as we know it was born, drawing more people each year as the lineups became more robust and the splendor of the area wooed out-of-towners. "Once people come, they tend to not forget about it," he says.
THE BLUES
Everyone from the Funky Meters and James Brown to the Allman Brothers and Etta James have taken the historic stage, which boasts one of the best views in the world: a massive waterfall flanked by alpines and vibrant sunsets each evening.
While the big names are impressive, some of the upstarts you'll catch in career infancy will knock your Tevas off. "If it makes my toes tap, I feel like it will do that for others. I'm always investigating something," says Gumble. He explains that people have blind faith in the lineup, and they sell a ton of tickets before it's even announced. "I like to think we deliver the goods," he says. However, he's quick to turn the focus back on the town. "Seventy-five percent of our success is this well-preserved fairyland."
THE BREWS
Aly Sanguily, marketing director of Roaring Fork Beer Company, agrees. "Telluride is a special gem," she says. "My husband and I have been attending for over a decade now and every year we grow more in love with it. The music, the scenery, the vendors and the incredibly kind and welcoming staff is why you will find us there every year," she adds.
Roaring Fork Beer Company snagged Best of Fest honors two years in a row, kind of a big deal considering you can sample more than 170 styles of beer from 56 breweries at the grand tasting event on Saturday in what has been described as a "beer village" by Colorado's savvy suds enthusiasts.
"The festival does a fantastic job in selecting a nice range of craft beers to serve," says Justin Crump of Ska Brewing. While he's not quite sure what they'll be serving up this year, he promises it will be something special. Top secret, from-the-vault showstopper beers are a trend at the flagship event and one of the reasons single-day tickets sell out quickly.
In 2013, the fest opened up to its first cider, from Big B's Hard Cider – a testament to keeping it interesting, according to head cider maker Shawn Larson. "It would be really difficult to deny the diversity and creativity of the brewing community at this event. Being welcomed with open arms has been really awesome."
THE REST
This year, those who make a pilgrimage to the hallowed, groovin' respite will be treated to more of the usual goodness. Yoga, art galleries and a kids' area nicely complement another stellar lineup, including Grammy-award winner Jason Isbell, Shovels & Rope, and Gary Clark Jr., among others. Legacy artist Mick Fleetwood even plans to bring his blues band to the stage for a romp, and late night "juke joint" shows in town promise to rock you until the wee hours.
Gumble says to prepare for all kinds of weather, especially if you are camping. "We've seen everything from 80 degrees to snow, but people are good either way," he says.
Wanna kick it VIP? Throw in some extra cash and you'll live the high life complete with extra-special brews, a gospel brunch and sports bar with fancy HD screens and surround sound.
There truly is something for everyone, served up in one happy, sustainable package. "Music, beer and mountains – that's a pretty good recipe, don't you think? … If you screw that one up, you've done something wrong," says Gumble.
THE TOWN
Nestled in a box canyon, the old mining town of Telluride was established in 1880 by those who believed there was gold "in them thar hills." Since then, it has become a wildly popular destination for those who crave jaw-dropping landscapes, killer slopes and top-notch festivals, depending on the season.
Even Oprah couldn't resist the allure of Telluride. She bought a swanky 8,700-square-foot pad late last year. Despite its allure as a year-round resort, the town's population is a mere 2,300 (down by half since the gold rush), and the vibe is utterly chill.
The first inhabitants of the Telluride valley, the Ute tribe, named it "The Valley of Hanging Waterfalls." This is an outdoor enthusiasts' playground where your K-9 pal can romp through sprawling flowered fields, and magnificent, hyper-color sunsets are sure to result in daily pinch-yourself moments. Tear off on the varied terrain of the San Juan Mountains on two wheels, summit a 14,000-foot peak by foot, or tube it down the San Miguel River that runs right through town. You'll likely spot the remnants of old mining gear and shacks high in the hills along the way.
At night, the spirit of the Old West stirs about at the center of town where you can dip into hip boutiques, eateries and saloons (yes, that's what they call them). You'll feel like you've been dropped right in the middle of a John Wayne movie, folks. Known for their hospitality, the locals will be happy to share a pint and their theory of how Telluride got its name. One take is tied to the mineral tellurium, a nonmetallic element associated with gold, and the other a tongue-in-cheek send-off to fortune hunters: "To-hell-you-ride"!
Telluride Blues & Brews takes place in Telluride, Colorado, Sept. 16-18. Tickets and lodging are available through tellurideblues.com.
INSIDER TIPS
Hotel rates can soar during festival season. Consider camping in one of the area's spectacular parks or snag charming Airbnb digs to experience the town like a local.
There's a regional airport 15 minutes from town, but you can soak up some pretty amazing views road-tripping an hour from Telluride/Montrose Regional Airport or six hours from Denver.
Kick it gondola style for a free, 13-minute ride to Mountain Town and check out Telluride Ski Resort and Uncompahgre National Forest.
Savor a gooey cheese slice at Brown Dog Pizza, take in some live tunes at Fly Me to the Moon Saloon, drink up at Smugglers Brewpub & Grille or hit The Coffee Cowboy for a caffeinated giddy-up.
Hilary Langford is an RVA-born and -based freelance writer who has spent the last decade covering a wide range of music and our ever-evolving Virginia beer scene. She spends way too much time taking Instagram pictures of her two dogs, Hank and Byrd. In addition to sonic indulgences and craft libations, she rates breakfast tacos, far-flung travel and Blanchard's coffee among life's essentials. Must be kept far away from Amazon Now.