The Heilman Dining Center
| February 23rd, 2023
A hidden dining gem in one of Richmond's most beautiful gems
---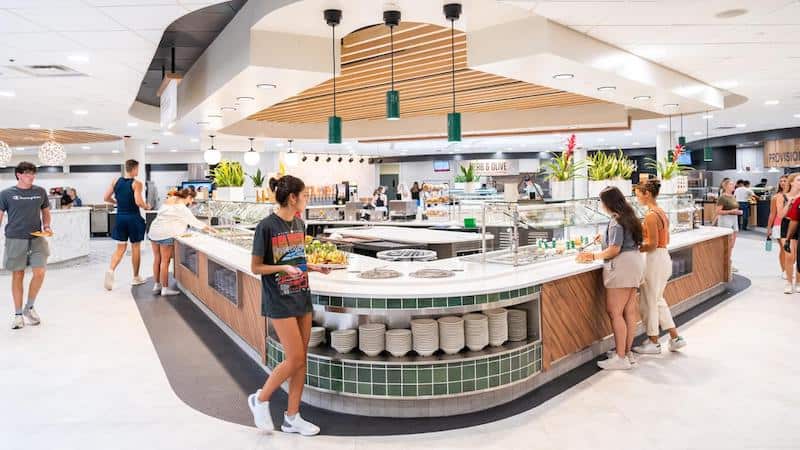 If you've experienced the "freshman 15," those pesky pounds that plague students in their first year of college, you'll have a special affinity for Steve Cook's look at the Heilman Dining Center at the University of Richmond.
---
When I first heard about the University of Richmond's Heilman Dining Center several years ago, I thought someone might be telling me some fantastic tale about the magical, mythical land of AYCE. For the uninitiated, that is, of course, the land of All-You-Can-Eat.
I knew that the city has a few buffets but I had never heard about the Heilman Dining Center. The first thing I did was give them a call to see if there really was such a place on the beautiful UR campus. There was. There still is (following an extended closure due to COVID). My next question was, "Can old men eat there?" Or, in other words, do you have to be a student to dine at the Heilman Center. The answer is yes, old men can eat there and no, you don't have to be a student.
So, guess what I did next. I hightailed it over to the HDC, as those of us in the know call it. I did not know at the time, but I have since learned that according to "Southern Living" magazine, this is one of the south's most stunning campus dining halls. Certainly, the setting, right across the lake from the Boatwright Library, is stunning. The dining hall itself is modern and inviting, brightly lit and, of course, filled with plenty of young adults.
But, I found the selection and quality of my meal to be rather stunning as well. With the exception of a couple of 30-minute breaks between meals, the dining center is open from 7 a.m. to 8 p.m. daily (from 8 a.m. on weekends). Breakfast, which consists of an omelet station, eggs, grits, breakfast meats, pancakes, and more, runs $8 per person. But dinner is when the place really gets interesting, stunning, if you will. An A-Y-C-E dinner is just $16 for adults. And with several food stations, there is always a tremendous selection.
For instance, if burgers and fries are your thing, visit Provisions 804. The menu is ever changing, but besides the burgers and fries, you'll feast on corn dogs, fish sticks, onion rings, and more.
There are also vegan options and a variety of vegetable selections at the Plant Life station. Again, the menu changes daily, but you can see what's on today's menu by visiting the website.
You want pizza? You got it at Herb + Olive, which might have a pasta bar one day or roasted peppers the next, or, well, you just never know.
Bruce's is another station, which offers a variety of tempting dishes such as Mediterranean Salmon, fried or baked chicken, jambalaya, or maybe a chicken wing bar.
Heilman Dining Center also offers a full salad bar, selections of soups, and a deli bar.
And what would a buffet be without a variety of tasty tidbits to tempt your sweet tooth. The Heilman offers its Crumbs + Cream station. On any given day there may be Oreo pie, chocolate chip cookies, apple strudel, pudding, or devil's food cupcakes. There are always several sweet selections.
And I haven't even told you about all the stations – I feel like I need to save some surprises for you to discover.
If you haven't been on the UR campus, you're in for a treat, whether you plan to visit the HDC or not. But if you really want a treat, in fact, if you want an all-you-can-eat treat, then check out the wonderful Heilman Dining Center.
To learn more visit online at Dining.Richmond.edu.
---
Steve Cook has lived in the Richmond area for most of his life, working as a writer and editor and in marketing and radio. He loves to keep abreast of the local restaurant scene and researches the subject voraciously. "I used to think I was a foodie," he says, "but then I realized I just like to eat a lot." He once co-hosted a local Richmond restaurant radio program with BOOMER editor Annie Tobey. Steve completed his first novel in 2017 and says he hopes to read another one this year.