The Music of The Statler Brothers: An Anthology
| November 3rd, 2020
Stories behind the albums and songs of this iconic country and gospel group
---
Book by Don Reid. Reviewed by Annie Tobey
---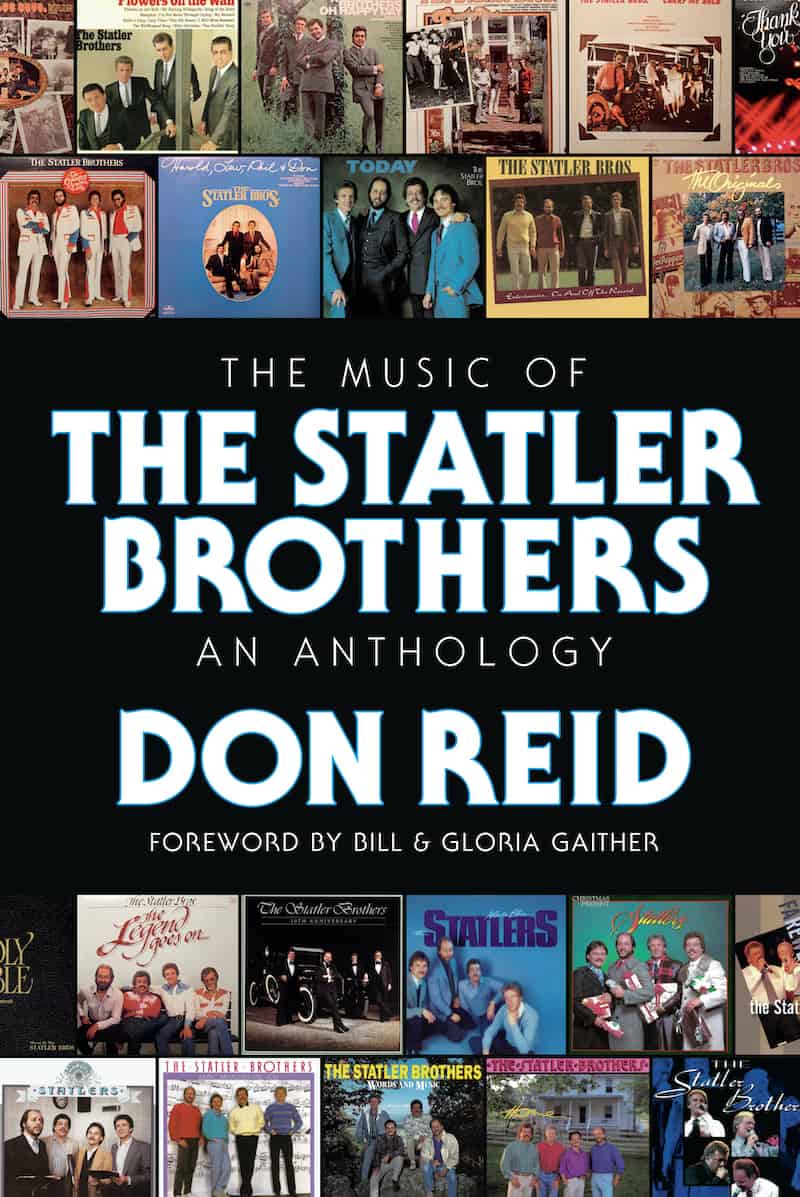 With tensions running high in politics and public life, and often even in our personal lives, feel-good books can provide a welcome reprieve. When such a book is based on real life, the therapeutic value is multiplied. The Music of The Statler Brothers: An Anthology, by Don Reid, is just such a book.
With lead singer Don Reid as the author, the stories are as authentic as they come. To add to the veracity, Reid got the approval of his brother and fellow Statler Brother, Harold Reid. Harold died on April 24, 2020, and Don includes a memorial in the book. "My brother read and approved every page and every word as I sent him each chapter as I wrote it … We were brothers, best friends, business partners, and confidants. This is a chronicle of our musical life together, and it was important to me that he agreed with every memory I recorded here. He did."
See what I mean about feel good?
A lifetime of music and relationships
In a nutshell, the book takes a complete chronological look at The Statler Brothers' recorded music. Each chapter represents stories behind the group's albums and songs, from Flowers on the Wall (1966) to Farewell Concert (2003, recorded live from their final concert in the fall of 2002). Each chapter sets the stage with background about the album, followed by a section about each song. These sections include anecdotes about the songwriter, choosing the song, musical notes, and on so on.
Though widely recognized as a country music group, the quartet also valued their ties to gospel. They began performing at local churches; their secular songs used gospel harmonies; they produced several gospel albums; and the church was an important part of their lives.
The gospel emphasis is apparent from the beginning of the book. The foreword was written by renowned gospel performers Bill and Gloria Gaither. And the first page of the first chapter emphasizes that they went to church the morning before their first show with Johnny Cash in 1964, an afternoon matinee.
The quartet started in Staunton, Virginia, when Don Reid, lead vocalist, was 14 and still in high school. The other three co-founders were out of school with day jobs. Harold Reid sang bass and was the group's funny man. Live performances were enlivened by the comedy and parody he instigated, and songs frequently included humor and wordplay.
Phil Balsley sang baritone and Lew DeWitt sang tenor and played guitar. (DeWitt was replaced by Jimmy Fortune in 1983 because of DeWitt's health issues.)
They were little known when Cash heard them and invited them to sing with him. They sang backup for him on stage, record, and TV for 8½ years.
Peer behind the curtain
The chronological layout doesn't take deep dives into the group's musical evolution or relationships over the years. However, bits and pieces of these and other themes stand as colorful bits of the larger puzzle. The stories reveal glimpses into the entertainment business, from take-off to soaring high above the clouds to landing softly and intentionally.
Read how their early fate depending upon how hungry Johnny Cash was – literally, how long he stayed away from the studio on a lunch break, unknowingly giving his backup singers an unexpected opportunity to record a song. Read how The Statler Brothers recorded two songs while Cash was away. They cut an early Tom T. Hall song, "Billy Christian," and the hastily completed "Flowers on the Wall." The latter became the group's first hit, on both country and pop charts.
Read about the only significant batch of negative fan mail they got (besides complaints about Don Reid's beard): for changing "Almost heaven, West Virginia" to "Almost heaven, Old Virginia" in "Country Roads."
---
Like books? Browse more boomer-tailored book reviews.
Or sign up for our monthly Books e-newsletter or other bespoke e-newsletters!
---
Learn plenty about the group's Virginia roots and Reid's continuing love for his home state, including its portrayal in "One More Summer in Virginia." Virginia governor Chuck Robb suggested that The Statler Brothers should let him give that song his support at the next Virginia state song. Chuck and Lynda Bird invited them to his home, and the Robbs visited Don and Debbie Reid's home in Staunton. Ultimately, though, "as time went on, we had friends that got in that contest of submitting their songs for that honor [of being the next state song], and I decided I didn't want to get in that horse race and turn friendships into competition."
Read familiar names like
Johnny Cash:
This musical powerhouse, along with his wife, June, and her family, the Carters, appear throughout the book. One of my favorite anecdotes links to one of my dad's favorite songs, "How Great Thou Art."
John and June called us to see their new home on Old Hickory Lake … John asked us to christen their home with this song. He wanted "How Great Thou Art" to be the first song sun in what would be their final home on earth. The six of us stood in a circle in the twilight and we sang it like we've never sung it before or since. Tears and good memories."
I can only imagine!
Roger Miller:
"We had great times with him on the road and on our television show. He guested on one of our Christmas specials in '85, and we literally laughed so much while we were trying to get it all on tape that we all five lost our voices."
John Wayne:
The group was in the midst of recording "Blue Eyes Cryin' in the Rain," but they dropped everything in response to an invitation from John Wayne to meet him in Nashville.
Gene Autry:
Harold and Don wrote the song "Mr. Autry" as a tribute to "the original singing cowboy." A few years later, the group had a chance to visit with him and watch an Angels' baseball game with him in his private box. "He owned the team and we owned the night … We've met a lot of our heroes and some of them didn't hold up. But this one, at ninety-one years old, was still bigger than life."
And so much more.
Read The Music of The Statler Brothers from start to finish, or piecemeal
Given its layout, the book can easily be enjoyed bit by bit. You can pick it up when you have a spare minute or when you're feeling low, and let it lift you up, make you smile, and spark fond memories.
Or read it start to finish, getting a full picture of the group's evolution and relationships.
Best: read it with the group's complete discography beside you. If the stories make you feel good, hearing the upbeat songs and/or seeing them on video will increase the inspiration factor exponentially.
The Music of The Statler Brothers: An Anthology
by Don Reid
Mercer University Press (August 3, 2020), 448 pages
---
As an Amazon Associate, Boomer Magazine earns from qualifying purchases of linked books.