The Waffle House: It's No French Laundry. Thankfully
| October 6th, 2022
How do these two well-known restaurants stack up?
---
Richmond food and travel writer Steve Cook presents a side-by-side comparison of two well-known restaurants, Waffle House and The French Laundry. See if you agree.
---
I recently read that that celebrity chef Anthony Bourdain had proclaimed the Waffle House restaurants to be better than The French Laundry. The French Laundry, as you no doubt know, is one of the most famous restaurants on earth. So, I was a little astounded to think that that someone in the know seems to know that Waffle House is better. If you're into comparisons, I'm guessing you'll be excited to review the results of my exhaustive research designed to see just how the Waffle House stacks up. As any good journalist and researcher would do, I've organized my report into several important categories. Let's get started.
Reservations:
Reservations at The French Laundry can be quite difficult to obtain. You may have to start in the summertime to get a reservation for fall. From what I read, it can be a rather complicated process.
At the Waffle House, on the other hand, just walk on in, grab yourself a seat, and one of the friendly servers will pour you a hot cup of coffee while you take a minute to look at all the pretty pictures on the menu.
The Price:
The cost of a meal at the French Laundry runs about $350 for their tasting menu. Before you gasp, let me tell you that that's the full price. Unlike Ruth's Chris, they don't charge you another arm and a leg for the baked potato (if they had a baked potato, that is). Okay, now you can gasp.
A meal at Waffle House could run you three fifty as well. But that's $3.50. Although, you can pay much more. For instance, if you want the steak and eggs, that's gonna run you almost 10 bucks. I'm guessing you could probably get about one of each item from the Waffle House menu and still spend no more than the $350.
The Food: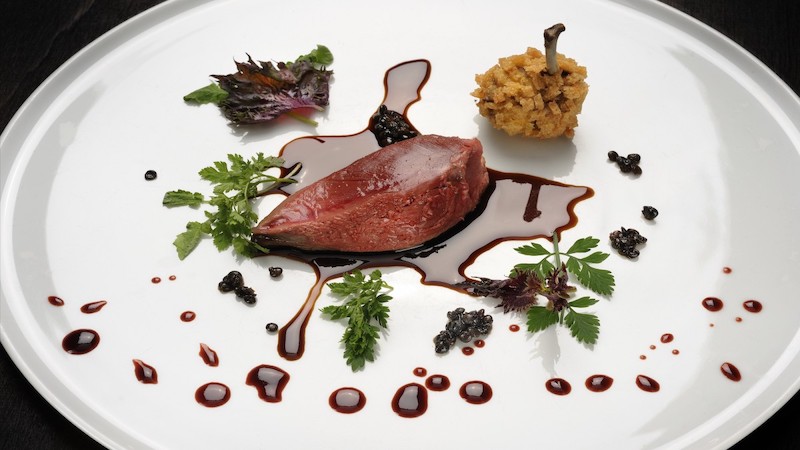 Up till now, I've been dealing in hard, cold numbers. Taste, on the other hand, is subjective. Looking at both menus, I'd say the Waffle House has the French Laundry beaten hands down when it comes to pleasing the old palate. But, honestly, I'm basing this on my own personal, well-trained tastebuds. You'll have to draw your own conclusions. But see if this sampling from a recent French Laundry menu gets you excited.
Wilted arrowleaf spinach. Now, if I'm shelling out more than three hundred dollars, I'd be very disappointed if the spinach was wilted.
Here's one of the seven courses from the same recent menu – charred eggplant, bechamel, crispy garden eggplant, cauliflower sprouts, and eggplant consommé. Enough with the eggplant already.
Under the "Bread & Butter" course, they're serving up bitter cocoa laminated brioche. Please, I beg you, don't ever try serving me a dish that's both bitter and laminated. That could easily describe the menu at Waffle House. Not the items on the menu, the taste of the actual menu.
Now, while the French Laundry has a variety of eggplant dishes, the Waffle House offers a beautiful variety of hashbrown options. You can get 'em smothered (with sautéed onions), chunked (with hickory ham), diced (with grilled tomatoes), capped (with grilled mushrooms), or country style (with sausage gravy). There are a few more varieties, but you get the idea.
I wouldn't say the Waffle House offers a seven-course meal, but you can certainly consider it to be seven courses if you add up the All-Star special, which features 1) eggs, 2) toast, 3) grits, 4) your choice of breakfast meats, 5) waffles, 6) coffee, and 7) juice. But be prepared to pay dearly. That's going to run around 10 bucks.
So, which is better – bitter spinach or crispy bacon? You choose. Because this is a scientific report, I knew I would have to visit for myself and taste. In all fairness, since I couldn't go to the French Laundry, I went to the Waffle House twice last week. Both times, I had the scrambled eggs with cheese, the regular hash browns, dry toast (watching my WW points, you know) and coffee. Everything was perfectly delicious.
Location:
Here's where Waffle House has the French Laundry beat by a country mile. To dine at the French Laundry, you're going to have to go to Yountville in California's Napa Valley. From Downtown Richmond, that's about 2,852 miles.
On the other hand, with nearly 20 locations in the Richmond metro area, you're bound to be only minutes away from your nearest Waffle House.
So, now that you've analyzed the results, what do you think? To me, the choice is obvious and I'm guessing you wholeheartedly agree. We're going to the Waffle House.
---
Steve Cook has lived in the Richmond area for most of his life, working as a writer and editor and in marketing and radio. He loves to keep abreast of the local restaurant scene and researches the subject voraciously. "I used to think I was a foodie," he says, "but then I realized I just like to eat a lot." He once co-hosted a local Richmond restaurant radio program with BOOMER editor Annie Tobey. Steve completed his first novel in 2017 and says he hopes to read another one this year.
Dig in to more restaurants and other recommendations from Steve Cook