Unstuffed Shells: Easy and Divine
| March 15th, 2023
The flavor of stuffed shells without all the fuss – you'll thank us!
---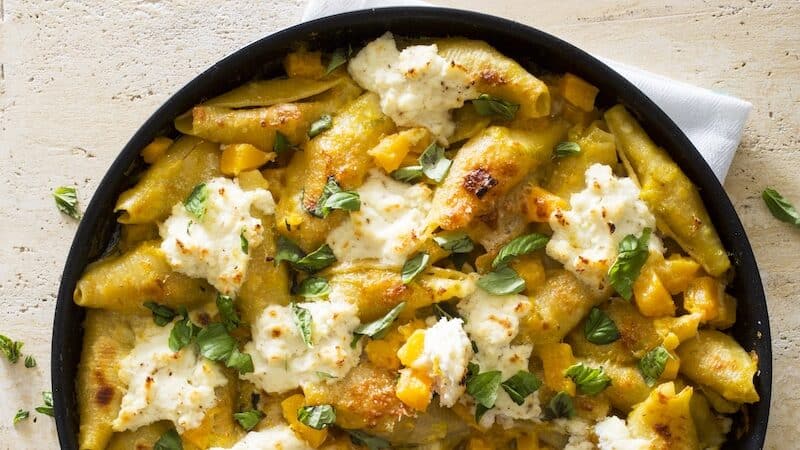 Making stuffed shells is a tedious process. On a busy weeknight, no one has time to meticulously stuff each and every individual par-boiled pasta shell. Do yourself a favor and try this recipe for unstuffed shells instead. You'll thank us later, for time saved and a tummy satisfied.
The base of the dish features butternut squash, leeks, and garlic, while a touch of white wine and heavy cream add a luxurious decadence. Rather than "stuffing" the shells, you'll simply dollop the dish with cheese before baking until bubbly and golden.
Unstuffed Shells with Butternut Squash and Leeks
Serves 4 to 6
Notes: You can substitute large or medium shells, ziti, farfalle, campanelle, or orecchiette for the jumbo shells here. The skillet will be very full when you add the shells in Step 3 (stir gently to start), but will become more manageable as the liquid evaporates and the shells become more malleable. You will need a 12-inch oven-safe nonstick skillet for this recipe.
Ingredients:
8 ounces (1 cup) whole-milk ricotta cheese
2 ounces Parmesan cheese, grated (1 cup)
1 teaspoon grated lemon zest
Salt and pepper
1 tablespoon extra-virgin olive oil
1 1/2 pounds butternut squash, peeled, seeded, and cut into 1/2-inch pieces (5 cups)
1 pound leeks, white and light green parts only, halved lengthwise, sliced thin, and washed thoroughly
2 garlic cloves, minced
Pinch cayenne pepper
1/4 cup dry white wine
4 cups water
1 cup heavy cream
12 ounces jumbo pasta shells
2 tablespoons chopped fresh basil
Directions:
Adjust oven rack to middle position and heat oven to 375 degrees. Combine ricotta, 1/2 cup Parmesan, lemon zest, 1/4 teaspoon salt, and 1/4 teaspoon pepper in a bowl; cover and refrigerate until needed.
Heat oil in a 12-inch oven-safe nonstick skillet over medium heat until shimmering. Add squash, leeks, and 1/2 teaspoon salt, and cook until leeks are softened, about 5 minutes. Stir in garlic and cayenne and cook until fragrant, about 30 seconds. Add wine and cook until almost completely evaporated, about 1 minute.
Stir in water and cream, then add pasta. Increase heat to medium-high and cook at vigorous simmer, stirring gently and often, until pasta is tender and liquid has thickened, about 15 minutes.
Season with salt and pepper to taste. Sprinkle remaining 1/2 cup Parmesan over top, then dollop evenly with ricotta mixture. Transfer skillet to oven and bake until Parmesan is melted and spotty brown, about 5 minutes. Remove skillet from oven (skillet handle will be hot). Let cool for 10 minutes, then sprinkle with basil and serve.
---
More one-pot pasta recipes:
With sweet Italian sausage, peas, and cheese
---
For 25 years, home cooks have relied on America's Test Kitchen for rigorously tested recipes developed by professional test cooks and vetted by 60,000 at-home recipe testers. The family of brands – which includes Cook's Illustrated, Cook's Country, and America's Test Kitchen Kids – offers reliable recipes for cooks of all ages and skill levels. See more online at www.americastestkitchen.com/TCA.
©2023 America's Test Kitchen. Distributed by Tribune Content Agency, LLC.