Veggie-Packed Quinoa Chickpea Burgers
July 1st, 2022
Unbeatable nutrition – and taste
---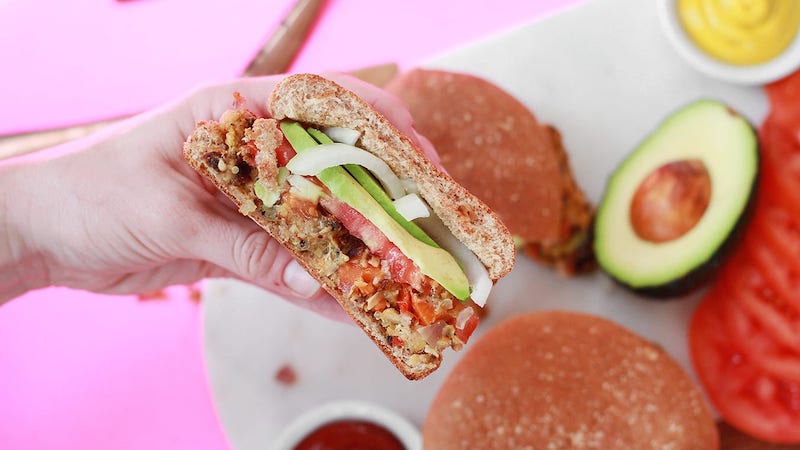 Whether you're looking for picnic fare that's both healthy and delicious or simply for an anytime meal, these veggie-packed quinoa chickpea burgers are about to become your summertime go-to! The recipe comes from Ancient Harvest, and the company's Organic Quinoa is pre-washed and rinsed, so you can get to cooking – and eating – even faster.
Vegetable Quinoa Chickpea Burgers
Makes 4 burgers
Ingredients
• ½ cup Ancient Harvest Harmony Organic Quinoa
• 1 cup vegetable broth
• 2 tablespoons olive oil
• 1 red onion, chopped
• 3 cloves of garlic, minced
• 1 cup red bell pepper, diced
• 2 stalks celery, chopped
• 1 cup mushrooms, diced
• ½ cup carrot, diced
• 1 15-ounce can chickpeas, rinsed and drained
• 1 flax egg (1 ½ tablespoons ground flax seeds + 3 tablespoons water, set aside for 5 minutes)
• 1 tablespoon oregano
• 1 tablespoon basil
• 1 teaspoon paprika
• ½ teaspoon mustard
• 2 teaspoons guar gum (optional, creates a sturdier patty)
• Salt and pepper, to taste
• Red pepper flakes, to taste
• Burger toppings: tomato slices, avocado, lettuce
Directions
Cook the quinoa according to package instructions, cooking in vegetable broth instead of water.
Heat oil in a large pan over medium heat and sauté onions until translucent, about 3 minutes. Stir in garlic and cook until fragrant, about 2 minutes. Stir in red bell pepper, celery, mushrooms, and carrots and cook for another 5 minutes.
In a large bowl, mash the chickpeas and stir together with quinoa, flax egg and cooked veggies. Add spices, mustard, guar gum, salt, pepper, and red pepper flakes, stirring to combine.
Set a pan with olive oil over medium-high heat and form 4 patties with the quinoa vegetable mixture. Cook the patties for about 5 minutes on each side, until golden.
Assemble quinoa chickpea burgers and enjoy!
Go to the source of these vegetable quinoa chickpea burgers
Ancient Harvest highlights time-tested, plant-based, nutrient-dense ingredients, especially the powerhouse food, quinoa (pronounced (KEEN-wah).
This ancient South American grain (well, it's really a seed, but could be considered a "pseudograin" because it's used like cereal grains are. Quinoa is gluten free and packed with vitamins and minerals, with protein, fiber, and healthy fats.
According to Healthline, one cup of quinoa has 220 calories, 8 grams of protein (complete amino acids, in fact, unlike most plant-based proteins), 4 grams of fat, and 5 grams of fiber. It also contains:
Manganese: 58% of the RDI.
Magnesium: 30% of the RDI.
Phosphorous: 28% of the RDI.
Folate: 19% of the RDI.
Copper: 18% of the RDI.
Iron: 15% of the RDI.
Zinc: 13% of the RDI.
Thiamin: 13% of the RDI.
Riboflavin: 12% of the RDI.
Vitamin B6: 11% of the RDI.
It's high in beneficial plant compounds, such as saponins, phenolic acids, flavonoids, and betacyanins. Check out the Healthline article for even more benefits.
Ancient Harvest produces a host of healthy products: veggie pastas, plant-based protein pastas, heat-and-eat quinoa, corn and quinoa penne pasta, heat-and-eat polenta, hot cereal, and seven varieties of pre-rinsed, ready-to-cook quinoa. Whether you whip up some quinoa chickpea burgers or a delicious quinoa side, Ancient Harvest has your back. And your heart. And your health.
---