Virginia Rep Theatre Gets New Leader
| July 27th, 2016
---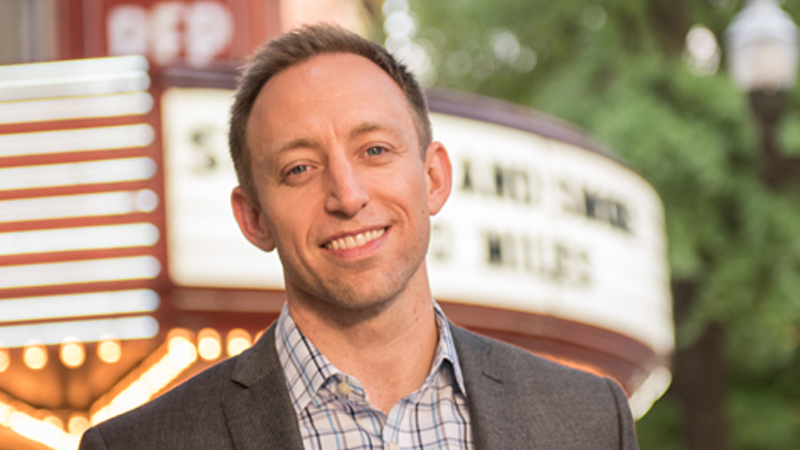 You might know Nathaniel Shaw's name from the Virginia Repertory Theatre's production of Peter and the Starcatcher, which he directed in Richmond October 2015. But as of July 1, Shaw will be known as Virginia Rep's new artistic director, replacing Bruce Miller after his 41 years on the job.
Shaw was born in Menlo, California, and grew up in Arizona. He began as a professional dancer, following in his parents' footsteps. He received his bachelor's degree in musical theater from the University of Northern Colorado. Shaw has been a member of the Paul Taylor Dance Company, founder and artistic director of The Active Theater in New York City and development director for Glass Half Full. He served as associate choreographer for the Tony Award-winning production of Once, presented on Broadway, on tour and in South Korea and Australia.
Virginia Repertory Theatre, one of the largest performing arts organizations in Central Virginia, received buy-in from stakeholders before offering the job to Shaw, explained Virginia Rep's managing director, Phil Whiteway. "His experience in developing new works is particularly exciting to us as we seek to expand our impact within this area locally and beyond Richmond," he added.
On July 1, Shaw began consulting with Virginia Rep remotely from prior theatrical commitments in New York. He and his family will relocate to Richmond permanently in October.
You can listen to a live recording of Bill and Shelly's Interview with Nathaniel here:
BILL BEVINS: I have a bunch of questions for you, but I want to start with a basic one and the old saying, "You never want to replace the man." You're replacing the guy [Bruce Miller] that started the whole thing and had the job for 41 years. That's got to be pretty daunting.
NATHANIEL SHAW: Yeah, I think it can be very daunting and I think where a lot of theaters go wrong is the outgoing artistic director is leaving under circumstances that he's not happy with, or he doesn't do everything possible to make the transition graceful. Bruce, as I'm sure everybody in Richmond already knows, is one of the most generous, transparent and supportive people imaginable, and his service to Richmond theater and the community of Richmond is second to none.
SHELLY PERKINS: And he's not leaving.
NS: He's not leaving, exactly, and he wants this transition to a new artistic director to be as smooth for me as possible, as smooth for the organization and as smooth for Richmond as possible. He's taking very, very good care to shepherd in this transition gracefully and prepare me as best as possible. He's moving over to a founding producer position, so I will also have a wonderful asset and mentor in the building as I get more and more familiar with Richmond.
SP: I think that's so great and so wonderful to see organizations like the Virginia Repertory Theatre really look ahead, because I think it's always smart to bring in fresh, new ideas to keep this going. Obviously Bruce loves this group so much and that would be important.
NS: That's a big part of this transition. He's quite a visionary man, as Richmond should be well aware of by this point, and he knows he's done what he can in this position. He and I agree that we both view the next chapter for Virginia Rep. – for instance, [we're both dedicated to] new work development, which is largely what I've been doing for the last several years of my career in and around New York. It's not a particular skill set that Bruce Miller has, amongst the many skills that he has, so that was part of his vision – finding a person that can bring Virginia Rep into its next chapter.
SP: Let's talk about you personally, because so many families in the Richmond area enjoy not only the Virginia Repertory Theatre but also the children's programs that go on, so let's talk about your family. I know you want to brag on them a little bit.
NS: I'm so fortunate. I have a wonderful wife, Lisa Rumbauskas. We met during a production of West Side Story in 2007 and it's been just wonderful ever since. We have a beautiful boy, Benjamin, who's just a little over 2 years old, and a second one on the way, coming around Aug. 15, so I'm thrilled about that. I have heard nothing but wonderful things about raising kids in Richmond and what a fantastic environment it is for families. We're very, very excited in that regard as well.
SP: You are going to love it here with all the culture and the beautiful river and so many young families. You and your wife are going to love it here.
NS: We've certainly gotten that impression, and it does feel like it's a small city with a lot of wonderful things to do. Every neighborhood holds its individuality, lots of culture and easy-to-do outdoor activities – lots of wonderful things about raising a family in Richmond.
SP: I'm sure Lisa is just delighted that you decided to take on a whole new career, a whole new city, right when she's getting ready to have your second child!
NS: [Laughs] I keep saying, if we can make it to the holidays, we'll be OK. I have two projects coming up that are both out-of-town projects for me where I'll be directing shows in upstate New York, so I'll be away for six or seven weeks this summer while she's extremely pregnant.
BB: Wow! What a smart guy! [All laugh.]
NS: It seemed like a good idea at the time! We both agreed it seemed like a good thing to do, and it will be, we'll be fine, but it's going to be a little hectic.
BB: You're not coming here sight-unseen. You were here last year and directed with the Rep, right?
NS: Yes, I directed Peter and the Starcatcher, which was the opening show of the season, and had a fantastic experience – wonderful troupe of actors all incredibly game to jump in and paint with the vivid colors of their imagination, as that play required; great support from the organization; and fantastic execution of the design led by Bruce Rennie. That's just a great team over there and I'm very excited to be a part of it.