Visit an Assortment of Boutique Wineries in Orange County
| October 10th, 2019
Exploring Virginia through rosé-colored glasses
---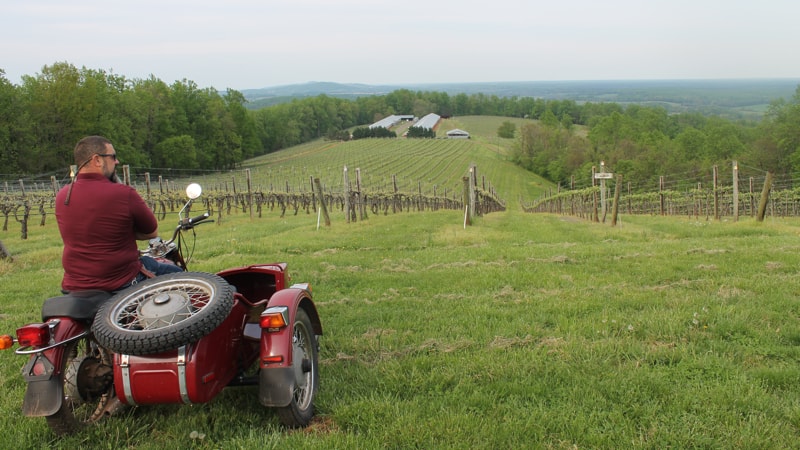 ---
The secret has been out for years: Virginia can grow some very fine grapes. And Orange County has been riding the wave of this non-secret secret for years. Comprised of a small collection of boutique vineyards, these grape-infused businesses are fueled by a heavy dose of passion – each one offering its own personality and charm.
The area's rolling landscapes covered in postcard-worthy views make for an idyllic setting to enjoy a glass of vino. And, located just 70 miles northwest of Richmond, its proximity sets itself up perfectly for a day ­– or weekend – of winery-hopping. Follow this suggested itinerary for drinking in Orange County wine, views and other high points.
CHATEAU MERRILLANNE
This quaint, cat-themed vineyard is a great place to get your feet wet and tongue purpled. If you ask the owner, Kenny White, how his winery got started, he'll tell you "accidentally." He purchased the land in 2003, decided to grow a small patch of grapes, and in a very "If You Give a Mouse a Cookie" kind of way, he had a winery on his hands. The passion of this delicious accident seeps through in every bottle of carefully crafted wine and in the eyes of the winemaker himself.
The tasting room, situated in a rustic, cozy farmhouse, has the kind of relaxed comfort likely reminiscent of your grandmother's home – if your grandmother was into fine wine. And the atmosphere itself breeds a very sit-around-and-talk-to-your-friends vibe, serving as a delightful reminder that great accidents do exist.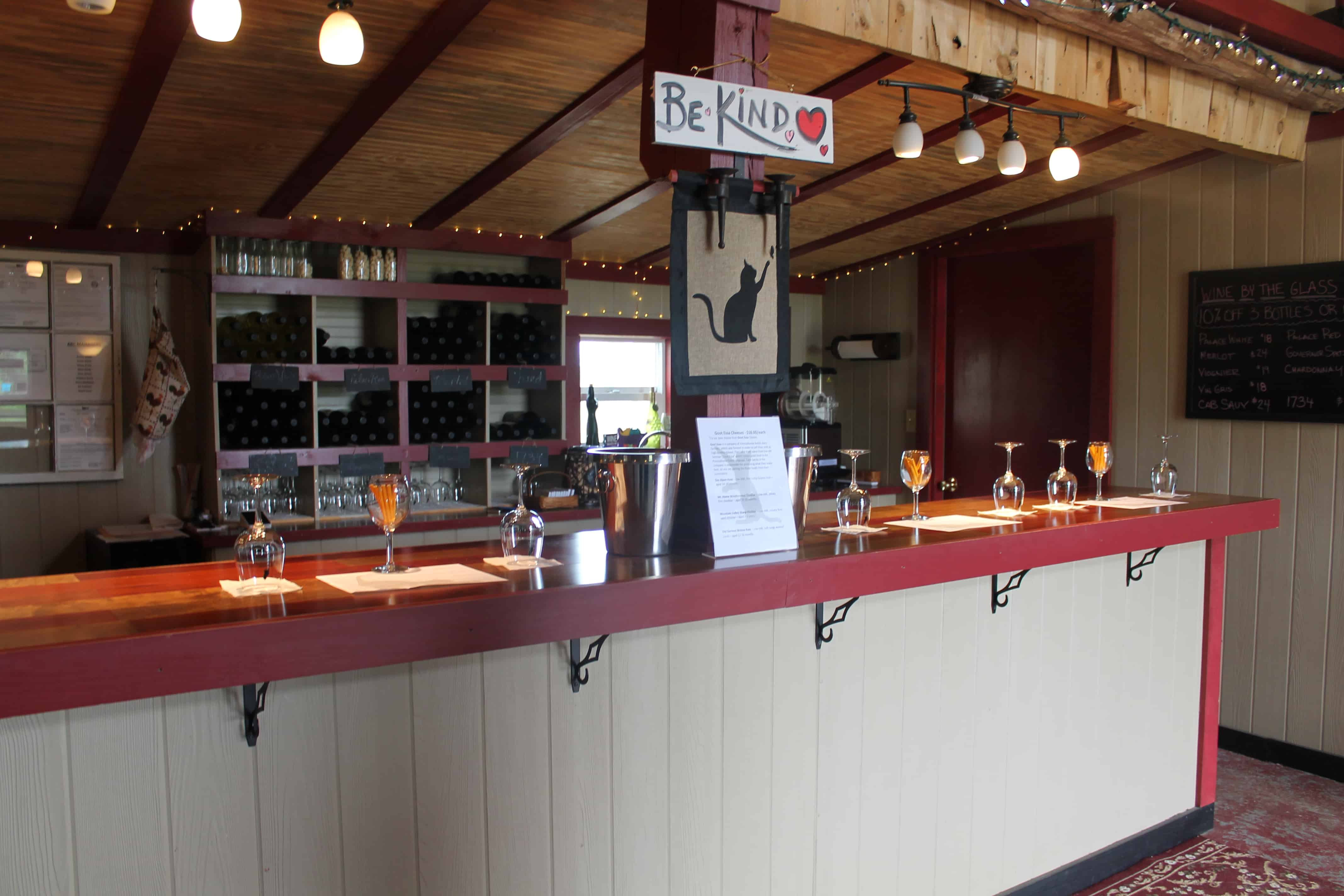 HAMMERSTONE CELLARS
A convenient five-minute drive from Chateau MerrillAnne resides Hammerstone Cellars. The wines are handcrafted and produced onsite, for a farm-to-bottle kind of experience – and the tasting room's small, personable ambience harbors a Cheers-like energy.
When breaking ground for their business, the owners uncovered an abundance of prehistoric Native American artifacts, such as knives and arrowheads (thus the name!). Though the users of these ancient tools are long gone, do their spirits still infuse the soil with good fortune?
You tell us.
HONAH LEE VINEYARD
This vineyard gained its name from the iconic '60s song, "Puff the Magic Dragon," who, as you likely know, lives in the magical and exotic land of Honah Lee. The name is perfectly appropriate for a winery whose rolling hills and picturesque landscape simply keep going the farther you venture into it. Enjoy sips in the winery's rustic log cabin tasting room – even the bar is made out of wooden barrels. In addition to wine, they also peddle local products like jams, hot sauces and honeys (and even mead!).
The owners at Honah Lee attribute the flavorful wines to the unique and fertile soil that allows the grapes to thrive – soil that, some might say, can exist only in a magical and exotic land.
SOAK UP THE WINE WITH LEGENDARY BARBECUE
Take a break from the sips for some sustenance. Don't let yourself come to Orange County without at least a whiff of the Barbecue Exchange, for some of their delicately smoked pork, chicken or brisket (or tofu!). Click here for more tender, juicy details.
REYNARD FLORENCE VINEYARD
When pulling up to Reynard Florence, be prepared to stop suddenly. Their driveway begins atop a steep hill, providing visitors with an unblemished, jaw-dropping (even smartphone-dropping) view of the Blue Ridge Mountains. But keep going – it gets better (because, remember, wine).
The owners, Roe and Dee Allison, make their wines onsite, with great care taken from every barrel to every bottle. They also prioritize the Orange County community – as shown by regular local live music performances and the work of Virginia-based artists speckling the tasting room walls.
Oh, and before you leave, don't forget to say goodbye to the winery's resident corgi, Ti Rey. He just loves new friends.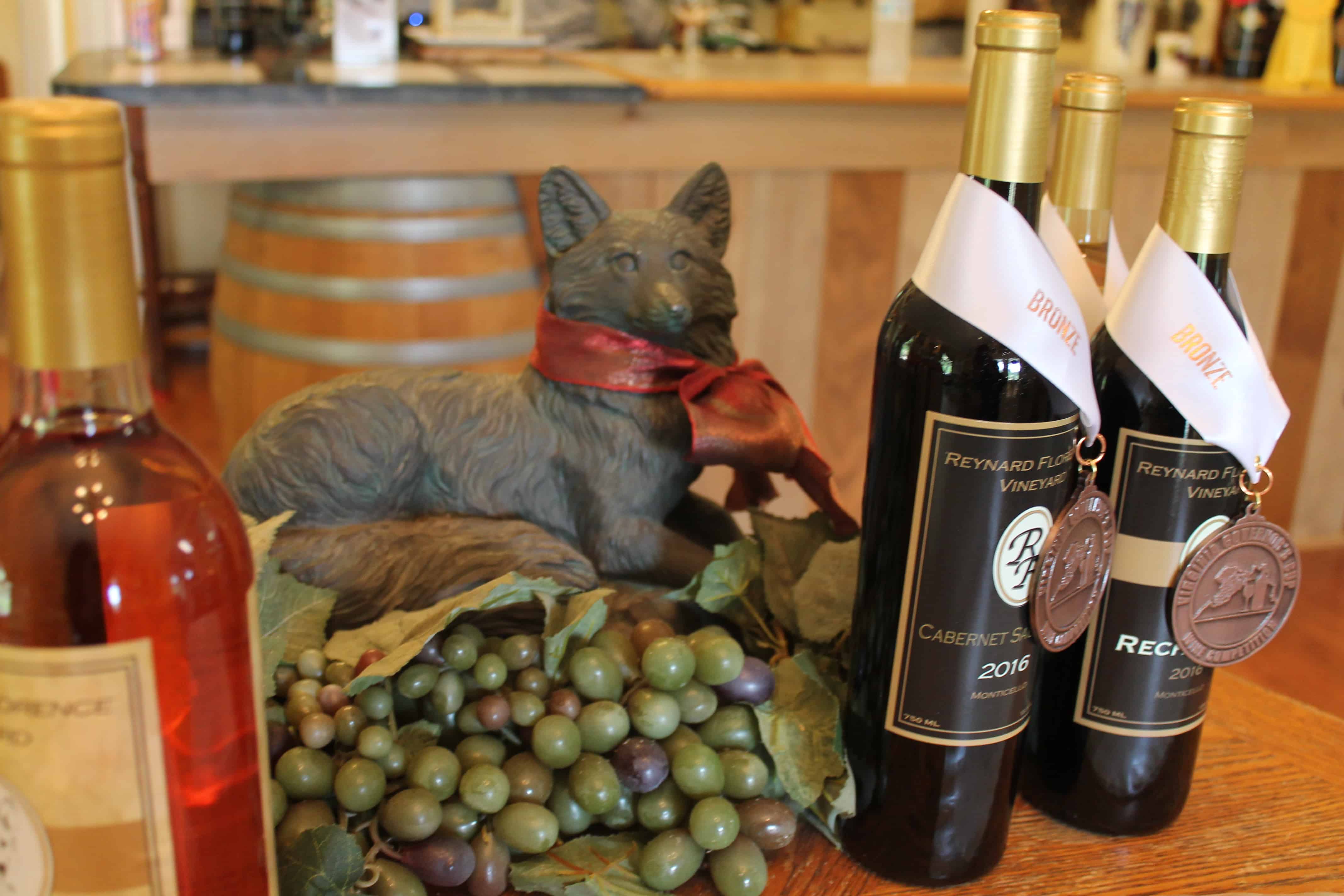 BARBOURSVILLE VINEYARDS
And then, of course, there's Barboursville. While you're out wine-tasting, swing by the Disney World of wineries: 900 verdant acres of tasting rooms, scenery, tours, a restaurant, an inn, cottages and – well, grapes.
The winery was established in 1976 by an Italian family in the wine business for nearly two centuries. Their skill seeps into each sip. Enjoy a tasting room flight or, for a more exclusive experience, settle into the land of reserve wines and vintages at the Library.
Or just grab a glass and enjoy that legendary view. There are no wrong options here, folks.
RELAX AND UNWINE
Why rush home when Orange County would so graciously like you to stay? Finish off your day with history and hospitality at the Holladay House Bed and Breakfast.
The centuries-old building in the center of the town provides modern amenities while still maintaining the integrity of a 19th-century manor. The innkeepers at this B&B ensure the comfort of every guest with homemade breakfast each morning – and a heavy serving of that signature Orange County friendliness.
FOR A LITTLE BIT OF EVERYTHING ELSE …
Before your departure, swing by the Amazon.com of cafés that is the Market at Grelen. They've got it all: in addition to farm-to-table cuisine, homemade ice cream and Virginia beer, cider and wine, they offer a lush Garden Shop plus a quirky gift shop, all set against highly Instagram-able views. They even offer a pick-your-own fruit farm in addition to miles of hiking trails. Pop over for a quick bite, or settle in for a while …
… Glass of wine in hand, of course.