Local Arts Center Provides Social and Artistic Outlet for Boomers
| January 9th, 2016
Lisa Schaffner highlights a local nonprofit, and talks about how area boomers can Give Back.
---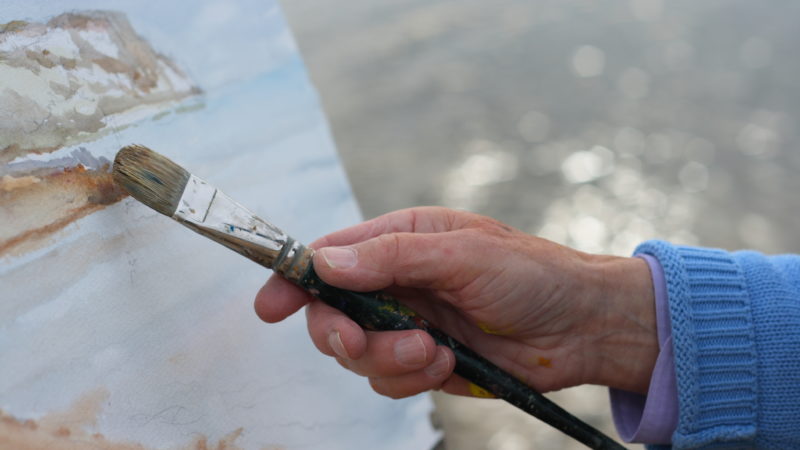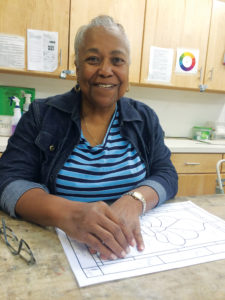 Under Barbara Wright's Christmas tree is a very special gift to her granddaughter. It comes from the heart, made with her two hands, a gift that will give beyond the holiday season for generations to come. It's a booklet filled with handwritten pages of sentiments and quotes from the 70-year-old to her 13-year-old granddaughter. The pages are homemade paper, crafted in a very special art class organized by the Visual Arts Center of Richmond.
Studio S – "S" stands for Seniors – is a VisArts outreach program providing arts education programs and workshops to East End senior citizens. Barbara Wright has participated in Studio S since she moved to Richmond in 2005. "This is my calling. I love doing things with my hands," exclaims the vibrant grandmother. "If I had a chance to learn and to do this when I was younger, I could have been a Van Gogh! I just never had the opportunity."
The Visual Arts Center of Richmond partners with two Richmond-area senior centers to identify Studio S artists. Classes are free, but the experiences are priceless, especially in working with the younger teachers and staff members. "It's a way to have fun, learn something new and get out and be around people. They aren't just around other seniors, but people half their age. It's a really cool thing," explains Liz Bryant, the center's development director.
VisArts is all about art, but Studio S is so much more. It's about new friendships, working together and encouraging each other. At a recent Studio S workshop, eight senior citizens were working on a stained glass project. You could sense the creative juices flowing, but there was also something else in the air. A childlike enthusiasm, giddiness if you will, about tackling something they'd never done before.
"I love seeing how all the glasses blend together," says Barbara as she proudly shows off her design. "This stained glass project is my favorite so far, and hand clay work is my second favorite."
Jordan Brown, interim director of adult programs, heads up the Studio S program, one of four outreach programs offered by VisArts. "Predominantly, these adults are from the East End of Richmond, a lower economic area where transportation is scarce and being outside is difficult," says Brown. "The aging population is growing rapidly, and we need to support healthy aging, which includes aging in your home, providing social connections and feeling like you're a vital member of the community." Studio S checks all of those boxes and a few more.
Studio S programming runs from September through May. If you're an artist, you could teach a class, but art expertise isn't required for classroom assistants. As Brown says, "You don't need a specialized talent to hand out materials. We just need an extra set of hands." So what do you say? Time to get your hands a little dirty and start Giving Back? Turn the page and find out how.
WANT TO VOLUNTEER WHERE YOU ARE NEEDED?
VISUAL ARTS CENTER OF RICHMOND
HOW IT HELPS: provides opportunities for people of all ages to explore their artistic skills and to express themselves through clay, wood, fiber, painting, photography, glass, metal, writing and drawing.
HOW YOU CAN HELP: become a classroom or event volunteer.
WEBSITE: Visit the website and click "Volunteer Opportunities" under Support.
CONTACT: To volunteer, contact Jordan Brown at JordanBrown@visarts.org. For all other volunteer opportunities, call VisArts at 804-353-0094 or contact volunteer coordinator Nicki Stein at nickistein@visarts.org.
SALVATION ARMY CENTRAL VIRGINIA
HOW IT HELPS: offers services to those in Central Virginia who need a helping hand through various programs, including: Christmas Assistance 2015, Boys & Girls Club and Community Education.
HOW YOU CAN HELP: get involved by becoming a volunteer, conducting a food drive for the Food Pantry or supporting Donuts of Hope.
CONTACT: Visit the website and submit a Volunteer Interest Form or call Salvation Army Central Virginia Area Command at 804-225-7470.
BYRD THEATRE FOUNDATION
HOW IT HELPS: provides funding for restoring the 1928 theater located in Richmond's Carytown district.
HOW YOU CAN HELP: Feed the Byrd! Attend a fundraising event or make a financial contribution.
WEBSITE: Visit the website and click on Fundraising
CONTACT: Byrd Theatre, 2908 W. Cary St., Richmond, or call 804-358-3056 or email manager@byrdtheatre.com.