What's Booming: New Year's Ideas and Just Plain Fun
| December 23rd, 2021
Suds, shuffleboard, and stand-up comedy, plus 5 great New Year's Eve suggestions
---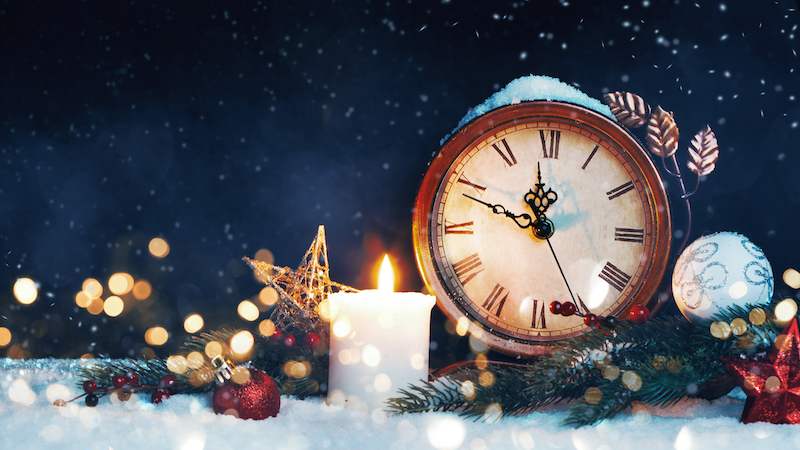 Coming atcha with some New Year's ideas and just plain, everyday fun. It doesn't have to all be about Christmas trees and ball drops!
Trivia Thursdays
Dec. 23 (and every Thursday) from 7-9 p.m. at Tang & Biscuit
No, Tang & Biscuit are not items you'd find on a menu at an astronaut's cocktail party. It's Scott's Addition's sensational shuffleboard social club. Every Thursday features a Happy Hour from 4-9 p.m. and live trivia from 7-9. Check out the great drink prices on their website.
Beer, Bites, and Bingo
Dec. 26 (and every Sunday) from noon-7 p.m. at Center of the Universe Brewing.
The beer, of course, is COTU's craft brews. The bites come from Freekin' Rican – Puerto Rican Food Carts & Catering. Plus bingo every hour for a chance to win some COTU swag.
Top Down Comedy
Dec. 27 (and the last Monday of every month) at 7 p.m. at Bottoms Up Pizza
It's open mic comedy. Get a slice and get a shot at appearing on stage at Bottoms Up Pizza.
BottomsUpPizza.com and Eventbrite.com
New Year's Ideas
Don't wait until the last minute. Make your plans now for some rather special end-of-the-year celebrations.
A Black Tie Affair
9 p.m. at the Kabana Rooftop
Featuring Live DJs, the Countdown, appetizer buffet stations, and Champagne.
New Year's Eve Fiesta
8 p.m. at Havana 59
This year's theme will be "The Great Gatsby at Havana 59." Break out your suspenders and your flapper dresses. Tickets include hors d'oeuvres and a Champagne toast at the end of the night.
New Year's Eve Bash with the Real Geniuses.
Dinner starts at 7 p.m. Your ticket includes live music and champagne.
NYE 2022 at The Hilton Richmond Hotel & Spa
8 p.m. at the Hilton Richmond in Short Pump
Your ticket includes live music featuring The Kings of Swing, a live DJ, heavy hors d'oeuvres and desserts, Champagne, balloon drop, and plenty of prizes.
New Year's Eve Masquerade Celebration
9 p.m. at Sonora Rooftop Bar, Switch Pop-up Bar, and Nama Indian Restaurant
One ticket gets you into all three locations – Sonora at 11 W. Broad, Switch at 13 W. Broad, and Nama at 15 W. Broad. Enjoy an appetizer buffet from 9-10 p.m. Then enjoy three DJs, a midnight drop at each location and more live entertainment.
2022 Black Tie New Year's Eve Gala
7:45 p.m. at the luxurious Willard Hotel in Washington, D.C.
Make it a weekend at the Willard for Washington's premier, luxurious international New Year's Eve celebration. Admission includes free-flowing champagne, an open bar, a spectacular balloon drop, live bands and DJs, a VIP sit down 3-course dinner with champagne or a dinner buffet of international cuisine. Also enjoy exquisite desserts by the pastry chef at the Willard.
---
Looking for a new non-alcoholic bubbly?
---
Plus a New Year's idea for New Year's day!
You can only eat so many black-eyed peas.
"It's a Wonderful Life: Live Radio Show" New Year's Day Special
Jan. 1, 8 p.m. at the Virginia Repertory Theatre – November Theatre, Marjorie Arenstein Stage 
Get out of the house on New Year's Day! In honor of 2022, Virginia Rep is offering 22% off the ticket price for the New Year's Day 8 p.m. evening show only. Good for 2 tickets if bought online, or call the Box Office for parties of up to 6. Premium and Standard seating only. Use Code LIFE2022
RRRC First Day 5k and Kids Run, In-Person and Virtual
Jan. 1, 11 a.m. and 11:45 a.m. at ACAC-Midlothian
The Richmond Road Runners Club presents its annual New Year's Day run. Tuxedos or evening gowns optional but will boost prize eligibility. In-person: Jan. 1 at ACAC-Midlothian, 11 a.m. for the 5k and 11:45 a.m. for the Kids Run. Virtual from Dec. 31-Jan. 3.
This week's featured restaurant and happy hour – all in one
Buddy's Place: Dive into this neighborhood bar
And more events tailored for Boomer readers