What's Booming RVA: It's a Real Richmond Weekend!
| October 12th, 2023
Boomer's top 5 picks for the week ahead
---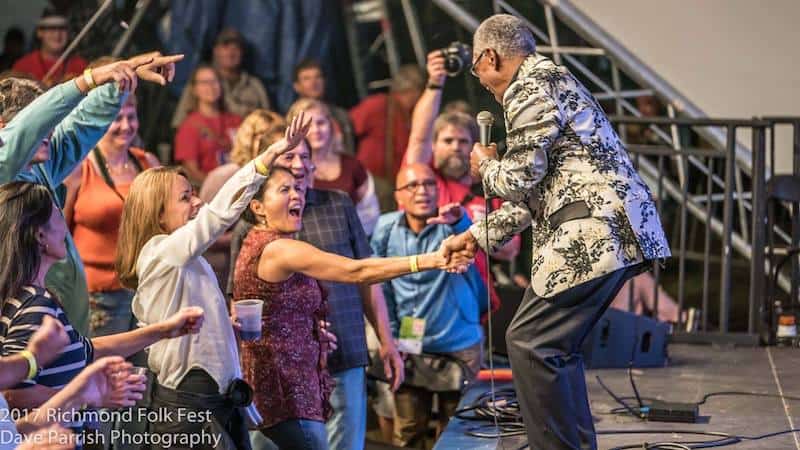 The fabulous Folk Festival returns and Boomer editor Annie Tobey presents her Boomer bucket list book, joined by four of RVA's top spots … plus the legendary musician Jim Messina, a frenetic performance, and sublime Butoh dance. All in "What's Booming RVA: It's a Real Richmond Weekend!"
---
Jim Messina
Oct. 12, 8 p.m., at The Tin Pan, Richmond
From Buffalo Springfield to Poco and the birth of a new genre, Country Rock, to years with Kenny Loggins, solo work, and beyond! The legendary, boomer-favorite musician comes to RVA.
Artrageous
Oct. 13, 7:30 p.m., at Perkinson Center, Chester
Picasso meets the Blue Man Group in this electrifying art and music circus. Twelve artists, singers, dancers, and musicians combing fine art, live music, singing dancing, humor and interaction in a frenzy of movement and color. Audience participation encouraged.
The Richmond Folk Festival
Oct. 13 to 15, on Brown's Island and along the Downtown riverfront
The city's popular three-day event features performing groups representing a diverse array of cultural traditions from throughout the world, performing on six stages. Plus food, beverages, and numerous cultural vendors for a must-see RVA festival. FREE.
How Full Is Your Richmond Bucket List?
Oct. 14, 2 to 4 p.m., at Book People, Richmond
Join a discussion sampling the best of RVA, plus a literal "taste" of the region and local prizes. Annie Tobey, author of "100 Things to Do in Richmond Before You Die" and editor of Boomer, is joined by four representatives of top local "things to do": Connor Doyle of The Coalition Theater; Martha Harper, Ghost Guide with Haunts of Richmond; Shelley Sackier of Reservoir Distillery, and Dan Schmitt, trail coordinator with the Virginia Capital Trail Foundation.
Sankai Juku: KŌSA – between two mirrors
Oct. 18, 7:30 p.m., at Alice Jepson Theatre at Modlin Center, University of Richmond
The Butoh dance company's new work features some of its most singular moments of sublime visual spectacle, technical precision, and emotional depth.
Check websites for more details, including prices and registration requirements.
---
More of What's Booming for you
Food and more entertainment to fill your plate
Boomer's featured flavor of the week:
Enjoy laidback vibes and coffee shop fare at The Dancing Turtle in Hatteras Island, NC
And lots more events to throw on your calendar: