Wasting Away at the Dancing Turtle
| October 12th, 2023
A Hatteras Island spot where 'nothing' at home
---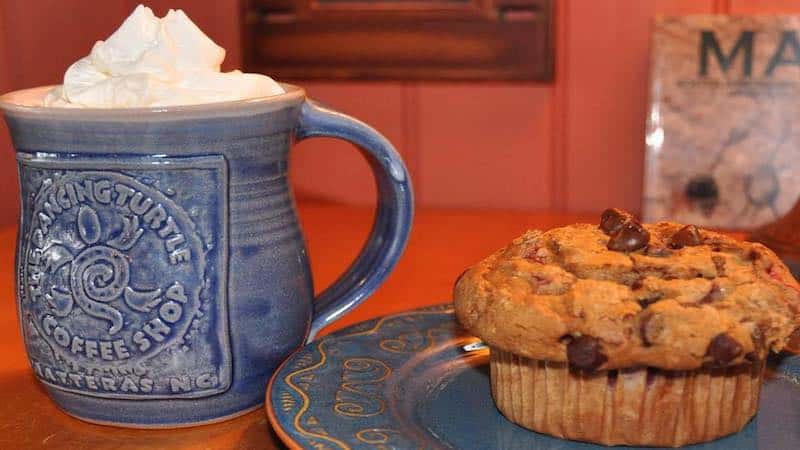 Do you like to "waste away" doing nothing and enjoying it fully? If so, Richmond-based food and travel writer Steve Cook has the spot for you: the Dancing Turtle in Hatteras Island, North Carolina.
---
I think the first time I ever visited the Outer Banks, I was in my early 20s. My brother and I took a Greyhound Bus for what seemed to be a 26-hour ride before we were finally dropped off in Nags Head, North Carolina, on a desolate stretch of US 12, Virginia Dare Trail.
That's been a half-century ago. Back in those days there wasn't much to see on the Outer Banks, except for the beauties of nature, of course. But back in those days, that wasn't enough. I wanted more of the city life, with restaurants, movie theaters, and the like.
Despite my desire for the more cosmopolitan lifestyle, my love for the ocean kept drawing me back to the OBX through the years and, much to my liking, the region continued to grow and to offer more of the amenities that I desired.
Throughout the years, however, I never cared much for Hatteras Island, which is about a half-hour's drive south of Nags Head. Hatteras was too slow, too desolate, and too isolated. There was too little to do. But that was yesterday and yesterday's gone. That was when I wore a younger man's clothes.
I just returned from a week in Hatteras and I guess I've finally gotten old enough to enjoy its unique, laidback atmosphere. I l have fallen in love with the nothing-to-do ambience. Yes, Hatteras has a few more restaurants, a couple of really interesting museums , and plenty of water-related sports for the adventurous. But still, doing nothing is easy to do on Hatteras.*
While technically I haven't retired, my mind and my body keep telling me that I should and my recent week in Hatteras was virtual perfection.
---
Excerpt from Hatteras Island: Keeper of the Outer Banks by Ray McAllister 
---
Hatteras is dripping with that laidback feel. The beauty of Hatteras, aside from its exquisite natural beauty, is that you can spend the entire day doing nothing and not feel the least bit guilty for having done so. At least I didn't feel guilty.
During my recent stay, I discovered the perfect spot to do nothing – The Dancing Turtle Coffee Shop.
The Turtle, as it's known, is the perfect spot to enjoy a cup of coffee, a flavorful espresso drink or one of their dozens of premium organic teas. The super-friendly staff also serves some really delightful specialty drinks. I ordered the raspberry chocolate latte. However, Kayle, the lovely young lady behind the counter, suggested I throw in some chocolate syrup to boot. I did and I enjoyed it to the last drop.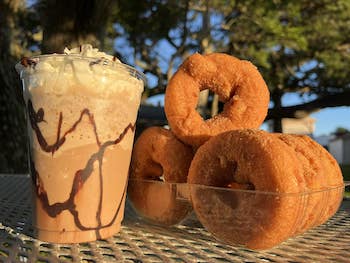 I took my coffee and joined my wife, my grandson Jake, and Dave, a friend who had invited us to spend the week at the condo he had rented. We sipped our drinks under an old (oak?) tree in the front lawn. Now, we could have sat on the porch or on a cozy couch in what had once been the living room in the small house, which today is the home of the Dancing Turtle. There are plenty of little cozy nooks and spaces to settle in and do nothing.
Of course, everyone knows that the perfect breakfast consists of sweet baked goods, and the Turtle offers a large variety of "snacks," including assorted muffins and bagels, sticky buns, scones, and more. I went for the white chocolate raspberry scone, which was a perfect complement to my latte. When I say that it was thick and dry, I mean that as a compliment. I like a scone that you can sink your teeth into, and this homemade scone was fantastic.
Now if you're the more energetic kind, you can hoist yourself up from your comfy seat and onto the even comfier hammock, which is tied between two trees in the front yard; or, if you really are the energetic kind, do as Jake and I did and play a few rounds of corn hole.
This place truly is the perfect spot for those who want to get away from it all, but who still want a cool spot to hang out, chat with the locals and tourists, and enjoy some delightful treats.
I'm sure that if I were to move to Hatteras – and don't think the idea didn't frequently cross my mind during my visit, I have a feeling that my very limited "to do" list would include a daily visit to the cool, little eatery.
If you should be visiting the island and planning to do nothing, then plan to spend some time doing it at the Dancing Turtle.
As the popular song somewhat goes:
Wasting away in Chocolate Raspberry Latteville
Searching for my lost tube of Ben Gay
Some people chime that I'm wasting my time.
But doing nothing makes for a perfect day.
To discover more of what Hatteras Island has to offer, visit OuterBanks.com/Hatteras-Island.html.
---
Steve Cook has lived in the Richmond area for most of his life, working as a writer and editor and in marketing and radio. He loves to keep abreast of the local restaurant scene and researches the subject voraciously. "I used to think I was a foodie," he says, "but then I realized I just like to eat a lot." He once co-hosted a local Richmond restaurant radio program with BOOMER editor Annie Tobey. Steve completed his first novel in 2017 and says he hopes to read another one this year.
Dig in to more restaurants and other recommendations from Steve Cook