What's Booming: Ships Ahoy, Berries and Joy
| June 9th, 2022
Fill your plate with strawberries and memories, June 9 to 15
---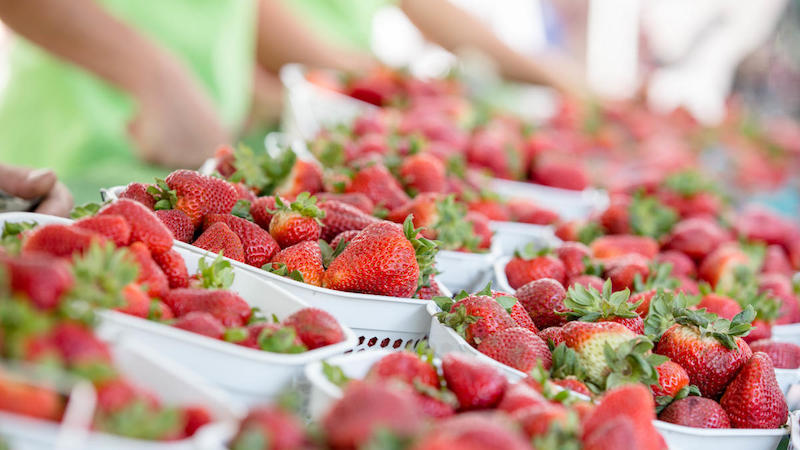 This week's What's Booming: Ships Ahoy, Berries and Joy has the staff at Boomer waxing lyrical on good times from Richmond, Virginia, and the region. We bet it will do the same for you.
Two comics from Saturday Night Live
A Harborfest that's worth the drive
Strawberries and jazz
And that's not all we has …
Much joy this week you'll derive.
---
Norfolk Harborfest: Music, Food, & Maritime Festival
Friday, June 10 through Sunday, June 12 at the Downtown waterfront, Norfolk.
Skip town and enjoy live music, an annual Parade Sail featuring international tall ships, one of the largest fireworks shows on the East Coast, a mesmerizing drone show, interactive family games, Navy exhibits, artisan foods and beverages, and more: Pirate school, Splash City Golf, Cate Great, Wacky Chad, and Body Marbling? Aye, matey!
Fred Armisen
Friday, June 10 at 8 p.m. at the National, Richmond
The Saturday Night Live alumnus is calling his tour "Comedy for Musicians But Everyone Is Welcome." Expect lots of laughs, with plenty of inside jokes on music.
Kevin Nealon
Friday, June 10 and Saturday, June 11 with two shows each night at the Funny Bone Comedy Club Restaurant, Short Pump
Nealon, who appeared on Saturday Night Live from 1985 to 1996, brings his stand-up comedy routine to Short Pump for four shows.
Ashland Strawberry Faire
Saturday, June 11 from 10 a.m. until 5 p.m. on the Randolph-Macon campus, Ashland
Don your strawberry-themed apparel and join in the Strawberry Kids parade, which kicks off this full day of family fun featuring over 300 vendors. Plus, there'll be live music, a dunk tank, a pet pageant, and probably some strawberries. Fresh berries and joy – the two are pretty much synonymous.
A Celebration of Jazz with Victor Haskins & SKEIN
Wednesday, June 15 at 7:30 p.m. at the Perkinson Center, Chester
Haskins is a Virginia-based international performer, composer, improviser, bandleader, and educator. He will be performing in partnership with Chesterfield County as part of the county's Juneteenth celebration.
Check with individual venues for COVID-19 policies.
---
More of What's Booming in Richmond besides ships ahoy, berries and joy
Food and more fun to fill your plate
Boomer's featured restaurant of the week:
The story behind multifaceted Brambly Park and its creative co-owner
And our weekly What's Booming newsletter of events …