When Your Appetite Is Soaring, Make a Landing at King's Korner
| June 30th, 2022
Not your average airport restaurant
---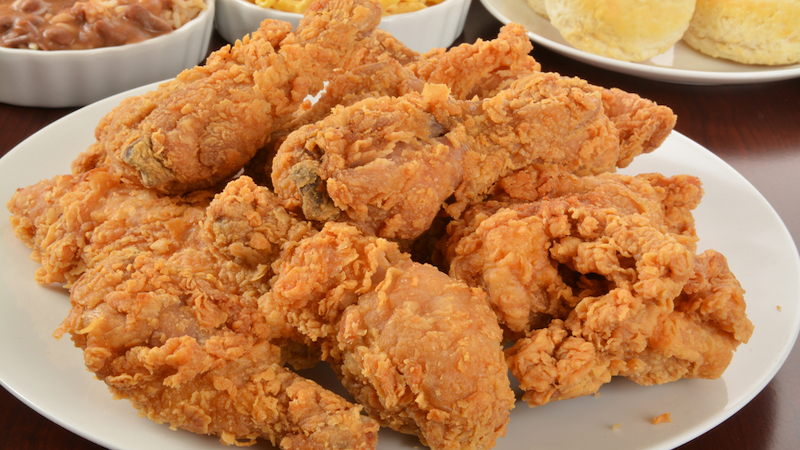 Richmond-based food and travel writer Steve Cook lands at King's Korner restaurant, beside the runway at Chesterfield County Airport in Virginia, serving up chicken and barbecue, buffets and brunches, and airplanes.
---
Dickie King has been catering weddings and other functions, huge and small, up and down the East Coast, for decades. Countless hundreds of brides know Dickie's stellar reputation. But what many locals may not know is that the guy has been operating a hidden gem of a local restaurant for most of that same time. In fact, given its location, King's Korner Catering and Restaurant may be one of the most unique restaurants in the area. You see, King's Korner is located right on the runway at Chesterfield County Airport (7511 Airfield Dr.). I guess it's more accurate to say it's located right off the runway.
Now, Dickie is a rather modest man. When I asked him what makes his place unique, he replies, "We're pretty much like so many other restaurants. The only thing that makes us different is that we have airplanes and the best fried chicken in town." He's right about the chicken and the planes, but, personally, I believe the fried chicken is only a part of what makes dining at King's Korner such a wonderful dining choice. Even if you don't live in Chesterfield, it's well worth the drive.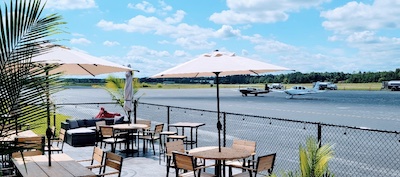 First, though, the airplanes. Where else around here can one sit on the patio, enjoy award-winning barbecue or that "best" fried chicken, and watch planes taking off and landing? Kids love this place and so do folks like me who like to bring a hearty appetite along when they go out to eat.
No matter how hearty the appetite, you're going to satisfy it at the buffet. I could feast on the fried chicken and the hand-pulled Virginia-style pork barbecue alone. And, speaking of barbecue, some days there'll even be western-style beef brisket on the buffet.
You can enjoy the buffet every day (Wednesday through Saturday) at lunch, where you'll find a full salad bar, the soup of the day, the chicken and barbecue, of course, plus delicious sides and desserts. On Thursdays through Saturdays evenings, the buffet is also available. Friday evening's buffet is very seafood oriented, and on Saturday evening, they offer prime rib. But, one thing's for sure, you'll never go away hungry.
There is also a delightful brunch on Sunday from 10 a.m. until 3 p.m., which features favorite breakfast and lunch items, as well as plenty of desserts. The chef makes the desserts daily, and they include bread and rice puddings, cheesecakes, pies, and cobblers.
If you are not in the mood for a full buffet, you can opt for the all-you-can-eat salad bar and perhaps enjoy the gourmet soup of the day.
But regardless of how hungry you are and no matter whether you choose the patio or indoor dining, you can always enjoy the airplanes.
King's Korner Catering and Restaurant
7511 Airfield Dr., North Chesterfield, VA
---
Steve Cook has lived in the Richmond area for most of his life, working as a writer and editor and in marketing and radio. He loves to keep abreast of the local restaurant scene and researches the subject voraciously. "I used to think I was a foodie," he says, "but then I realized I just like to eat a lot." He once co-hosted a local Richmond restaurant radio program with BOOMER editor Annie Tobey. Steve completed his first novel in 2017 and says he hopes to read another one this year.
Dig in to more restaurants and other recommendations from Steve Cook