Where Are They Now? Dick Cavett
| April 8th, 2016
In the '60s and '70s the battle for late-night talk show dominance was hot!
---
The battle for late-night talk show dominance is nothing new to TV audiences. In the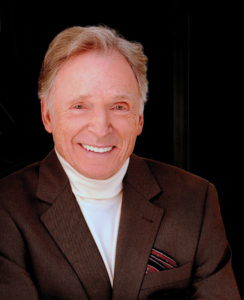 late '60s and early '70s, three prominent hosts sometimes went head-to-head for the coveted ratings bragging rights.
"There was a time when Johnny Carson, Merv Griffin and myself were all opposite each other," Dick Cavett said recently from his home in New York.
With the addition of The Dick Cavett Show to the Decades Network lineup in February (see decades.com for schedule), the three former competitors are again filling late-night niches, this time as reruns on cable networks. Carson's venerable Tonight Show run has aired on Antenna TV since January. Meanwhile, The Merv Griffin Show, a CBS late-night show before being dropped and resuming as a syndicated daytime show, has been on getTV since October.
"People have been asking me constantly over the years if they will ever see all those full episodes of The Dick Cavett Show on TV again," said Cavett. "Well, now they can."
THE WITTY TALK SHOW HOST
Transplanted from the Midwest to New York, Cavett began his journey to late-night as a copy boy for Time magazine in 1960. After sending some jokes to then-Tonight Show host Jack Paar, he was soon hired as a writer.
Throughout the '60s, Cavett continued to write for others, including Carson, as well as tackling stand-up himself, but eventually inherited his own daytime show at ABC in 1968.
Known for his in-depth and well-researched interviews, enlivened with a touch of witty commentary, Cavett soon graduated from daytime to late night as The Dick Cavett Show and attracted guests that competitors envied.
"Fred Astaire rarely gave interviews but wanted to come on my show," said Cavett. "When he did, he danced, for God's sake, and the audience went wild."
---
Like nostalgia? Browse celebrity nostalgia on our website.
Or sign up for our monthly Nostalgia e-newsletter or other e-newsletters tailored for boomers!
---
Not all Cavett's guests were so obliging onstage, as evidenced by David Bowie's 1974 tense appearance in which the singer fidgeted with a cane throughout the interview.
"He was the single most nervous guest I ever had," noted Cavett. "I wanted to take that cane and throw it in the orchestra."
THE BIGGEST GUESTS
A year earlier, Marlon Brando's appearance was a scoop, although the actor preferred to discuss the plight of Native Americans rather than acting.
"When I asked for his thoughts on the success of The Godfather movie, he mumbled that he didn't want to talk about films," recalled Cavett. "So I quipped, 'Did you like the book, The Godfather?' That got a big laugh from the audience and, after he paused, he threw me that million-dollar Brando grin."
A huge Marx Brothers fan, Cavett secured Groucho Marx as one of his early guests.
"Groucho came on with his writing friend, Harry Ruby, and it was pure gold. But that's one of the early episodes that went missing, probably recorded over when studios reused videotapes. It still gives me bad dreams to think the tape might have been turned into Let's Make a Deal."
Cavett became friends with Groucho but says that was an exception, rather than the rule. He was also more than just a rival to one of his late-night competitors.
"Johnny Carson and I were actually good friends," said Cavett, who turns 80 in November. "About a year before he died, I had a wonderful evening with him at a restaurant and we talked for hours about our shows and some of the guests we had over the years."
Many were among the greatest celebrities of the 20th century (see dickcavettshow.com).
"We all had great entertaining guests, but it was also a rough period for America – Vietnam, Nixon, civil rights and a bevy of assassinations," said Cavett, whose ABC show ran from 1968 to 1975. "People seem to like the nostalgia of these old shows, even if it means looking back at troubled times."
---
Nick Thomas teaches at Auburn University at Montgomery, Ala. His syndicated features and columns have appeared in more than 400 newspapers and magazines. He can be reached at getnickt@yahoo.com.