Where Are They Now? Tony Roberts
| February 9th, 2016
BOOMER interviews the famous actor of "Annie Hall.
---
Tony Roberts always wanted to be an actor, certainty understandable given that his father was famed "golden throat" radio and TV announcer Ken Roberts.
"My dad took me to the [radio] studios in the 1940s. I saw actors there who stood in front of these little metal microphones and transformed themselves into cowboys [and other characters]," Roberts explains in a phone call from his New York home. "They were making up a story, convincing listeners it was real enough to laugh, cry or be in suspense. It was so appealing to me as a child."
FAME … FOLLOWED BY TYPECASTING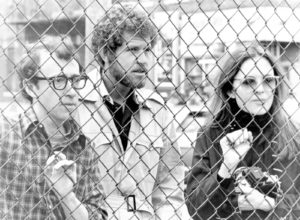 He studied acting at Northwestern University and calls his first major role in the now-defunct TV soap opera The Edge of Night "the most fun I ever had."
"It was even better than the big movies and musicals, because you became a part of a family. We gathered at 9 a.m. to rehearse and at 3:30 p.m. the cameras would roll. … It was all live in those days, so you only had that day to rehearse."
Roberts became a household name via Serpico (1973) with Al Pacino, a crime drama based on a true story of police corruption, and in six films with Woody Allen, including "Best Picture" Oscar winner Annie Hall (1977).
The two-time Tony Award nominee has starred in nearly two-dozen Broadway productions, including five hits for impresario David Merrick.
After Robert Klein left They're Playing Our Song, Roberts replaced him for the last 13 months of the long-running hit (1,082 performances, 1979-81), co-starring with Lucie Arnaz. Roberts calls the Woody Allen films "a mixed blessing," explaining, "being in the films I was in with him, and the success of those films, made it impossible not to be typecast to some extent. In Hollywood if it works, do it again, so you get a lot of offers to do the same thing."
During the filming of Annie Hall, Roberts returned to his dressing room trailer on Columbus Avenue in New York City and discovered he'd been robbed.
"When Woody found out about it he said, 'Did they get the script?' I said, who cares, you have a million [scripts] lying around. About a week later, they found [the stolen script] in a garbage pail a mile away. It was my pleasure to make him aware that [the robbers] thought the script was garbage," Roberts recalls, laughing.
A VARIED CAREER
The story is retold in his new anecdotal memoir, Do You Know Me?, which Roberts calls "a love letter to acting." Roberts says he tied the book's stories together in a way that shows the ups and downs of a show business career. He recorded the audio version, as he has done for more than 50 other books, including 28 by best-selling thriller writer Stuart Woods.
"I go into a recording booth and play a lot of different characters. It's a lot of fun to indulge one's imagination. I feel very connected [to my father] when I sit in that booth," he says.
The elder Roberts, who once told his son "you've done pretty well," died in 2009 at age 99. Divorced with one grown daughter, Tony Roberts is still going strong at 76. He appeared in 2014's The Longest Week with Jason Bateman, is busy promoting his memoir and hopes that an April 2015 Chicago production of Carousel in which he appeared will come to Broadway.
Roberts' resonant voice is full of witty repartee, replete with comments like "I try not to like myself too much. I am always disappointed." He opines that "anonymity is an actor's best friend."
His ideals remain high. "The greatest joy is feeling part of a company of actors and the love of what we do together," Roberts says. "We look at a lot of the work we do as 'product' – that is a different aspiration than wanting to move people. This is a highfalutin' idea. But that's what I've always believed, that the theater is really powerful and can change the world."
Audrey T. Hingley is a Richmond-based freelance writer who writes frequently for BOOMER, including last issue's article on Dawn Wells. Her website is AudreyTHingley.com.