Yoshi Sushi: Go Ahead, Make My Day
| March 17th, 2022
Or, why I love sushi
---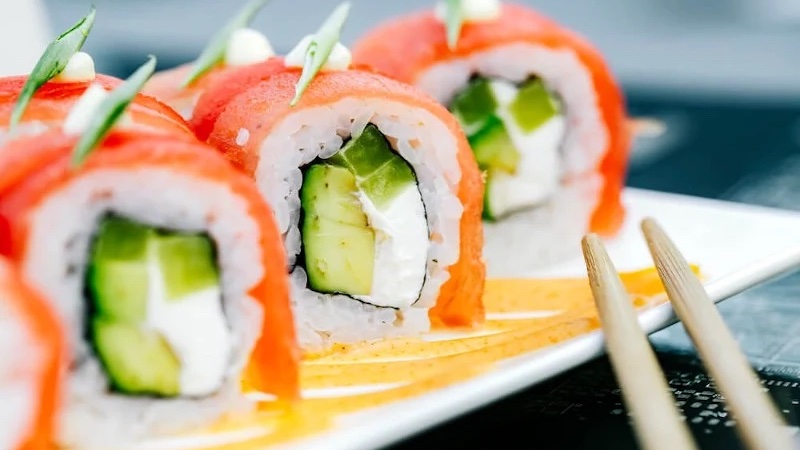 Richmond food and travel writer Steve Cook visits Yoshi Sushi, a Japanese restaurant at Willow Lawn in Richmond, Virginia.
---
Here's why I could never be a food critic. I love good food and nice people too much. I do appreciate gourmet foods and impeccable service on rare occasions. But the real me loves food that's tasty and service that's friendly. And when I find that, it makes me so happy there's no way I could be one of those stuffy food critics (no offense to any of you food critics out there).
I tend to gush and rave, so take what I say with a grain of salt. And I'm quite ready to gush and rave about my recent dining experience at Yoshi Sushi at Willow Lawn. For those of you old enough to remember, it's about where S & W Cafeteria used to be. I'm giving you a more precise location because the sign out front still says King Crab, which it was for a short while before the owners changed the concept. And I do love the concept.
It's an all-you-can-eat dining experience, although it's not a buffet. You take a seat, get your menu (you can order a la carte if you prefer) and start telling the folks what you want. For $21.99 (considerably less for kids under 12), this place has a whole lot to offer.
And I wanted it all. No, I didn't try everything, but everything I tried was prepared and seasoned perfectly. My wife and I went with my daughter and her four sons. I was somewhat frightened at the prospect. They are not perfect gentlemen, especially the 3-year-old and the 5-year-old. However, sushi is their favorite, so they were on their best behavior. Usually, after they finish a meal, there's more on the floor than they ate. They must be growing up.
My daughter did most of the ordering, so I sat back and just ate what was placed in front of me. The seaweed salad was excellent … so fresh. I would have liked a bit bigger portion, but, hey, I just kept ordering more. The miso soup was hot and tasty. It was as good as any miso I've had in the fancier Japanese restaurants.
While I don't generally eat the cream cheese wontons, I made an exception that night. They were delicious.
I'm not as big a fan of sushi as is the rest of my family, but I found everything very well done. (Of course, sushi is never "well done" because then, well, it wouldn't be sushi.) However, their "Fire in the Hole" roll (shrimp tempura, cream cheese, avocado topped with crab meat) was exceptional, as was the Dinosaur roll, which features shrimp tempura and crabmeat. I couldn't begin to tell you which roll was which, but I was sitting between my two older grandsons and they're the experts in this field.
---
Sink your teeth into more of Steve Cook's restaurant non-reviews here.
---
Bottom line: Everything they served me, I ate and enjoyed. I've been to other all-you-can-eat sushi places and, in my opinion, Yoshi Sushi is tops. I've been to other more typical (and much more expensive) sushi places, and I'd say Yoshi Sushi can hold their own with the best of 'em. However, as a caveat, I'm not a gourmet. See above. I'm not even a foodie. I just love to eat. Some of the other dishes that I sampled included the tuna tartare and the shrimp hibachi. I didn't taste a thing that was not to my liking.
Now, let's talk about the service for a minute. My 10-year-old grandson, Jude, said in the middle of our meal, "The service is immaculate." Maybe he should be the writer. I don't know words that big. But I looked it up and I agree. Our server, Kerry, a young man who has just arrived in Richmond from New York City, could not have been more attentive, polite, and prompt. It was a real pleasure making his acquaintance.
If a good restaurant wants to become a great restaurant, all they need do is hire servers who treat you as if they're happy you came in. Everyone there, in fact, made us feel welcome.
So, don't take it from me as a food critic. I'm not. I'm just a guy who enjoys dining out. But I think you're really going to like Yoshi Sushi. And if you read this and try the place out, you will have really made my day. You see, I've never wanted to be a critic, but since I was a child, I've always wanted to be a social media influencer. Next thing you know, I'll be dancing on Tik Tok.
Yoshi Sushi Japanese Restaurant
1601 Willow Lawn Drive, Suite 800
Richmond, VA