The 2021 Perseid Meteor Shower Promises a Spectacular Show
| July 27th, 2021
Viewing tips for Virginia and nearby states
---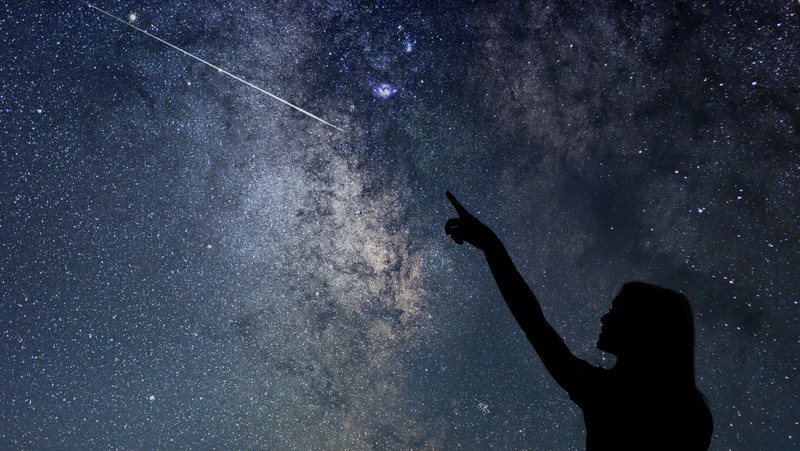 For me, nature's wonders eclipse manmade creations. I'll ooh and ahh with the best of 'em at a great fireworks display, but give me the Northern Lights, Milky Way, or meteors any time of year. The 2021 Perseid meteor shower provides an opportunity for thrilling to one of Mother Nature's noteworthy annual performances.
This year, the display promises to be especially grand. A bright moon easily drowns out the light of all but the biggest meteors, but this year, the moon will set before the peak begins. By following some important skygazing viewing tips, you can be more sure of seeing a spectacular show. For those in, or traveling to, the Mid-Atlantic, we offer top sites for watching in Virginia, Pennsylvania, Tennessee, and West Virginia.
What is the Perseid meteor shower?
When the Earth's orbit takes it through the fragmentary trail of the comet Swift-Tuttle, the fragments enter our atmosphere and explode in a burst of flames. These particles range in size. They can make brief eye-catching "shooting stars," leave long tracks of light and color as they streak through the sky, or sometimes cause more phenomenal fireballs. The Perseids can present 50 to 100 meteors per hour to the patient sky gazer.
Because the big summer meteor shower seems to emanate from the constellation of Perseus, the event is denoted as the "Perseid" shower.
When to see it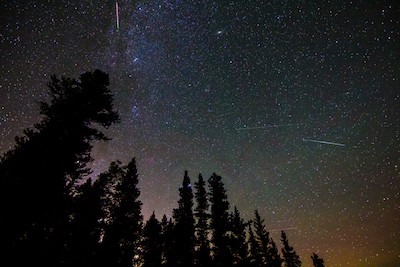 Technically, the 2021 display lasts July 17 through Aug. 26, 2021. However, the peak of the shower in North America is Aug 11 to 13. That would be overnight Wednesday night (Aug. 11) to early Thursday morning (Aug. 12). On that night, the rate of shooting stars will be the highest. Or, second best, Thursday night into Friday morning.
The early morning hours – from midnight to dawn – tend to be the best time to watch. "That's when the part of Earth you're standing on will be heading into the meteor stream in space. So you'll see more meteors," explains EarthSky. "By dawn, they'll be raining down from overhead."
If you can't stay up that late, the Perseids can begin the prelude to their show as early as 10 p.m., explains NASA Science.
You might even be treated to the rare Perseid earthgrazers, "meteors that skim the top of Earth's atmosphere like a stone skipping across the surface of a pond," NASA Science says. "They appear when the radiant of a meteor shower is near the horizon, spewing meteoroids not down, but horizontally overhead … [soon after sunset] when Perseus (the radiant of the Perseids) first peeks over the northern horizon … Earthgrazers are colorful and gracefully slow."
Other tips
Be sure to set aside at least an hour to watch, because meteors come in spurts.
Your eyes need time to adjust to the dark, so expect some initial adjustment … and don't be looking at your phone or other sources of illumination! If you need a flashlight, use a red filter.
Take along a reclining chair or blanket to save a neck ache.
Pack insect repellent and any snacks or hydration you may need.
Have a skygazing map and compass or an app such as Sky Guide so you can find Perseus.
Where to see it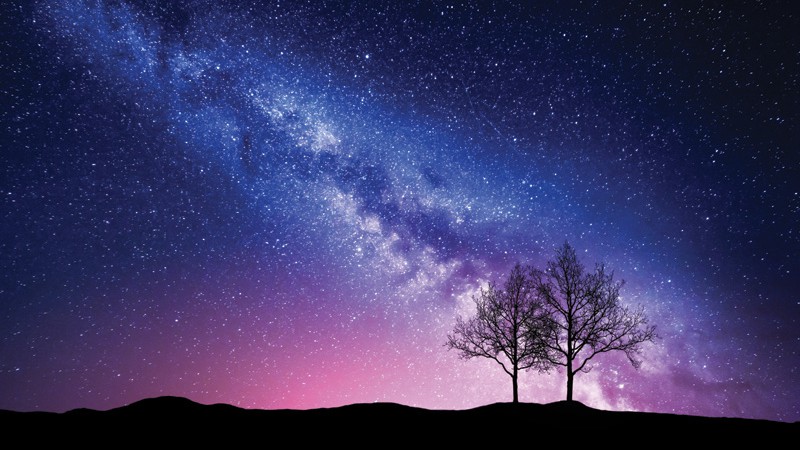 To get the best show:
Get away from cities or developments, whose lights wash out the darkness of the sky. Find a designated International Dark Sky Park for guaranteed dark skies. An IDA International Dark Sky Park (IDSP) has been certified to have an exceptional quality of starry nights and a protected nocturnal environment.
Stay away from nearby lights, such as streetlights, porch lights, and passing headlights. Even if these don't interfere with the sky, they interfere with your eyesight.
Find a field or body of water that gives you a wide-open view of the sky. After all, even though the meteors may emanate from the constellation Perseus, you might see them anywhere in the sky. Conveniently, the Perseid shower slightly overlaps the Delta Aquariid shower, which emanates from the constellation Aquarius.
Finally, plan ahead to stake out a viewing spot that isn't prone to fog!
And hope for a clear night sky!
Suggested nearby Mid-Atlantic sites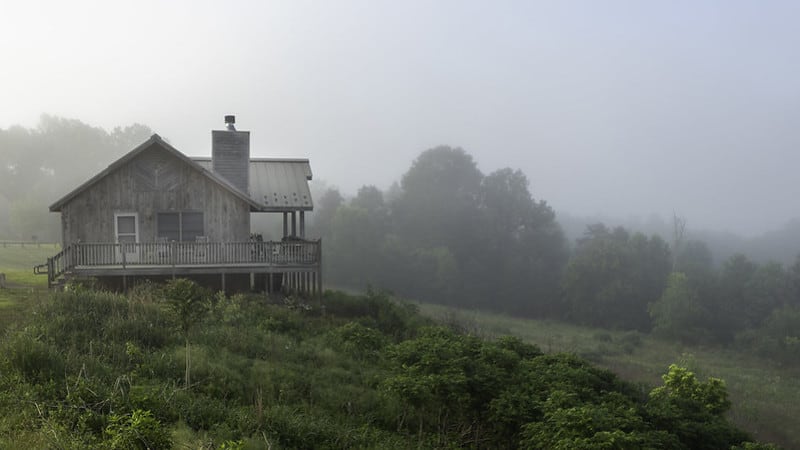 If you live in or near Virginia – or you need an excuse to visit – here are some spots that can give you the best chance of catching a memorable natural light show. Conveniently, most of these suggestions are parks that offer lodging, camping, and daytime activities as well. Follow the links for more information, including park entrance fees and overnight accommodations.
Virginia
Virginia has both state parks and a national park that can host your viewing party.
Virginia State Parks' International Dark Sky Parks
Virginia has four designated International Dark Sky Parks as part of the Virginia State Parks system.
Staunton River State Park was Virginia's first park to receive the IDA designation, in 2015. In Southside Virginia, about 25 miles from the North Carolina border, the 2,400-acre park offers woodlands, meadows, and shoreline along the Dan and Staunton rivers. Cabins built in the 1930s by the CCC and a campground offer overnight lodging. The park has an observation field located beside the Visitor Center that is open for viewing, where you can stay as long as you would like.
James River State Park, in the foothills of the Blue Ridge Mountains, received its IDSP designation in 2019. The park features grasslands, forests and three miles of shoreline along the James River. Visitors can hike, bike, canoe, kayak, fish, and stay overnight in campgrounds and cabins. The park also has a universally accessible fishing pier and a .25-mile-long wheelchair accessible trail. The park has designated the Shelter 4 and Amphitheatre as the Dark Sky viewing area. Call ahead to 434-933-8527 for an arrival packet with Dark Sky information.
Natural Bridge State Park does not offer overnight accommodations. However, on Aug. 12, 2021, the park offers extended access for stargazing from 5 p.m. to 11:45 p.m. The Skyline Trail features several elevated locations with low horizons for an unimpeded view.
Sky Meadows State Park offers scenic views, woodlands and the rolling pastures on a historic farm, as well as hiking, picnicking, fishing and primitive hike-in camping. The 1,860-acre park on the eastern side of the Blue Ridge Mountains has 10.5 miles of bridle trails, 22 miles of hiking trails, 9 miles of bike trails and Appalachian Trail access.
Shenandoah National Park
Big Meadows at Shenandoah National Park boasts a high elevation and a relative remoteness from dense urban areas, which make it a great place to engage in stargazing. View the Milky Way, constellations, and the meteor shower.
Pennsylvania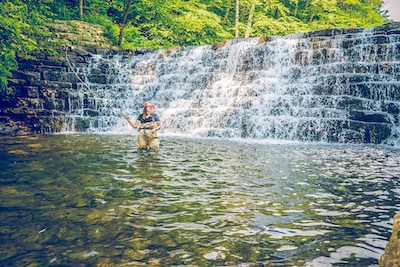 Laurel Hill State Park in Somerset County consists of 4,062 acres of mountainous terrain, and 63-acre Laurel Hill Lake, with 262 campsites and other amenities. Laurel Hill is surrounded by thousands of acres of pristine state park and state forest lands and a diversity of trails. Stargazers can station themselves in the large parking lot above the Laurel Hill Lake beach area. Call in advance with vehicle description and license plate, so the ranger staff is aware.
Cherry Springs State Park is not only a designated International Dark Sky Park, it is one of the best stargazing sites on the eastern seaboard – and it makes the most of its dark sky status. The field is at the top of a 2,300-foot-high mountain – the surrounding state forest is relatively undeveloped and nearby communities are in valleys, shielding any light that might affect the park. Three areas of the park are available for stargazing: the Night Sky Public Viewing Area, rustic campground, and Overnight Astronomy Observation Field. Pets are prohibited, and all lights should have red filters. The astronomy field offers an excellent 360-degree view of the night sky. All lighting in the park is shielded and all white light has been converted to red. More amenities and guidelines are available at the state park stargazing web page.
West Virginia
Beech Fork State Park is hosting a Stargazing: Perseid Meteor Shower event on Aug. 13, 2021. Guests can join to watch for shooting stars, talk about constellations, and learn about the Perseids. The park 3,144-acre park offers campsites, hiking trails, and lake activities.
Tennessee
Visit Tennessee's Upper Cumberland to see the show. The region has many dark spots, and a dark night sky is guaranteed at Pickett State Park, an IDA International Dark Sky Park.
For lots more meteor information, year-round, follow the American Meteorological Society.