'Something in My Eye'
| September 9th, 2021
Memories of 9/11 from the Department of Defense, and the poem that arose
---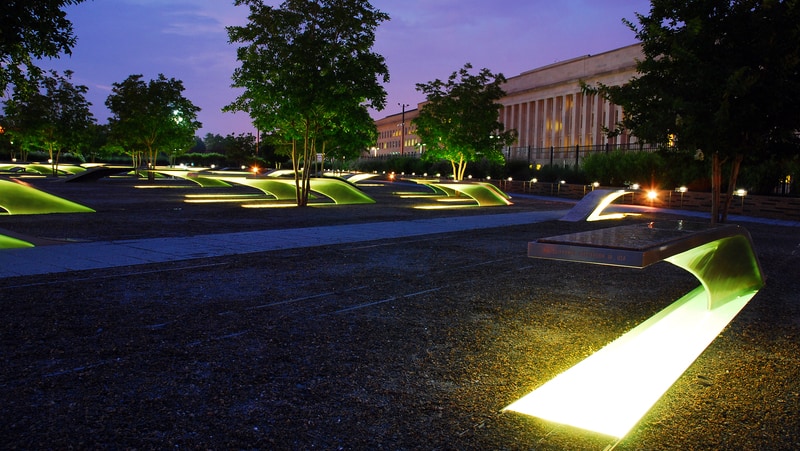 Boomer reader Michael W. Updike recalls the events of Sept. 11, 2001, from his post and his perspective on the emotional fallout – every year. He speaks softly through his 9/11 tribute poem 'Something in My Eye'
---
I was just a Department of Defense corporate intern way back in September 2001. My fellow interns and I loved our country, and we were doing our best to learn the systems, processes, and techniques it takes to keep our great military fighting and helping other freedom-loving countries around the world.
We were summoned to a huge conference and war room. The biggest TV screen I'd ever seen was broadcasting as an aircraft slammed into one of the Twin Towers in New York City – the second of the two planes to strike the buildings. The young ladies in my intern class gasped; the young men held back tears and cleared their throats.
We watched as the Pentagon, our superiors' HQ, got hit by a third plane. Tears flowed, but anger built in us as we realized our world had changed.
In a crash in Shanksville, Pennsylvania, the hijackers killed more of our American brothers and sisters.
After a couple days, the interns were back on a plane to another city for more training. I remember the men on the plane plotting and planning what we would do if hijackers seized our plane. None of us would hesitate to pounce at the first sign of a hijacker.
All over the country, we traveled. All over the country people were united; all over the country, we were one.
There's something in my eye; it's a tear for what happened that day.
There's something in my eye; it's love and admiration for our flawed but great country.
There's something in my eye; it's a gleam and a dream that we can be united once again.
Something in My Eye
Seems a hundred years ago
But it really wasn't that long
I was serving my own way
Others grabbed their guns
Everything we ever knew
Changed in those blue skies
Every year around this time
There's something in my eye
Towers blazing, tumbled down
Liberty crashed to the ground
Prayers we sent for those who died
There's something in my eye
Remember how smoke billowed high
And clouded blue Virginia skies
Fields of fire, no one survives
There's something in my eye
America walked hand-in-hand
And looked to God on high
Prayers we prayed for those who died
There's something in my eye
Tears we cried for those who died
There's something in my eye
---
Michael W. Updike is a singer, songwriter and author. He lives in a 1930s Virginia plantation-country farmhouse, which he renovated. Michael also collects and restores antique cars. He enjoys spending time with the love of his life, Jennifer, and their family. 
Updike has presented other thought-provoking essays to Boomer readers: "Just Flowers: Memories of My Mother," "Ennis," "The Heart Remembers," and "Left the Story There."