A Bloody Mary Cart Is a Bloody Good Idea!
| July 13th, 2023
You'll find one at Alhambra at The St. Regis Washington, D.C.
---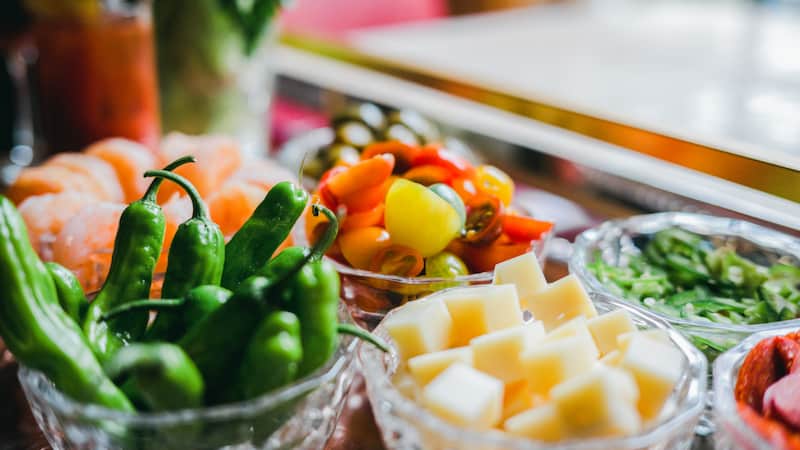 Of the many cocktail options for brunch, the Bloody Mary is among the most popular. The rich tomato concoction pairs with savory foods like omelets, eggs Benedict, sausage, and bacon. The spices and garnishes transform the tomato juice to a morning treat. While quality Bloody Mary mixes enable you to make the cocktail at home, enjoying it at a quality restaurant brunch – prepared, served, and cleaned up by someone else – makes it an even better treat. One restaurant in Washington, D.C. has taken the experience one step further, offering a Bloody Mary cart.
The basic Bloody Mary
A traditional Bloody Mary starts with tomato juice and adds hot sauces, Worcestershire sauce, horseradish, pepper, lemon or lime juice, molasses, and other complementary flavorings. Garnishes elevate the drink, too, like celery, bacon, olives, dill pickles, and shrimp.
The origin of the drink is nearly as murky as the drink itself. A French bartender working at Harry's New York Bar in New York City is said to have created a cocktail of tomato juice, seasonings, and vodka sometime around 1921, called the Bucket of Blood. The drink's popularity spread, and was refined by famed barman Fernand Petiot in 1934 at The St. Regis New York's King Cole Bar. Originally christened the "Bloody Mary," the cocktail was renamed the "Red Snapper" so as not to offend the hotel's clientele. After more than 80 years, the iconic Bloody Mary remains the signature cocktail of the St. Regis brand globally – including the D.C. St. Regis.
The Bloody Mary Cart
The St. Regis Washington, D.C.'s signature restaurant, Alhambra, offers a Bloody Mary Cart, serving the hotel's signature cocktail made to order tableside. The cart carries complements such as olives, shrimp, cherry tomatoes, and more. Diners select their own garnishes and mix ins.
The cart is also equipped with ingredients for Alhambra's signature Bloody Mary, called The Capitol Mary, inspired by the commercial and cultural heritage of the Chesapeake Bay. The cocktail has a gin base and incorporates signature spices used in preparing a classic Chesapeake Bay crab feast.
Named after the landmark Alhambra palace and fortress in southern Spain, one of the most famous monuments of Islamic and Spanish Renaissance architecture, Alhambra carries modern Mediterranean influences into its dishes. The menu highlights shareable plates that join cultures and cuisines drawing on flavors of the Iberian Peninsula and the Middle East. Showcasing the region's bounty of produce and fish, Chef Ivan Zivkovic presents a seasonally inspired menu enhanced with the bold flavors of Andalusia.
At brunch, modern Middle East includes Mediterranean Benedict, featuring toasted pita, Greek marinated portabella mushroom, spinach, blistered tomato, and tahini hollandaise; and Focaccia French Toast (V) featuring house made focaccia, brown butter fig maple syrup, and sumac toasted walnut.
Alhambra at St. Regis Washington, D.C.
923 16th & K Streets, N.W., Washington, D.C.
(202) 509-8000
---