Beach Dining Is a Shore Thing
| April 7th, 2022
Six favorite beach restaurants at East Coast destinations from MD to SC
---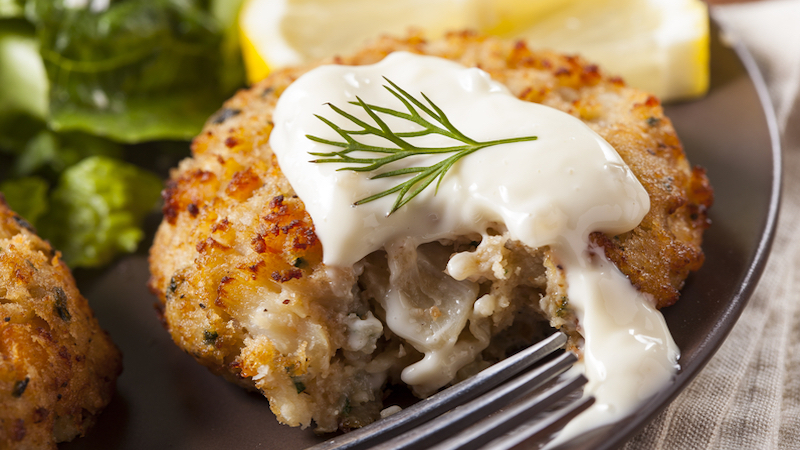 Food and travel writer Steve Cook shares six favorite beach restaurants and an ice cream shop, at five beach destinations in Maryland, Virginia, North Carolina, and South Carolina – plus a couple of other destination recommendations while you are in the area.
---
Okay, it's not exactly because the weather, lately, reminds me of summer. It must just be some sort of internal clock, but I'm in a back-to-the-beach attitude this week and I got to thinking of some of the most memorable dining experiences that I've had on beachy vacations over the past few years.
So, I sat right down and wrote myself a little list of some of my favorites to share with you. Now, as they say, your mileage may vary. You may not fall in love with my choices, but if you go to any of these beach resorts this summer, consider these recommendations.
Six of my favorite beach restaurants
Ocean City, Maryland
I'm not in to beach bashing, but Ocean City is not my favorite beach. However, it's got an ocean and sand and hot summer days, and I love all those things. It also has something else, which I did not know a thing about until we went on a family vacation a few years ago.
I loved discovering Berlin, a quaint, little town with an amazing downtown about eight miles from both Ocean City and Assateague National Seashore. In both 2018 and 2020, USA Today named Berlin the best town for shopping in America. There are more than 60 shops, restaurants, bakeries, art galleries, and music venues along Main Street.
---
Catching sustainable seafood for your plate
---
While there are numerous restaurants, since you may feel as if you had just stepped out of Marty McFly's DeLorean when you arrive, I'd suggest you try Rayne's Reef Soda Fountain & Grill (10 N. Main St.). This cool spot has been a community gathering place since the turn of the last century. Don't expect gourmet seaside dining, but for nostalgia, a build-your-own-burger and a shake are perfect. Rayne's opens 8 a.m. to 5 p.m., Monday through Saturday, for breakfast, lunch, and an early dinner.
Oh, by the way, the town's Main Street served as the fictional town of Hale, Maryland, for the filming of Runaway Bride. It's where Julia Roberts' and Richard Gere's characters fell in love.
Chincoteague, Virginia
To get to or from Ocean City, you can go right past one of the most fascinating places in Virginia, Chincoteague. I've never eaten anywhere in town, so I asked my old friends, Victor and Kathy Gottlieb, to share their favorite spot. Victor and Kathy used to perform on an old radio show I was a part of centuries ago. They were then known as the Singing Gottliebs, and one of the things they sang about was their love for Chincoteague. You can even find their love song to Chincoteague on YouTube.
Victor shared this dining tip:
Of our favorite beach restaurants, Don's Seafood (4113 Main St.) serves the best and freshest flounder sandwich I've ever had. It's great for lunch and dinner. Get the tiny pickled beets if they're available on the salad bar. Don also farms his own clams.
For the BEST homemade ice cream, visit The Island Creamery (6243 Maddox Blvd.). Try my favorite, Marsh Mud, invented by a kid who was heavy handed with the cocoa (did he drop the whole can in the batch?). It's my favorite flavor. If available (around blueberry festival time), the blueberry ice cream is delicious.
Go for small town charm, great seafood, a gorgeous, white sand beach, and the occasional sighting of wild ponies. Or go for pony penning week, when the whole world goes to see the rescue squad-firemen drive the ponies from Assateague across the water to Chincoteague. It's a fundraiser when some of the ponies are sold to good homes, preventing the herd on Assateague from getting too big to thrive on the Island, and with proceeds helping to maintain the herd.
Virginia Beach, Virginia
This town has been done to death in restaurant and attraction guides and everyone has their favorite beach restaurants here. But when I'm in the area, there are two restaurants that I always try to hit.
The first is Mahi's (615 Atlantic Ave.) right on the beach. That's probably why it's my favorite. I love watching the waves crash as I eat. But Mahi's is more than that. For a resort-town restaurant, the service is always friendly and the food is good. The she-crab soup is excellent, but I've really never had a bad meal there. They also serve sushi. The bar scene is lively and it's right next door to the 7th Street Stage, so there's often live entertainment.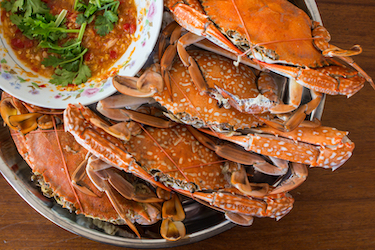 My favorite VB-area restaurant is Margie and Ray's Seafood Restaurant Crab House & Raw Bar (1240 Sandbridge Rd.). The name says it all … great seafood, fantastic raw bar. Again, the she-crab soup is my favorite, but then it and crab cakes generally are. It's a great spot for crab picking. Just grab a beer and some steamed blue crabs and make a mess. That is the only way to do it. There's much more to the menu, though. You won't be disappointed. And if you're staying or visiting Sandbridge, the restaurant is less than three miles from one of the best beaches in Virginia.
---
Explore the quiet Chesapeake Bay side of Virginia Beach
---
Hatteras Island, North Carolina
Again, everyone knows 'cause everyone goes to the Outer Banks, but if you're looking for truly fine dining in an elegant location overlooking Pamlico Sound and those fantastic sunsets, you really can't do better than the Café Pamlico at the Inn on Pamlico Sound. The inn itself is wonderful, and the café is equally so. Hatteras is a beach town, so you don't have to dress up for the elegance, but this is one place where you may want to. My choice for a great meal would be the crab cakes. I really am a crabby guy when I'm dining seaside. But take the time and peruse the menu. You're in for something truly special. The service is impeccable. Every dish is a delight. If I sound like I'm gushing, I apologize, but I do love this place. I don't eat there every time I'm in the area, but for a special occasion, you simply can't go wrong.
Myrtle Beach, South Carolina
I love Myrtle Beach. For dining, however, I've yet to discover any favorite beach restaurants. There are a lot of buffets, but I haven't found any that I absolutely love. I'd truly love to hear your recommendations because Myrtle Beach has become, over the past couple of years, one of my favorite beach towns. That's mainly because the surf is much more old-man friendly. If you're bringing kids or grandparents to the ocean, you might want to consider the extra time it might take to get to Myrtle Beach. Generally, the ocean is very welcoming.
There is one dining hole (and I mean that in the best possible way) that I always visit when I'm in Myrtle Beach. I accidentally discovered Key West Crazy Waterfront Restaurant & Bar during a visit to Myrtle Beach about three years ago. This dive bar (4492 Water Front Ave.) is actually located in Little River, South Carolina, about 20 to 25 miles north of Myrtle Beach. The whole town is like walking into a movie set, although I'm still trying to figure out what kind of movie it would be. There are several similar dining spots along the river, but my favorite is Key West Crazy. I guess the name kind of sets the expectations.
The food is good. It's no Café Pamlico, but it's good. The service is friendly and the atmosphere, well, the atmosphere is Key West Crazy. Often, the only menu is written on a blackboard, which the servers graciously move around the restaurant to make it easy for whoever just came in. Try to sit on the waterfront porch/deck and bask in the sun and the atmosphere that this place exudes. I don't really know how to describe Little River. You're just going to have to go see it for yourself.