Tranquil Beaches on the Chesapeake Bay at Virginia Beach
| February 9th, 2021
A different angle on a familiar destination
---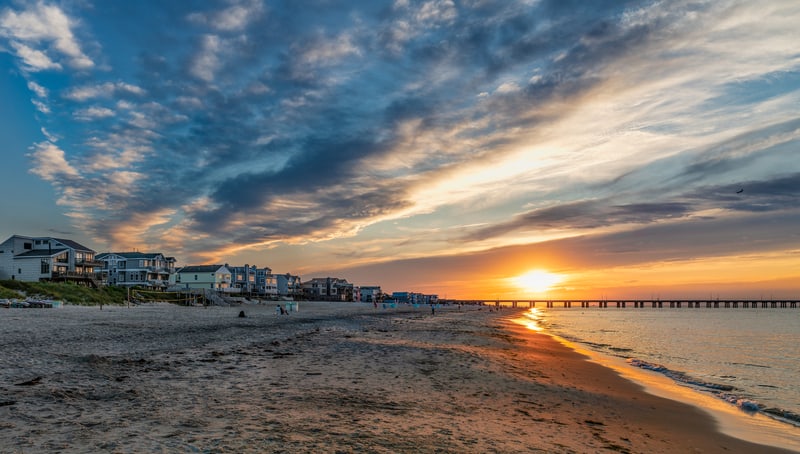 It's said that familiarity breeds contempt. Richmonders who consider Virginia Beach a been-there-done-that destination just need to dig a little deeper. Even those of us who love the area could benefit from a different perspective on the historic coastal region. Rather than letting familiarity or even apathy turn your sights elsewhere, head up the coast for a distinct experience. Enjoy new and smile-enhancing businesses, soul-refreshing nature, and tranquil beaches on the Chesapeake Bay.
Stay on the Bay
As a refresher: Virginia Beach divides itself into three waterfront districts.
The busy Oceanfront resort area is what most of us envision, with a boardwalk separating the groomed sandy Atlantic beach from hotels and restaurants, which are backed by the Atlantic Avenue main drag, followed by a multitude of other shops, restaurants, lodging, etc.
South of the resort is Sandbridge. Still fronting the Atlantic, Sandbridge offers a quieter blend of beach houses, sand dunes, and sea oats. Back Bay National Wildlife Refuge and False Cape State Park await nearby for kayaking, hiking, and fishing. And a smattering of restaurants and shops provide just enough of a link to civilization.
And then there's another kind of beach north of the Oceanfront district. While the Atlantic Ocean crashes onto the resort and Sandbridge shores, the Chesapeake Bay provides a scenic, peaceful option. Bayside beaches afford most of our favorite beach activities – swimming, building sandcastles, reading, sunning, napping, strolling, people watching, and forgetting our cares. Although the gentle surf doesn't make for surfing success, it's perfect for young children and any others who prefer waves to lap at their feet rather than bowl them over.
The region fronting the Bay is known as Chesapeake Beach. Some locals have adopted the nickname "Chic's Beach," after a beachfront hot dog stand run by Luther "Chic" Ledington and his wife. A "k" sneaks into the nickname occasionally, making it "Chick's Beach." A few of the locals are loathe to use either.
A new place to stay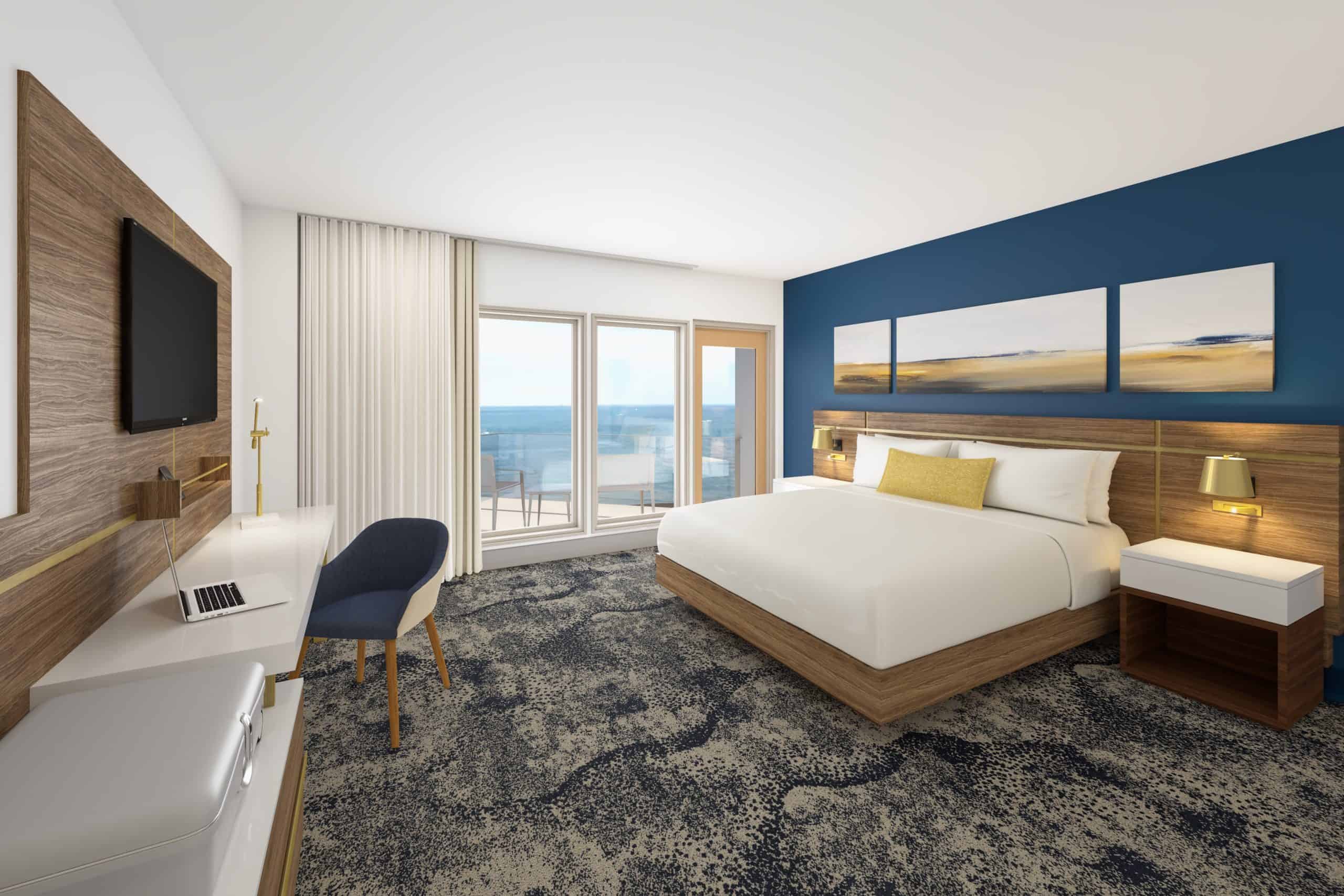 A new hotel, which opened in March 2021, provides the ideal opportunity for enjoying Chesapeake Beach – especially during social distancing and contagion concerns. Delta Hotels Virginia Beach Bayfront Suites has 295 roomy suites, each with one or two bedrooms and separate living spaces. The décor has a modern but comfortable vibe, with a natural beach-inspired color palette.
The Delta Hotels Bayfront Suites has a large private beach and heated outdoor pool as well as amenities such as kayak and bike rentals, a fitness center, a retail shop with merchandise by local crafters and artists, a coffee shop with specialty drinks, fresh-made donuts, and sandwiches, and a signature restaurant, Tin Cup.
As a Marriott property, the property has taken pandemic-protection protocols seriously. You can check out their guidelines before you book to make sure you'll feel comfortable and safe.
Taste a benefit of the pandemic
The coronavirus has wreaked havoc on restaurants and bars, even forcing many to close. Chef Kevin Dubel of the hotel's Tin Cup Kitchen + Oyster Bar, however, realized an advantage.
"With many big cities shutting down amidst Covid-19, I had a few people I have worked with dating as far back as 2006 looking for work reach out to me, specifically to get away from major cities," he said. "This allowed us to assemble a group of chefs, restaurant managers, and bar managers with a powerhouse resume." These professionals have worked restaurants in New York City, Boston, Washington D.C., and Florida. "They will help bring fresh ideas and new approaches to hospitality to Virginia Beach." And, he added, "It is also great to reunite with these old friends and see how we have all grown into our crafts."
Tin Cup Kitchen + Oyster Bar is billed as a coastal American eatery. It offers seafood dishes such as New England seafood chowder, blackened shrimp toast, Chesapeake crab cakes, and Buffalo sugar toads (aka, the chicken wings of the sea). It also serves up oysters from the eight oyster regions of Virginia.
Eight oyster regions of Virginia? Why, yes! Because oysters reflect the waters where they grow, Virginia oysters can be very salty or not-at-all salty, bold or mellow, creamy, smooth, and savory. This has come to be known as "merroir," aka the "terroir of the sea." In Virginia, oyster beds range from full-on saltwater to (relatively) freshwater harvested. The saltiest oysters come from beds in the Atlantic Ocean, giving them a bold salty flavor on the front that mellows to sweet butter at the finish. Notably different are the oysters from beds farther up the Chesapeake Bay and closer to freshwater river outlets, for a sweeter, light cream taste.
To pair with your food, Tin Cup offers craft cocktails (including the signature The Cup Smash), local beer, and wine. And to round out your experience, the restaurant offers an outdoor terrace overlooking the Bay. If you prefer, the restaurant offers to-go orders and contactless delivery for room service.
Besides the tranquil beaches on the Chesapeake Bay …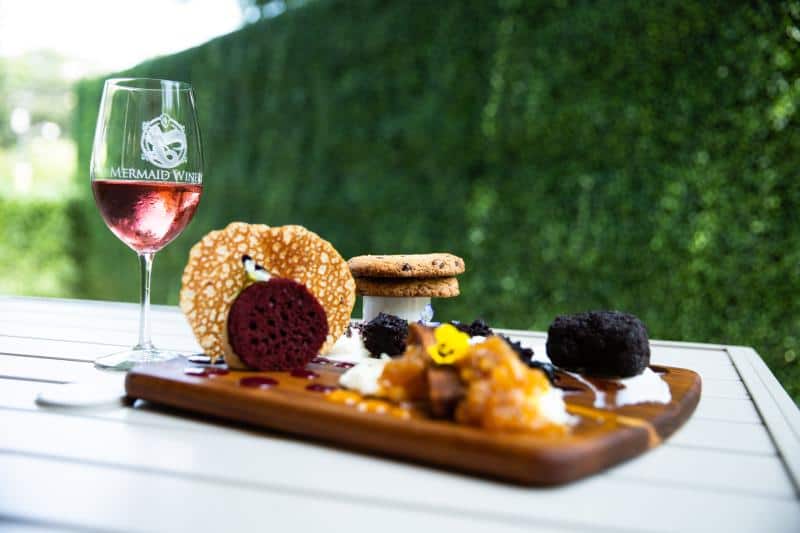 Should you choose to venture out, these nearby sites can enhance your stay.
Head over to the new (2018) Lesner Bridge and check out "The Canoes" art sculpture. Ten 13-feet-long aluminum canoes arranged in a star pattern, mounted on an 8,000-pound stainless steel arch, pay tribute to the history of the local waterways. Each canoe is hand cut with intricate filigree patterns, inspired by the decorative arts of the early settlers. The sculpture cost $350,000, which was raised through private donations to the Public Art Virginia Beach Foundation.
A stone's throw from the bridge is American Brew, ready to fill your craving for coffee drinks and breakfast … and for whiskey and lunch and dinner. Founded by fitness professional Ashley Horner, American brew offers food that's deliciously fresh and healthy and food that's deliciously decadent. After all, many of us exercise so we can splurge on a meal!
Head about a quarter mile from American Brew to Pleasure House Point Natural Area, one of the largest undeveloped parcels of land on the Lynnhaven River. Hike through acres of tidal marsh, sandy shores, and maritime forest.

Colorful, quirky, and delicious, The Leaping Lizard Café is my must-stop when I'm in the area. The seasonal menu features creative dishes to please hearty appetites and snobby eaters alike. Think hearty for options like the beef and venison burger, blackened salmon mac and cheese, duck tacos, seafood entrées, and small plates. Think healthy and order beet salad, sparkling herbal water, vegan desserts, and house-made juices.
Encompassing 2,888 acres, 1½ miles of beachfront, and 20 miles of trails, First Landing State Park offers a natural oasis for getting your nature fix. Look for the towering bald cypress trees. Meander onto the boardwalks and overlooks for swampland views inspiring prehistoric imaginings. Besides the Chesapeake beachfront, the park borders Broad Bay and offers a boat launch for motorboats and other small craft and plenty of spots for fishing and crabbing. Rent a stand-up paddleboard from Tula Adventure Sports to wind your way through the gentle Long Creek, rimmed with tall marsh grasses.
Three tasting rooms within a six-mile stretch offer the chance to check out some maybe-new-to-you Virginia craft beverages. Deadline Brewing Project brews creative seasonal beers like Dulce de Leche brown, Enigma IPA with Sauvignon blanc grapes, and cranberry maple stout. Commonwealth Brewing has gained a reputation for hoppy beers, wild and sour fermentations, Belgian-style ales, and big beers such as barrel-aged imperial stouts. Mermaid Winery produces and serves its own wines, made from Virginia and California grapes. Plus, visitors to Mermaid Winery (the Chic's Beach location as well as the original Norfolk location) can also choose from a full menu and other wines from around the world.
And when you're through exploring, Delta Hotels Virginia Beach Bayfront Suites is waiting. Enjoy a nightcap at the Tin Cup, a soak in the heated pool, stroll along the quiet beach … or settle in to the comfort of your room, where familiarity promises relaxation.
Updated March 19, 2021, to note opening of the Delta Hotels Virginia Beach Bayfront Suites.