Get a Raw Deal in Downtown Norfolk
| January 26th, 2023
The city's revival includes this fantastic brunch at The Main
---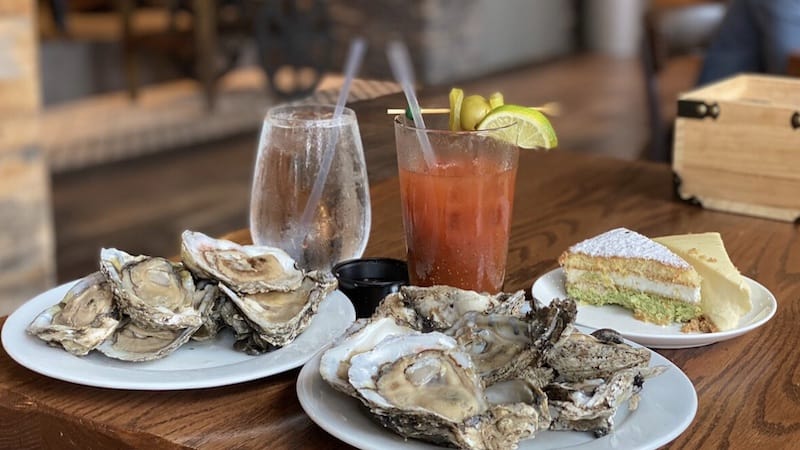 What happens when plans to explore are pre-empted by a restaurant? Steve Cook explains how brunch at Grain at The Main stopped his Norfolk plans cold. But oh, it warmed the cockles of his heart and belly!
---
If you're the sort of person who turns up his or her nose at the very mention of the word "buffet," then you may want to move on. There's nothing to see here. However, if that buffet includes an all-you-can-eat top notch raw bar, would that make this more appealing?
Because that's exactly what I discovered during a recent visit to Downtown Norfolk. I had about three hours to spend there a couple of weeks ago. My first stop was at the Hilton Norfolk The Main, located in the heart of the revitalized Downtown Norfolk area.
Actually, The Main became my first, last, and only stop of the day because of my discovery.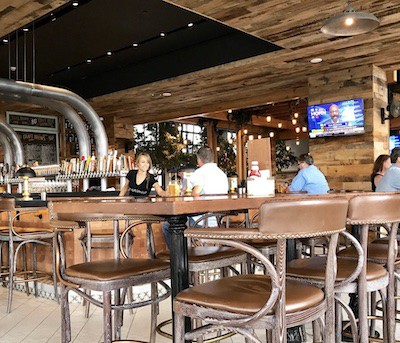 Let me tell you about this fantastic brunch they offer there. I had been to the hotel's Grain restaurant on previous visits. and I really enjoy this casual lounge and roof garden that offers about 100 different craft beers in bottles and on tap. The food is primarily upscale bar-type snacks, sandwiches, and the like. A visit there is always pleasant. However, on this particular day, I wasn't planning on eating in the hotel. I wanted to see what other cool places there were along Granby Street.
When I lived in Hampton about 15 years ago, I would visit Downtown Norfolk. At the time, about the only excitement on Granby was an occasional Food Lion bag blowing down the street. Today, Granby Street is alive with coffee and wine shops, restaurants, music venues, and much more. So I was going to stop in the hotel and then head on out to explore.
But while I was meandering through the lobby of the hotel, I saw a sign that immediately caught my eye. It was promoting $2 Bloody Marys and Mimosas during the weekend brunch in Grain. Well, they had me at $2.
Anyway, I caught the elevator and headed on up to brunch at Grain. Once I got there, I discovered that it's not just about the cheap drinks. They offer a magnificent spread of fantastic brunch delights from 11 a.m. until 3 p.m. every Saturday and Sunday, and if you happen to be in the area on the weekend, you really ought to consider a visit. In fact, at less than a couple of hours drive from Richmond, I may go back just for the brunch.
Of course, there's so much to do in Norfolk these days. The city's Waterside District is just a couple of blocks away. There's always something fun going on there. And virtually next door to Waterside is Nauticus, which is not only a fun science center but also offers you a chance to explore the Battleship Wisconsin, which is berthed next door. And then, of course, there's Granby Street. The hotel sits right at the corner of Main and Granby. I could go on and on about all that Norfolk has to offer, but I'm mainly here to tell you about the brunch.
---
Here's your guide to Norfolk, once you're done with brunch! 
---
First and foremost is the raw bar. Now, I'm a sucker for a good oyster or a couple dozen, and the brunch at Grain offers some really huge, succulent, delicious oysters on the half shell. They also tempted me with a lavish array of shrimp, clams, and mussels, and all were absolutely delicious. Now, the raw bar would be my main reason to go. When you consider that the entire buffet brunch is only $28 per person, the raw bar, itself, offers plenty to enjoy.
But there are many more breakfast and lunch delights. While I took a break from my oysters, I decided to have a Western omelet. It was perfection. If I had realized what was happening to the price of eggs, I'd have had me a couple more omelets in order to feel really luxuriant.
There's also a fajita/burrito station, a variety of meats and several decadent desserts. I haven't eaten that well for 28 bucks in years.
Everyone on the staff is very pleasant, friendly, and helpful. The atmosphere is causal and inviting. And in warm weather, you can enjoy views of the Elizabeth River from the rooftop garden.
Obviously, if you're a fan of a good craft beer, you're going to find plenty to enjoy. But on this particular day, I took advantage of the Bloody Mary and half of a Mimosa. With drinks, the buffet and a tip, I spent right around $40.
The hotel offers a total of three restaurants. In addition to Grain, you can savor a beautiful seafood restaurant, Saltine, on the first floor, and if you take the escalator up from the lobby, you'll find VARIA, a lovely wine and piano bar offering a variety of Italian dishes.
If you're looking for a great weekend getaway, this would be one of my top picks. If you haven't been to Norfolk in the last decade or so, I think you're going to be blown away, but in a much more delightful way than were those Food Lion bags back in the day.
Hilton Norfolk The Main
Dine at Grain, Daria, or Saltine
100 East. Main St., Norfolk, Virginia
---
Steve Cook has lived in the Richmond area for most of his life, working as a writer and editor and in marketing and radio. He loves to keep abreast of the local restaurant scene and researches the subject voraciously. "I used to think I was a foodie," he says, "but then I realized I just like to eat a lot." He once co-hosted a local Richmond restaurant radio program with BOOMER editor Annie Tobey. Steve completed his first novel in 2017 and says he hopes to read another one this year.