It's Hot. It's Delicious. It's Charred
| January 13th, 2022
From wood-fired delights to a creative craft cocktail program
---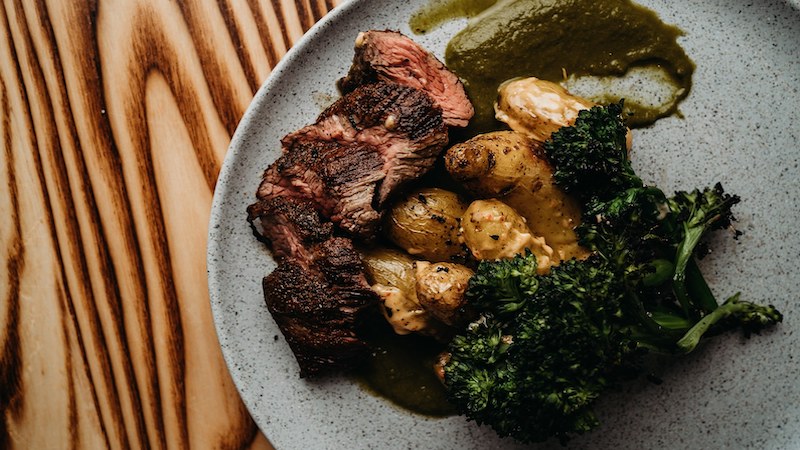 Richmond-based food and travel writer Steve Cook explores Charred Wood Fired Oven & Craft Bar in Chesterfield County, Virginia, and takes a foray into the Charred bar craft cocktail focus.
---
Sometimes I wish I had grown up in the days of such explorers as Christopher Columbus, Christopher Newport, or John Smith because I do so love the thrill of discovery. Of course, if I had been a contemporary of such men, I wouldn't have the enjoyment of discovering the many great, new restaurants that continue to rear their pretty heads in the Richmond area.
So, while it wasn't perhaps as noteworthy as having discovered the "New World" 400 years ago, I was excited to discover something that's a rarity around these parts, and that's a great locally owned restaurant in the Brandermill/Woodlake neighborhood.
I'm speaking about Charred Wood Fired Oven & Craft Bar at 13451 Hull Street Road in Midlothian. It's the part of the name that comes after the ampersand that really stands out as unique in Chesterfield County's far west end.
Walied Sanie, a co–owner in the venture, told me that the craft bar component was what he felt was sorely needed in western Chesterfield. Charred certainly lives up to its aspirations as a craft bar, not only in its delightful and unique cocktail menu, but also in the large selection of top-shelf liquors as well as a fantastic Happy Hour, which includes great prices on call brands. See the Happy Hour listing below.
But what about the food?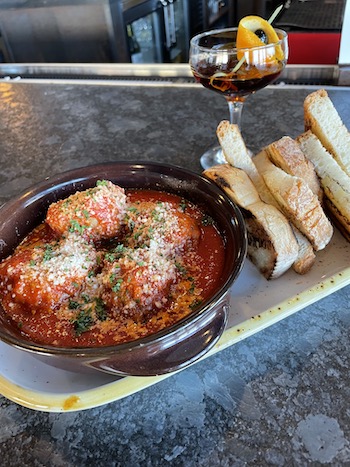 Walied said that the menu is designed around the wood-fired oven. Even as you peruse that menu online, you can see descriptions that show the chef is clearly making good use of their oven. Case in point: on my recent visit, Walied suggested that I try one of Charred's signature meatballs, which he said would pair nicely with my Charred Manhattan cocktail. While I love a good meatball, I'm not fond of those that make an overly generous use of a bread filler. I love the "meat" part of meatballs.
Up until last week, my favorite Metro area meatballs were served at an excellent Italian restaurant in Westchester Commons, and while I imagine those meatballs are still wonderful, I think I've found a new favorite. The meatballs that Walied served me are my new choice for "best in town."
The meatballs are a tasty blend of veal, beef. and pork served in a roasted tomato sauce with parmesan and parsley. The large bowl of manageable-sized meatballs was accompanied by slices of irresistible grilled sourdough. As with this appetizer, the wood-fired oven plays a large role in virtually everything on the menu from the seared sea scallops and the charred burgers to the wood oven pizzas. Although I didn't try it on this first visit, I'm anxious to return for a taste of their wild mushroom pizza, which features roasted shitake, crimini, and oyster mushrooms.
---
Delightful dining north of Richmond: Iron Horse Restaurant in Ashland
---
Charred also serves a delightful brunch on Saturdays and Sundays from 10 a.m. until 3 p.m. Amy Stitzer, the head bartender, told me that the brunch pizza is very popular as are the fried chicken and waffles. You can also mix your own Mimosas and Bloody Marys during brunch.
Charred's original opening was scheduled for the week in March 2020 when COVID concerns initiated the devastating lockdown, so while it's not exactly new, when it comes to the craftsmanship in both the kitchen as well as behind the bar, I'm chalking Charred up as a personal hot, new discovery.
More about the Charred bar and its happy hour
If you love a good craft cocktail, you may want to set your sights on Charred regardless of what part of town you live in. One of their most popular is their Makers Mark Slow Drip Old Fashioned. Walied said that the bar uses a slow-drip coffee maker. However, he added, "Pouring bourbon through it is a lot more fun." The slow-drip process allows the bourbon to take on nuances of whatever flavors or spices through which the bourbon passes as it drips. The bar list includes a good selection of local craft beers as well.
Charred offers an excellent Happy Hour from 3 to 6 p.m. daily. Although there are no food offerings on the Happy Hour presently, Walied said that soon will change. Check out these great Happy Hour prices:
Beer, craft cans – $1 off
Beer, Yuengling Flight bottles – $2 off
Beer, draft – $2 off
Truly Hard Seltzer – $3
Rail liquor – $3
House wines – $4
Blood Orange Crush cocktail – $5
Call liquors (such as Smirnoff, Jim Beam, Bacardi) – $5
---
Food and travel writer Steve Cook brings his distinctive flavor to his reports of restaurants, wineries, cocktails, destinations, and more. Find more of his restaurant reports in Boomer Food Finds.