Courage & Conviction Cask Expressions
| May 13th, 2021
Award-winning variations on a Virginia-based American single malt whiskey
---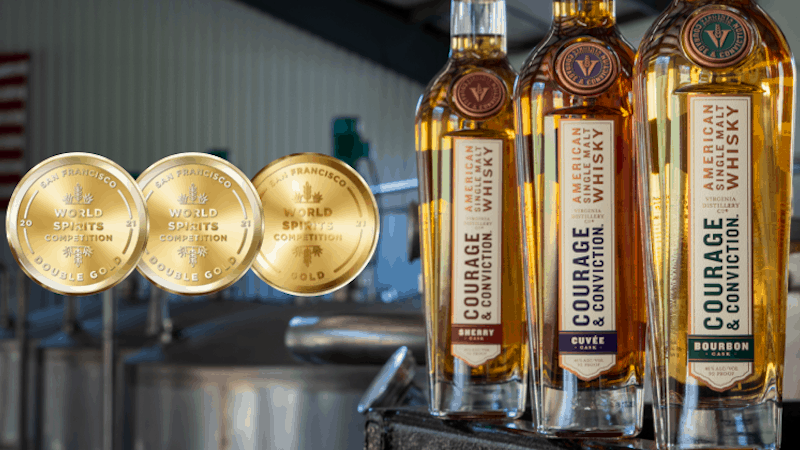 Devoted whiskey fans may have little desire to improve upon the whiskey experience. They are content to sip their chosen liquor, often the same brand(s), often in the same manner – with a splash of water, on the rocks, neat, in a favorite cocktail, and perhaps in a favorite glass. Virginia Distillery Co. now offers a way to color ever-so-slightly outside of the lines with its award-winning Courage & Conviction cask expressions.
Savor the slight variations
Since its first release in 2015, VHW Port Cask Finished Whisky, Virginia Distillery has been offering fine whiskies to consumers in the Commonwealth and beyond. Based in Nelson County, beside the majestic Blue Ridge Mountains, the distillery takes full advantage of its Virginia location. The temperature fluctuations of hot summers and cool winters encourage the casks to breathe, more quickly aspiring to great tastes. And the surrounding countryside offers clean, spring-fed water.
In 2020, Virginia Distillery added Courage & Conviction to its lineup. Staying true to the most proper definition of American single malt, the flagship Courage and Conviction starts with a mash of 100% malted barley and is mashed, distilled, and matured entirely at their Virginia facilities. The distillers then age the whiskey for at least three years in a strategically chosen variety of casks. Finally, they blend them, for optimum enjoyment:
50% aged in bourbon casks
25% aged in sherry casks – using Fino, Oloroso and Pedro Ximénez
25% aged in cuvée casks, sourced from premium European red wines, then shaved, re-toasted, and re-charred
The result is a complex liquor that offers the best of a 100% barley whiskey with barrel aging notes and highlights of bourbon, sherry, and wine.
Appreciating each expression
In March 2021, in addition to the Courage & Conviction blend, Virginia Distillery released expressions of each of the individual casks.
Bourbon Cask Courage & Conviction
After imagining maple on the nose, I heard a subtle bourbon melody of corn sweetness and vanilla and caramel barrel-aging notes on my palate.
Sherry Cask Courage & Conviction
The sherry cask-aged whiskey starts with a luscious malt backbone touched by flavors from aging in sherry casks: Fino, Oloroso, and Pedro Ximénez. I most easily picked out the cherry and fig and could savor the caramelized plum as well.
Cuvée Cask Courage & Conviction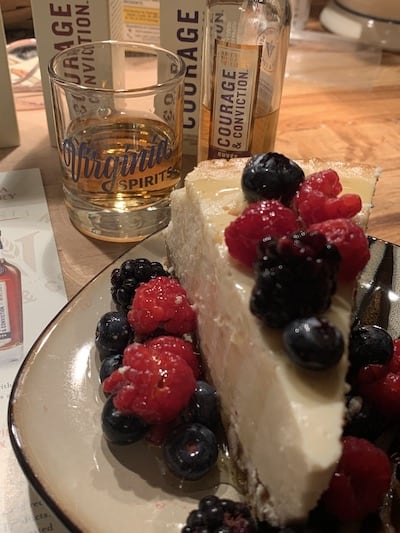 Virginia Distillery describes the tasting notes of this variation as "notes of raspberry, cherry, brown sugar, cocoa, and baking spice." Based on this description, I paired my first taste with a slice of homemade cheesecake topped with blueberries, raspberries, and blackberries. Oh, my! The brown sugar and baking spice notes paired wonderfully with the apple butter and graham cracker crust and the turbinado sugar in the batter. Talk about a burst of flavor!
Awards and enjoyment suggestions
At the 2021 San Francisco World Spirits Competition, the Courage & Conviction Sherry Cask and Courage & Conviction Cuvée Cask were both recognized with a double gold medal and the Courage & Conviction Bourbon Cask was recognized with a gold medal.
Virginia Distillery Co.'s flagship Courage & Conviction American Single Malt Whisky as well as the three cask expressions come in 50 ml and 750 ml sizes. Pick up the minis for a fun side-by-side comparison, or skip the minis and go straight for the 750s.
Or try them all paired with a slice of cheesecake, chocolate torte, grilled steak, or pan-seared salmon!
Whatever direction you choose, these four variations offer a way to enjoy a quality whiskey in the manner that suits you, while coloring just slightly outside of the lines.
The distillery offers tours and a tasting room experience (pending as of early May 2021 as it gears up to open post-pandemic) in its attractive facilities at the foothills of the Appalachians. It offers online shipping to more than 40 states, with products available at retail locations across 23 states.
Virginia Distillery Co., 299 Eades Lane, Lovington, VA