Dining and Happy Hour at Mom's: Mom's Siam
| January 6th, 2022
'When I'm looking for an incomparably delicious meal with old friends, there's no place like Mom's'
---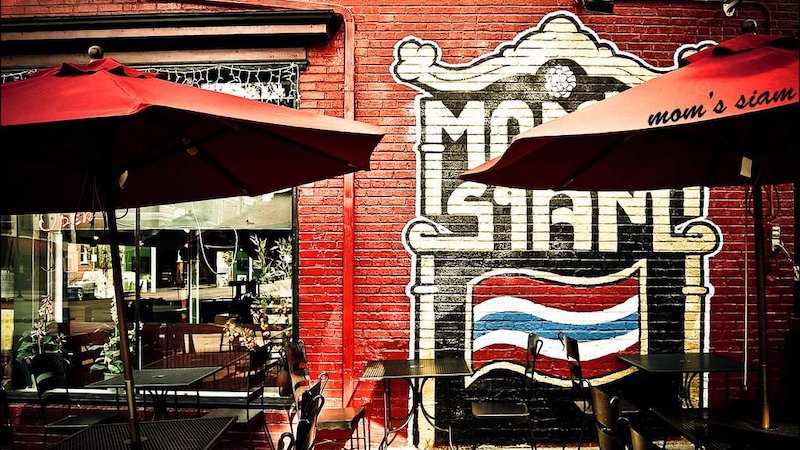 Food and travel writer Steve Cook takes us to his favorite memorable Thai restaurant. "When I'm looking for an incomparably delicious and comforting meal with old friends, there's no place like Mom's," he says. Mom's Siam in Richmond, Virginia.
---
I first met Sukanya (Sue) Palaart in 2001. At the time, I had just begun a brief, extraordinarily unsuccessful career in magazine advertising sales. In fact, my second sales call was at her new restaurant in Carytown. Sue, a native of Thailand, spoke very little English. I spoke even less Thai. However, through the assistance of her two teenage sons serving as interpreters, she agreed to advertise in the magazine for which I was then working.
I returned a few days later to get pictures of several entrées to use in her ad. That was my first experience with Thai food and with Sue's now very popular restaurant, Mom's Siam (http://www.momsiam.com/index.html), which has since then moved a block east into a larger space at 2811 W. Cary Street.
Even though Sue is considerably younger than I, she will always be "Mom" to me. After photographing the entrées she had prepared, she invited me to sit down and try the food. With my first bite, I was sold. This was some of the best food I had ever tasted. Sue has a real gift for using a variety of Asian spices in perfect balance, at least as far as my taste buds are concerned.
Consistently rave worthy
One of the most important components to a restaurant's success is consistency. I hate to take friends to a restaurant that I've been raving about, only to be utterly disappointed because what was a delicious dish the last time is now somewhat bland, or worse.
Thankfully, that has never been a problem at Mom's Siam. I can honestly say that in the 20 years that I've been dining, with considerable frequency, at Mom's Siam, I have never had a dish that was less than stellar. Every friend whom I have taken there or who has visited at my recommendation has nothing but praise for Mom's Siam.
Favorite dishes
The menu is large and varied, so you need to discover it for yourself, but I can definitely recommend a few of my favorites. Let's start at the very beginning, which is a very good place to start. We always order the neu yang for an appetizer. This is a spicy Thai beef salad. The ingredients are always very fresh, both the produce and the beef, but it's Sue's knack for spicing her foods that make this such an exceptional dish. The sauce is spicy, but not uncomfortably hot. My wife loves the neu yang sauce so much, she asks for more and pours it on whatever else she has ordered.
There are other excellent appetizers, including both the crispy and the fresh spring rolls, but the neu yang is our favorite starter, along with the tom kha kai soup. I've tried this soup at many other Thai restaurants, but no one flavors this coconut- and lemongrass-based chicken soup any better than does Mom. Even if you're not into Thai food (perish the thought), you really need to try a bowl, especially on a chilly winter's day.
For entrees, I am especially fond of the drunken noodles and the kai yang.
The drunken noodles are rather spicy even at their mildest, but they're so deliciously seasoned, I can't stop ordering them. The kai yang, on the other hand, is, perhaps, the most American-style dish on the menu, which makes it a great choice when you have someone in your party is not keen on experimenting. The half chicken is slowly grilled in a style very much like you might find in a non-Thai restaurant, but the Thai chili sauce that comes with it is so delicious, that sometimes I will order the kai yang just for the sauce. We do love our sauces at Mom's Siam.
While I rarely eat desserts, I always make an exception for the mango and sticky rice. The sweetness of the rice pairs perfectly with the tanginess of the mango.
Over the past 20 years, Mom, along with her two sons, who have also become successful restaurateurs, have widened out with other Thai and Asian eateries throughout the Metro area, including Ya Ya's Cookbook in Short Pump and My Noodle and Bar on Monument Avenue at Stuart Circle. The family has a new restaurant opening later this year in West Broad Village as well. Certainly, this expansion has made Sue's and her sons' culinary creations more accessible, but as for me, when I'm looking for an incomparably delicious and comforting meal with old friends, there's no place like Mom's.
Mom has a great Happy Hour, too
Mom Siam's Happy Hour, which runs from 3:30 until 6 p.m. daily, offers substantial savings on both the classic cocktails as well as some of Mom's more top-shelf craft cocktails. Happy Hour also gives you a good chance to sample some of the appetizers at reduced prices.
Drinks
Classic cocktails (such as Margaritas, Mojitos and Old Fashioneds) – $5
Mom's craft cocktails – $2 off
Draft beers – $1 off
Wine – $1 off
Food
Mussels – $6
Edamame – $3
Tofu Popcorn – $5
Thai Deviled Egg – $5
Seaweed Salad – $3
Mom's Siam
Carytown
2811 W. Cary St., Richmond
On the web and on Facebook
---