Gatlinburg Grub
| February 2nd, 2023
A geezer's guide to the Tennessee resort town
---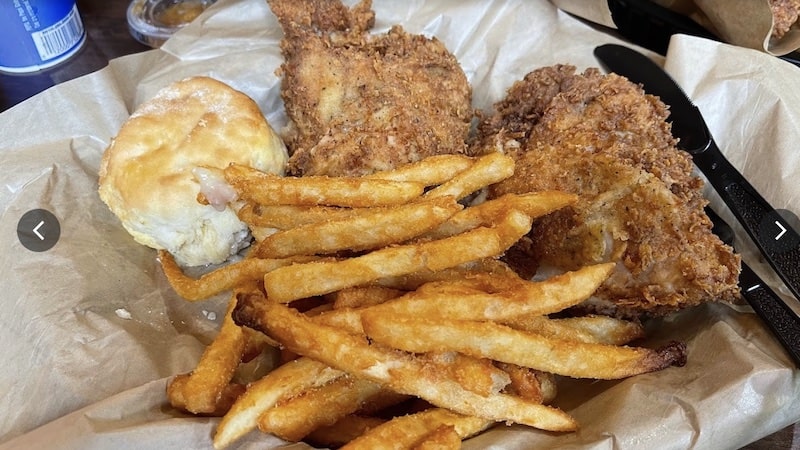 Richmond-based food and travel writer Steve Cook takes us along on his trip to Gatlinburg, Tennessee, and the Great Smoky Mountains, sharing a geezer's overview of the resort town and a guide to two restaurants worth grabbing your Gatlinburg grub – besides the moonshine and cotton candy-flavored wine.
---
The first time I visited Gatlinburg Tennessee, I was about 11 years old. I remember thinking then what a cool town it is. Gatlinburg kind of sneaks up on you. You're driving through the mountains, with miles and miles of beautiful desolation, when, all of a sudden, this cool little spot jumps out at you and yells, "Surprise."
Gatlinburg and nearby Pigeon Forge have continued to explode with rental cabins, restaurants, roadside attractions, go-kart tracks, and much more. The Downtown Gatlinburg strip today is kind of what you might expect to find if a carnival came to town and never left.
Walking down the main strip, even at my advanced age, still holds a certain fascination. There are still the wonderful aromas of sizzling peppers and onions at a walk-up sandwich shop, as well as the sounds of bells and whistles emanating from one of the arcades. You can go in one of those old-timey photo places and get your picture taken holding a rifle and a jug of moonshine. There are plenty of gift shops, fudge shops, ice cream parlors and plenty of places to sample some moonshine, beer, cider, or, what seemed to be hot this year, cotton candy-flavored wine. Maybe I'm getting too old because I wasn't tempted one bit to stand in line and wait sip a cotton candy regardless of its frisky little bouquet.
While I still enjoyed my few days lounging around Gatlinburg, I must admit that age has dampened the enthusiasm I had walking the streets on the strip when I was 10 or 25 or even 45. Obviously, the go-karts no longer thrill me, although my grandkids are as mesmerized by them as my daughter was 25 years ago. There's still plenty for the whole family to do and to enjoy. And, for the most part, the region is loaded with good family fun.
Dollywood is just down the road in Pigeon Forge. And while it's a popular place, I think there are better theme parks closer to home.
---
Another geezer finds adventure in Tennessee
---
A few reasons the Smoky Mountains are called "Great"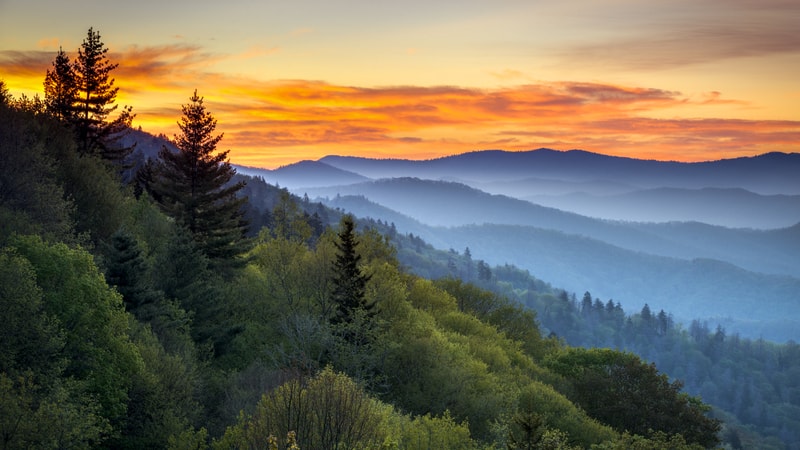 There's one marvelous thing that the Gatlinburg area has to offer that you can't find closer to home and that's the Smoky Mountains. There's an entrance into the Smoky Mountain National Park right outside of Gatlinburg. Even if Gatlinburg offers nothing to interest you, you will love a visit to the park. Did you know that this is America's most-visited national park? I would have guessed Yellowstone. But nope. There is such a diversity of plant and animal life. And while I'm not one of the world's great hikers, I am always seduced into taking some time to hike along one of the well-marked nature trails at the Sugarlands Visitor Center.
If you visit, you can almost be assured of seeing a bear or two along the auto trail. Look out for what they call "bear jams." That's a traffic jam caused by humans who are enthralled watching bears lazing in the meadow. Just follow the rules and don't get too close. For a comprehensive guide to all that the Smokies have to offer, visit online at NPS.gov.
---
The Great Smokies: Live like a kid again!
---
Gatlinburg grub
Whether you're hiking the Smokies or the Gatlinburg strip, one thing is for sure, you're going to work up an appetite. Restaurants abound in the area. And let me tell you, for the most part, they're not cheap. This is a community that thrives on the almighty tourist dollar and they sure know how to squeeze virtually every one you bring out of you.
I have eaten at several of the restaurants and rarely had a bad meal. However, it's just as rare to find a restaurant that is worth writing home about. On this trip, I set out to see if I could find one or two great restaurants that would be worth telling you about. Of course, keep in mind, all I have to offer is my opinion. I've noticed, especially since Covid, I'm not as enthralled with dining out as I once was. I think age has a lot to do with that. So, you may find restaurants here that you absolutely adore. And you might visit one of my recommendations and be left less than thrilled. But I do want to share a couple of recent finds. If you venture up here in the near future, you may want to give these two a try. For one thing, I didn't find their prices exorbitant. For another, the quality of the food seemed to be on the high side. Finally, the service was quick, efficient, and friendly. Oh, one more thing. Both of these places are off the strip, which means you can actually park right in front of the restaurant for free. I hope that if you take my recommendations, your experience will be as pleasant as mine.
Mama's Chicken Kitchen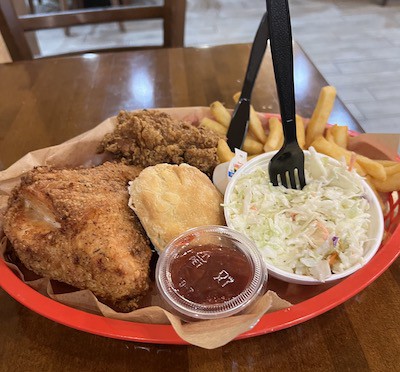 Located at 1244 East Parkway, Mama's Chicken Kitchen is about a five-minute drive from the heart of the Gatlinburg strip. Even though my love for fried chicken is not as great as it once was (a coronary bypass can and should change one's dietary habits), if you're a fan of the fried bird, you'll love Mama's Chicken. To be honest, I'm more partial to the Colonel's recipe, but there's a lot to love about the way the folks at Mama's do it. I chose the breast and thigh meal, which came with two sides, and my total bill including my unlimited soft drink was about $18. And did I mention that they also throw in an amazing homemade biscuit and jam to go with the meal? These Gatlinburg folks sure do know how to bake a mean biscuit.
The chicken is crispy on the outside, but inside the white meat was moist and succulent – cooked to perfection. While I should have been more cautious, I opted for the French fries, which were tasty and just greasy enough to be delicious. The coleslaw was also quite good.
I had actually gone to the place because I was craving chicken wings, but when I learned their wings were breaded, I decided to just go for the meal. I hear lots of rave review for the wings, though. The restaurant offers seven sauces to accompany them, including salt & vinegar, parmesan & garlic, honey glazed, and "Mountain Style."
What really impressed me as much as anything about the place was the efficient service. You go to the counter and order your meal. They then give you your cup for your fountain drink and a little identifier number so your server can find you with your meal. Well, I sat my identifier number on my table and went to get my Diet Dr. Pepper. How long could that take? Maybe 30 seconds? By the time I got back to my table, my meal was sitting there waiting for me.
I didn't notice until later that one of the sides that I could have chosen was the chicken and dumplings. I need to go back.
Trish's Mountain Diner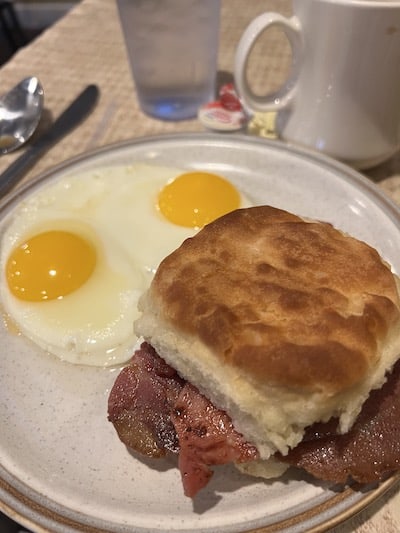 About 5 miles north of Mama's Chicken lies one of the best home cookin' places I think I've ever had the pleasure of visiting. I only had breakfast at Trish's Mountain Diner at 3614 East Parkway, but I can guarantee you, on my next visit, I'll be having lunch there. The biggest problem with this cozy little spot is that they close at 2:30 in the afternoon. So twice during my stay, I procrastinated until it was too late to go for lunch. But let me tell you about breakfast.
For starters, you get a friendly welcome from the staff when you enter. Everyone does, or so it seemed during my visit. I was greeted by both Dan and Shirley. Dan is a young guy but he seems to have already learned the art of giving great customer service. And Shirley, well, she's a bit younger than I, but she kind of reminded me of having breakfast at my grandmother's place. Shirley seemed to go out of her way to say hello and to check to see if I was happy with my meal. I was.
I ordered the country ham biscuit. And wow, was it wonderful. I love country ham and at Trish's they gave me such a big slice that it took me three or four bites before I ever got to my melt-in-your-mouth biscuit. Actually it was a melt-in-my-mouth biscuit. It was delicious. I got a couple of eggs sunny side up to go with the ham biscuit – talk about a perfect pairing. The eggs were done to perfection – runny, but not too runny.
Even with tax and tip, my bill was less than 12 bucks. And that included my cup of piping hot delicious coffee. You can't beat that.
As I say, I never got to try lunch at Trish's, but the menu is filled with such goodies as fried catfish, fish and chips, and ribeye steak. They also offer a host of sandwiches and hamburgers. While almost every restaurant in town has their burgers priced at around $15, Trish offers her cheeseburger for $7.95. I'm telling you, if you ever get up to Gatlinburg, you gotta try Trish's.
I ate at a few other places during my stay. All were passable, but nothing so wonderful that I'm inclined to tell you to check 'em out. But I will be going back to Gatlinburg, I hope. So if you have any great food finds there, drop me a line. I'd love to hear 'em.
By the way, if you want to check out a very helpful website with great editorial content, you may want to visit TheSmokies.com to help you plan your trip.
---
Steve Cook has lived in the Richmond area for most of his life, working as a writer and editor and in marketing and radio. He loves to keep abreast of the local restaurant scene and researches the subject voraciously. "I used to think I was a foodie," he says, "but then I realized I just like to eat a lot." He once co-hosted a local Richmond restaurant radio program with BOOMER editor Annie Tobey. Steve completed his first novel in 2017 and says he hopes to read another one this year.