Have It Your Way at Dane's Great Dogs
| July 14th, 2022
Casual food in Cumberland County Courthouse
---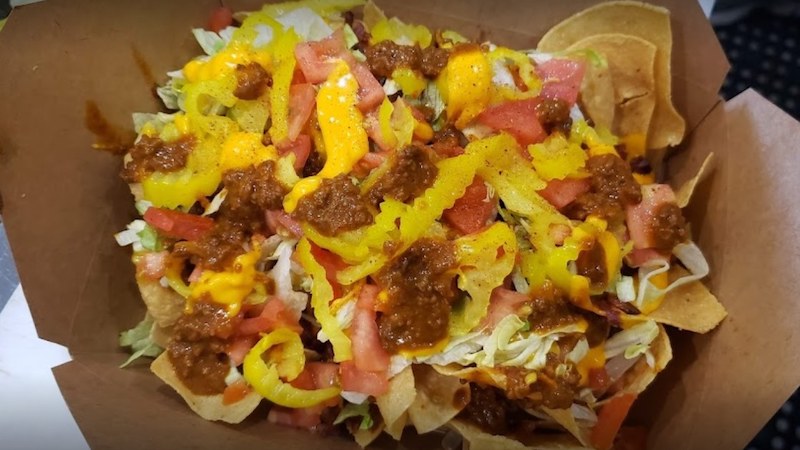 Sometimes, when you're looking for a new dining experience, you may be in the mood for a drive. Sometimes, you may be in the mood for a dive. When you're in the mood for both, I have a recommendation – Dane's Great Dogs (and lots more) at 1588 Anderson Hwy. in Cumberland County Courthouse, Virginia. Now, I wouldn't actually call Dane's Great Dogs a dive. But it's not Ruth's Chris either. That's fine with me. I love a good walk-up where I don't have to put my uncomfortable shoes on to go eat. Actually, I probably wouldn't need shoes at all to eat on one of the picnic tables at Dane's Great Dogs.
If you live in the Richmond metro area, it probably is going to be a drive. From Route 60 at Route 288, you'll have to go about 32 miles, through Powhatan and into Cumberland. But for a delicious dog, what's a few miles? And hey, gasoline is way down to a ridiculously low $4.29 a gallon. Yay!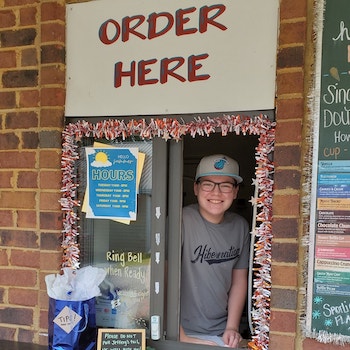 Now, truth be told, I probably would never have discovered Dane's had it not been for my nephew (more like my grandson) Andrew. Andrew, age 15 and a homeschooler, just graduated from high school. When he was in the Powhatan public school system, he would win or finish in the top five in the annual regional spelling bees. So, in my book, Andrew is a genius. But then, he's also my (almost) grandson, so who am I to make that determination?
About a year ago, last July, in fact, Andrew was looking for a part-time job. He heard about a new hot dog stand that was opening in Cumberland County, so he applied for a job.
Becky Whitten, who owns Dane's Great Dogs with her significant other, Dane Whitehead, recalls that job interview. "We sat on overturned empty buckets in the middle of a vacant restaurant."
For those familiar with Cumberland Courthouse, Dane's Great Dogs is located in the building that once housed the popular Dixie Dream Ice Cream shop. You can still choose from about 16 flavors of Hershey's ice cream, Andrew tells me, adding "and you can order a milkshake in any of the ice cream flavors."
And they are great dogs
But the emphasis is on the dogs. Sometimes, there is nothing better than a great hot dog, and Dane's has them. In fact, Dane's offers four different types of dogs. First, there's the Famous Red, the chicken and pork steamed dog that is probably more like your typical old-time hot dog. "They call it 'Famous Red,'" Becky says, "because it's such a popular dog. When they tried to do away with it at Martinsville Speedway, so many fans complained they had to bring it back."
There's also the all-beef dog. Both it and the Famous Red are Jesse Jones brand hot dogs.
Dane's also serves two Thumann brand dogs. Thumann's deli-style dogs come in natural casings. Becky tells me that their "Ripper" dog's casing allows them to deep fry the hot dog. "It gives it that extra snap," she says.
As far as toppings go, there's hardly a topping you can name that's not available. "Even before we opened," Becky explains, "we did a survey on Facebook and asked folks what they like on their dogs. As long as the suggestions were in reason, we added it to the menu."
Obviously, if you like mustard, onions, and chili, you can have that. Even if you're one of the weird ones who puts ketchup on their dogs, they have that, too. But how about sauerkraut, cole slaw, banana peppers, or jalapeños? All of that and more is available. In fact, Becky tells me, "We have what we call our 'Customer Menu of Genius.' If the customer really wants to try something, as long as we have the ingredients, we'll do it."
That goes for the entire menu. One customer, she says, wanted to try strawberry and lemonade in their milkshake. "We tried it. It was a delicious sherbety-type drink." You can try that, yourself, if you want. Another customer wanted both a milkshake and hot chocolate. So, now you can order the frozen hot chocolate at Dane's. Then there was the customer named Austin, who wanted a chicken sandwich but he wanted it to taste like buffalo wings. Becky says that they experimented, made their own wing sauce, and now, on the menu, you'll find Austin Chicken Bites.
Who knows, if you come up with something unique, they may even name a sandwich after you.
Speaking of the menu, you'll also find hamburgers, cheeseburgers, nachos, BBQ, and even a bologna burger. So, if you're hankering for some of your old-time favorites along with a bunch of friendly folks who'll let you do it your way, or if you just want to meet my "genius grandson" Andrew, hit the road and discover Dane's Great Dogs.
Dane's Great Dogs quick-service take out restaurant
1588 Anderson Hwy., Cumberland, VA
---
Steve Cook has lived in the Richmond, Virginia, area for most of his life, working as a writer and editor and in marketing and radio. He loves to keep abreast of the local restaurant scene and researches the subject voraciously. "I used to think I was a foodie," he says, "but then I realized I just like to eat a lot." He once co-hosted a local restaurant radio program with BOOMER editor Annie Tobey. Steve completed his first novel in 2017 and says he hopes to read another one this year.
Dig in to more restaurants and other recommendations from Steve Cook
including his review of Pop's Dogs and Ma's Burgers