The Best Grilled Burgers and Hot Dogs in Richmond
| June 2nd, 2022
My hole-in-the-wall guilty-pleasure dining treasure
---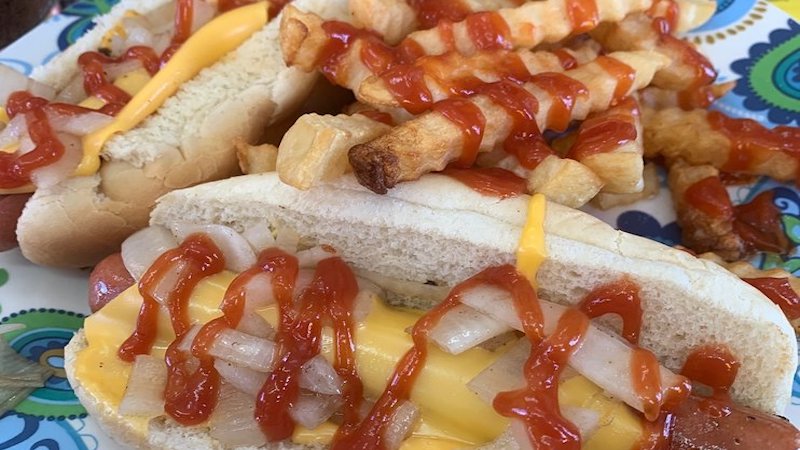 Food and travel writer Steve Cook shares the tiny Brook Road spot that serves some of the best grilled burgers and hot dogs in Richmond, home-cooked comfort food in the city's Northside.
---
I was over at Lewis Ginter Botanical Garden last week to see their Big Bugs exhibit, and I was reminded that I was only about a mile away from one of my favorite little dining spots. Now, before I tell you the name of the place, let me say, there's nothing I love more, when it comes to dining out, than a hole-in-the-wall. I also love cozy little restaurants. And even more, I love delicious homecooked comfort food. So, it might make perfect sense when I tell you that I love Pop's Dogs and Ma's Burgers.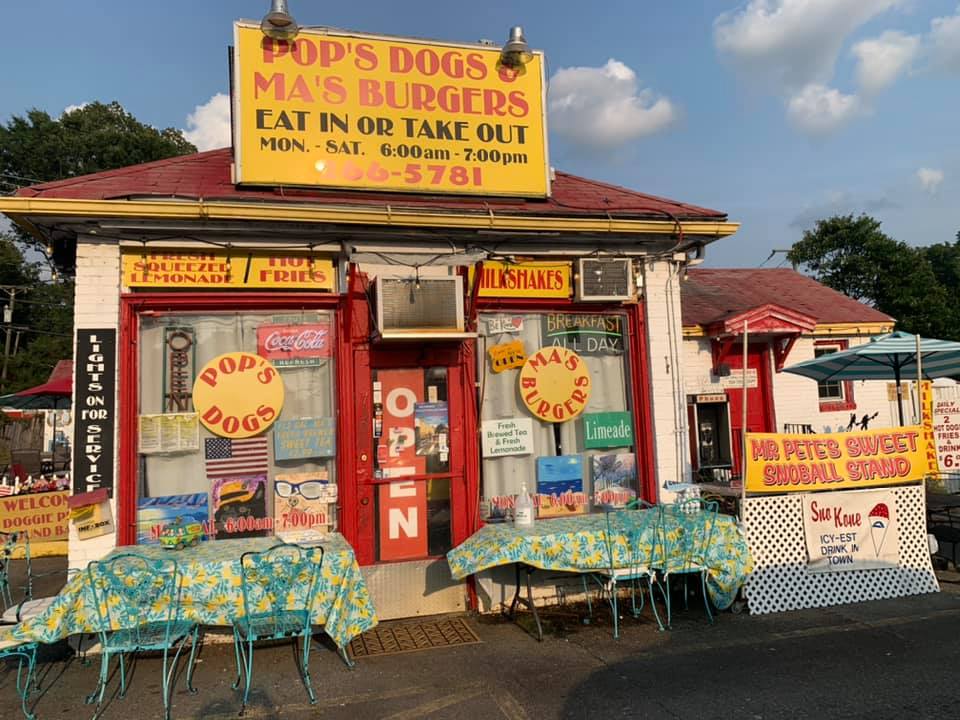 Now, if you've driven by this little roadside dive at 7301 Brook Road, you likely have one of two responses. You might (1) think what an unattractive place this is and keep right on rolling or (2) you might fall in love with the rustic hominess as well as its homeliness and pull into the tiny parking lot. If you think the parking lot is tiny, wait until you get inside.
If you choose the second option, and if you, too, love home-cooked comfort food, you have, as I see it, made a wise decision.
I will admit that due to the cramped space, with about six high-top stools squeezed together at the counter filled with eclectic memorabilia, since Covid, I either order my food to go or dine on one of the picnic tables on the side of the building.
But not even a pandemic can keep me away from some of the best grilled burgers and hot dogs the city has to offer. And I don't think I'm alone in that opinion, judging from the way the place is always packed, with diners at the counter as well as diners who are constantly squeezing in the door (and you really do have to squeeze to get in) to pick up their phoned-in orders.
The place is run by Richard and Melody Walden, who have operated concession stands for Henrico County Parks and Recreation for many years. Often you'll find Richard's brother (although I think that's an honorary term, based on conversations) behind the counter cooking up each order individually. It's all very personalized service, somewhat like I remember as a kid when I'd eat at Amos' Snack Bar and Barber Shop in Boones Mill, Virginia. Mr. Amos would cut my hair while Mrs. Amos prepared the burgers. Thinking back to those days, I realize that this was perhaps not the most sanitary of conditions, but the burgers were good and they always had Nehi Ginger Ale in the drink cooler. Mr. Amos was a wizard at cutting my hair with a straight-blade razor. Although sometimes, when he'd ask me to sit very still because his hands were shaky that day, I was a little frightened. Okay, I digress, but Pop's Dogs and Ma's Burgers is very much like what I remember, only without the barber chair and piles of hair on the floor.
Pop's opens every morning (Monday through Saturday) at 8 a.m. for breakfast and offers a somewhat limited menu of eggs with bacon, sausage, or ham. They only do fried eggs, but they're always tasty. You can also order pancakes and biscuits, too.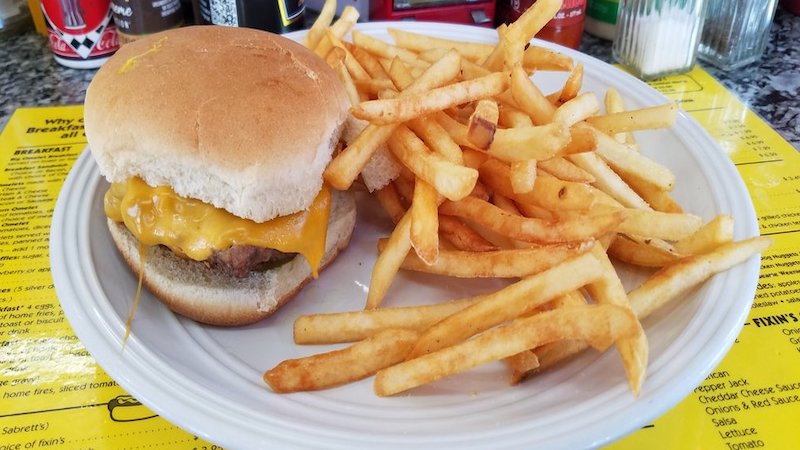 While I've enjoyed breakfast there, I usually go at lunch, for the grilled burgers and hot dogs. I usually have the hot dog special, which consists of two hot dogs, with mustard, onions, and chili. That's the way I like 'em. You can choose your toppings. The special includes an order of fries and a soft drink. I noticed on the sign in the parking lot recently that the price has gone up to seven bucks, but that's still a deal.
The cheeseburger, hot off the grill, is also excellent. While I've never really tried anything else, the lunch menu also offers barbecue, BLTs, sailor sandwiches, and subs. Although the place closes at 7 each evening, there is a nightly dinner special. The only one of the dinners that I've tried was the meat loaf (the Tuesday dinner), which was prepared much like my mother used to make it.
Maybe, come to think of it, perhaps that's why I like Pop's Dogs and Ma's Burgers. Besides the grilled burgers and hot dogs, the friendly family atmosphere is somewhat reminiscent of eating my mother's home cooking. Of course, my mother's kitchen didn't have newspapers announcing JFK's assassination on the wall or an old-timey stereoscopic 3-D viewer on the table, but that just adds to the fun of dining at the place.
Oh yeah, I almost forgot. If you've lived around these parts for a while, you might remember when the restaurant that was at the same location previously had a big sign out front proclaiming their famous bologna burgers. Well, Pop's still has the bologna burger on the menu. I've never tried it because, frankly, I prefer franks. But if you find the idea of a sizzling slab of bologna slapped between two slices of bread to be appealing, I feel sure that you'll love what Pop and Ma are cooking up.
I love the place. It's no Lemaire or Ruth's Chris, but when you want that hole-in-the-wall guilty pleasure, this is definitely a hole you won't mind falling in to.
Pop's Dogs and Ma's Burgers
7301 Brook Road, Richmond, Virginia
---
Dig in to more restaurants and other recommendations from Steve Cook