Holiday Cheers in Richmond
December 8th, 2022
Birdie's, The Jasper, and other seasonal-themed bars
---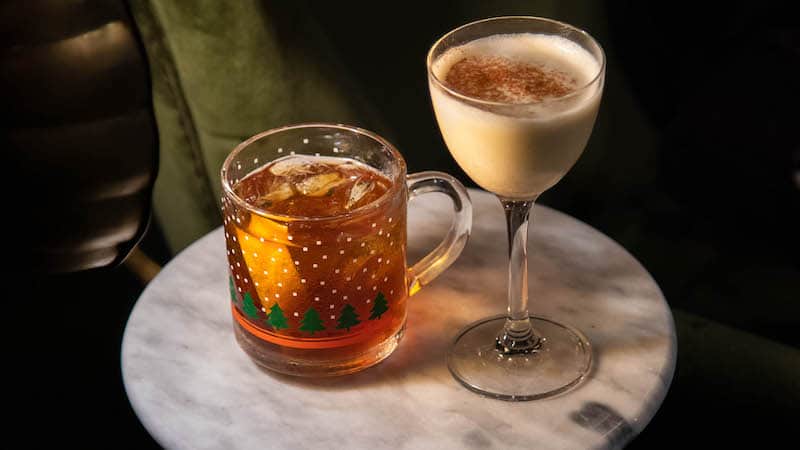 Richmond bars and restaurants already do a great job of fulfilling our culinary dreams. This time of year, many of them go out of their way to fill us with extra holiday cheer – for holiday cheers RVA! Decorations and themed food and drinks elevate the December experience.
Find your holiday cheers at:
The Evergreen at Birdie's
305 W. Broad St., Richmond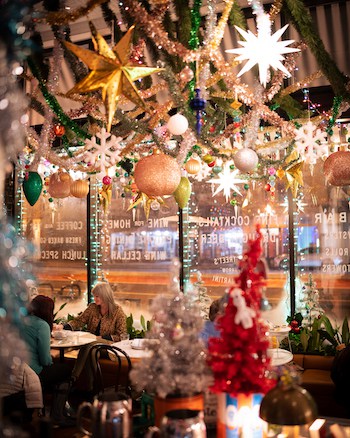 Decorated for the occasion by local interior designer Mariya Boykova of 68 Studio, the festive bar at Birdie's is dubbed "The Evergreen." It transports guests to a sparkly, vintage-inspired holiday wonderland.
The specialty cocktail menu features cold and hot drinks that bring the theme to life – like the two pictured above.
There's The Ghost of Christmas Future, which features bourbon, amaretto, and espresso.
Reindeer Games is crafted with rum, maple syrup, hot spiced apple cider, and whipped butter. And Birdie the Elf uses tequila, chililiqueur, demerara, hot chocolate, and a marshmallow. Or perhaps you'll order the Slainte Claus, Five Golden Rings, spiked Eggnog, Santa's Slay, or another naughty and nice concoction.
Reservations are highly recommended and can be made online via the Birdie's website.
---
---
Miracle on Cary at The Jasper
3113 W. Cary St., Richmond
The Jasper cocktail bar in Carytown transforms into a kitschy and nostalgic holiday bar, with a themed cocktail menu and food, featuring drinks served in matching glassware.
Cocktail highlights emphasizing holiday cheer include
Grandma Got Run Over By A T-Rex (vodka, orange liqueur, gentian aperitif, aloe vera, spiced pomegranate and grapefruit mix, lime, and aromatic bitters)
Snowball Old-Fashioned (rye, gingerbread, aromatic bitters, wormwood bitters, and orange essence)
Elfing Around (prosecco, gin, mulled wine reduction, grapefruit shrub, aromatic bitters, and orange bitters)
Christmas Cricket, Holiday Spiked Chai, and more.
Combine tradition with a creative take with the Jingle Balls Nog or Hot Buttered Rum or with the Nice Shot or Naughty Shot.
You can even purchase holiday glassware (SanTaRex mug, anyone?).
---
An early Boomer peek at The Jasper
---
Other recommendations, from the desk of Karri Peifer at Axios Richmond include:
Lemaire at The Jefferson
101 W. Franklin St., Richmond, JeffersonHotel.com 
Peifer notes that the restaurant is fully booked but walk-ins at the bar are welcome. Or just wander the lofty lobby of the grand hotel. Wander past multitudes of live poinsettias, twinkle lights, garland, wreaths, decorated displays and Christmas trees – including the 30-foot tree in the Rotunda – and the annual gingerbread display.
Nick's Roman Terrace
8051 W. Broad St., Henrico, NicksRomanTerrace.com
Santa visits Nick's every day from noon to 2 p.m. (closed on Mondays).
Helen's
2527 W. Main St., Richmond, HelensRVA.com 
The lights are lit and you can be, too, at this favorite Fan District restaurant, serving Richmond since 1935.
And