Main Street Steakhouse, Richmond
| February 17th, 2022
Steaks with a side of soul
---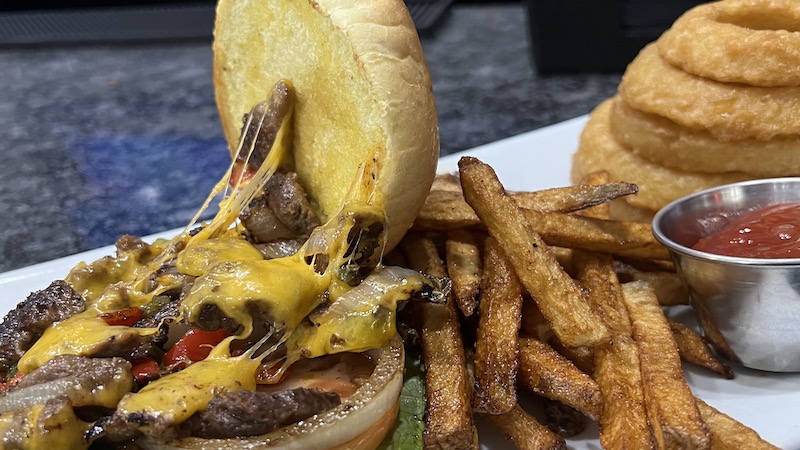 Is it just me, or does news that a new restaurant is opening up excite you, too? Sometime last summer, I read that a new steakhouse was heading into Downtown Richmond. Ever since Main Street Steakhouse opened at 1112 E. Main St. this past October, I've been promising myself that I was going to check it out. But when you get my age, time flies even when you're not having fun, so several months passed and I still hadn't visited.
I really had not heard much about the restaurant, but a friend told me that they had a decent Happy Hour, and since Happy Hours are a part of my self-imposed job description, I thought I'd check the place out. However, because I was alone, I wasn't going in to eat, just to check on the Happy Hour.
The story behind the Main event
It was a relatively quiet night, and I asked the gentleman who greeted me if he had time to give me a little information about the Happy Hour. Turns out, the gentleman was Ashley Barnes, who owns Main Street Steakhouse. I ordered a glass of chardonnay, which, at Happy Hour prices, was just $3.50, and we chatted.
As he told me about how he got into the restaurant business and about his desire to merge his love for top-quality steaks with his passion for Southern soul food, my hunger magically appeared. I decided to try the Philly steak. I was alone and really didn't want to order a huge steak without my wife to help me out.
Ashley, a Richmond native and graduate of Virginia Union, told me that he had been in the cleaning business. "I sold that business and got into this," he said. I can't begin to imagine how much courage it might take to fulfill a lifelong dream by opening a restaurant in today's world.
"There have been some surprises, but I like it," he added.
Having worked in restaurants in the past, I asked him if he had any idea just how much work was involved. He replied, "I'm easily in here 60 hours a week."
But it was clear that he enjoys what he's doing.
The Main Street Steakhouse event
Just so you'll know going in, the restaurant is not the sort of place you'd choose if you were looking for some dimly lit, intimate setting.
But, judging from my sampling of the food, if you're looking for tasty, high-quality, fresh steaks and seafood as well as good ol' downhome Southern sides, this may be just the place for you. It's got a relatively small but open and bright dining area. Seats are separated enough that you're not sharing your conversation with other guests.
As for the food, I can only judge by my sandwich, which was not exactly what I was expecting when I ordered it. What I was expecting was one of those cheese steak sandwiches made with something like Steak-umms, which when seasoned properly, can almost taste like real meat. What I got was a beautiful sandwich consisting of delicious chunks of their grilled ribeye topped with melted cheese and filled with plenty of peppers and onions. It's all served on a brioche roll alongside some of the tastiest hand-cut French fries and fried onion rings that I've had in many a day. Do you remember the aromas at the state fair when you were younger? Rather than riding rides on the midway, I'd stand around the food trailers just to capture the delightful whiffs of the onions and peppers being grilled. Well, this was like a gourmet version of those sandwiches.
---
Inspired? Try this recipe for Philly cheesesteak soup 
---
The entrées (steaks, crab cakes, seafood, and more) are priced at steakhouse prices, but they all come with your choice of two sides, such as mashed potatoes, mac and cheese, sweet potato casserole, and cabbage. Ashley tells me that the mac and cheese and the cabbage are his favorites, but all of the sides, he said, "taste just like I remember them when I was young."
I will definitely be back, next time with my wife to help me tackle their "Way Too Big for Dinner" 16-ounce ribeye.
And then there's Richmond's favorite meal …
The Sunday brunch, which starts at 11 a.m., also sounds inviting. While it offers many of the typical brunch items, as a Southern boy, I myself like the idea of fried fish and crab cakes for breakfast. There's even a grilled shrimp breakfast platter.
Ashley says that the restaurant is constantly evolving. "If you don't see something in particular that you may want, come back and see us again."
As a side point, he injected a comment that brought me back to my original purpose for stopping in. "No one can beat our Happy Hour."
Ah yes, the Happy Hour
I had almost forgotten, by the time I dipped my last golden brown and perfectly fried French fry into my ketchup cup, what I had come to do … get Happy Hour info. Ashley is probably correct. It would be difficult to top the Main Street Steakhouse Happy Hour, which runs from 3 until 8 p.m. Monday through Saturday. Here are the pure and simple details.
Drinks
Beer, all beers – Half price
Wine, by the glass, all wines – Half price
Cocktails, all signature cocktails – Half price
Food – It's a limited Happy Hour selection, but get a load of the prices
Burger and fries – $6 (that's 10 bucks off regular price)
Chicken bites – $6
Fish and fries – $6
Happy Hour pricing is clean and simple, much like the restaurant itself. I will definitely be back.
Main Street Steakhouse 
1112 E. Main St., Richmond, VA