Meet Lalo Macias
| December 22nd, 2022
Continuing to live and love the dream
---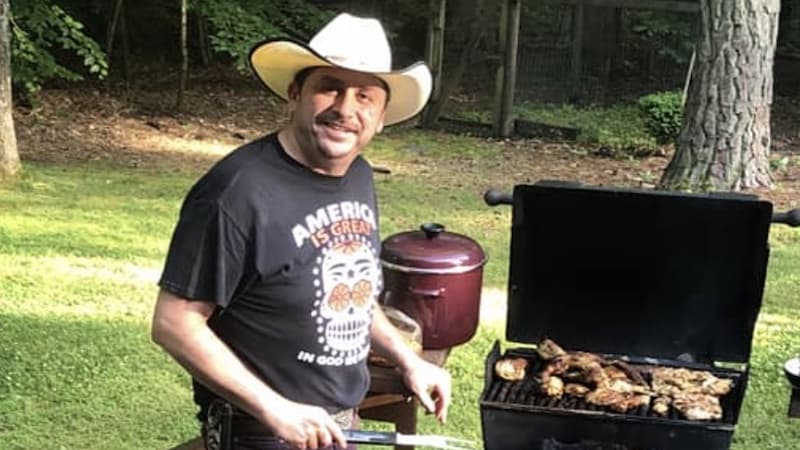 Sometimes, a restaurant's backstory can be as delicious and colorful as the restaurant. Richmond food and travel writer Steve Cook shares the story of one of his favorite backstories, of Lalo Macias.
---
I've written elsewhere about one of my favorite Richmond restaurants – Lalo's Cocina Bar & Grill at 2617 W. Broad St. – but I want to take a few minutes to tell you about one of my favorite restaurateurs, Eduardo "Lalo" Macias, himself.
I met Lalo back in 2014 when he opened his cocina in the same building that had once housed the very popular Julian's Italian Restaurant. Through the years, I've watched Lalo grow his business. Indeed, in the years since we met, Lalo has gone from running two restaurants to four Mexican eateries around town with two more in the planning stages.
Here's the Readers Digest condensed version of Lalo's story: His family is from Jalisco, Mexico. Jalisco is a western Mexican state bordering the Pacific. Its capital is Guadalajara. However, Lalo's father would often emigrate to California as a seasonal worker, and it was while he and the family were in American that Lalo was born.
In 1994, at age 16, Lalo came to Richmond. He says that back home in Jalisco, he would hear family members talk about how they were working in the restaurant industry in Richmond. He says he wanted to come here and make fajitas. From those early teen years, it seems, operating restaurants got into his blood.
When he arrived in Richmond, his uncle, Jose Garcia, gave him a job. The Garcias may well be the first family of Mexican dining in Richmond. Jose started Mexico Restaurants, with his first location on Horsepen Road in 1990.
Lalo says his Uncle Jose taught him the business. "He treated me like a son and taught me how to run a restaurant," he says. "I did it all from dishwasher to bartender to manager." He adds, "I want to thank the Garcia family. They were a big part of my life."
After 18 years, Lalo decided it was time to move on. "I wanted to do my own recipes, to move on to my next step. So, I left and opened The Patron in 2011."
The Patron (7610 Left Flank Rd., Mechanicsville) was Lalo's first venture. "In the early days, we had some hard times at The Patron," Lalo says, "but now, it's doing great."
Lalo's Cocina was next, and since then he's opened Chicano Cocina Bar & Grill downtown at 523 E. Main St. and Two Compadres Taqueria Bar & Grill in Midlothian (13830 Village Place Dr.)
Lalo's compadre at Two Compadres is working with him on another upcoming project – one of two that I'm not allowed to spill the refried beans on at this point in time.
Lalo says he is always listening to others who have ideas for restaurants. "If they share my philosophy and are willing to work, I want to help them make their dreams come true," he says.
---
Another Cook favorite: Sukanya (Sue) Palaart of Mom's Siam in Richmond
---
Yes, it's the Lalo Macias philosophy as well as his creative authentic recipes that have contributed to the success of the four restaurants. They all may have different names, but the "Lalo" brand is clearly seen in each.
Some of those who share his philosophy include members of his immediate family. His brother Victor has been instrumental in the success of The Patron. One of his sons (Lalo and his wife have four sons and one daughter, ranging in age from 18 years to 8 months) also works at The Patron.
The Lalo Macias philosophy
Lalo shares his philosophy as to what guests expect when they pay good money to go out and eat: "Servers have to relate to their customers, and they need to serve the food with love," Lalo says. "You want your guests to be happy. When I go out, I want to talk to my server, to enjoy the experience." That's definitely a philosophy that's evident in all of his restaurants. He creates a fun and welcoming atmosphere. "The job of a server is to make the guest happy."
His flavors
It's hard not to be happy when you're enjoying deliciously authentic Mexican food. Lalo says that for the most part, the flavor profile that governs his recipes is indicative of foods served in his native Jalisco. However, he's quick to point out that the food has many Latin inspirations. "Some of it I got from Mexico, some from California. Some of my cooks are from Honduras." All of those areas play a contributing role in the tastes of the foods that you'll enjoy when you dine at any of Lalo's restaurants.
And the amazing tastes are not just in the food. I've long said that, in my limited and occasionally humble opinion, Lalo serves the best margaritas in town. He agrees. "It's my own recipe," he tells me.
Lalo also likes to innovate. And in that regard, I have discovered a couple of surprises that make his restaurants, especially his Cocina on West Broad, so unique
For your listening enjoyment
Lalo loves his music and he's continuing to look for more live entertainment. In fact, on Wednesday nights at Lalo's Cocina and on Thursdays nights at Two Compadres, you'll hear some of his favorite music being performed by Joe Laluna, who has for years entertained Richmonders with his Joe Sings Sinatra act.
"I love mariachi," Lalo says, "but every Mexican restaurant has mariachi. I have it once in a while. But our guests are looking for something different. They love the music of Sinatra." He says he's continuing to add other forms of entertainment such as "Mexican food with American country music."
Surprise number two
How about Mexican for breakfast? Lalo's has it and he's serving it from 7 a.m. Monday through Saturday. True, side dishes still include refried beans and rice, but there are omelets and flank steak dishes and more surprises waiting for you each morning at Lalo's.
Looking back on his 28 years in the business as he looks forward to new restaurants and new partnerships with those who share his philosophy, Lalo says, "We have to have dreams in life. If you don't have a dream, you don't know what you want. I love what I do. I love to talk to my customers. The thing that makes me happy is when my guests tell me, 'You have a great restaurant. You have great food.' That's my payback."
---
Steve Cook has lived in the Richmond area for most of his life, working as a writer and editor and in marketing and radio. He loves to keep abreast of the local restaurant scene and researches the subject voraciously. "I used to think I was a foodie," he says, "but then I realized I just like to eat a lot." He once co-hosted a local Richmond restaurant radio program with BOOMER editor Annie Tobey. Steve completed his first novel in 2017 and says he hopes to read another one this year.
Dig in to more restaurants and other recommendations from Steve Cook