Memories Are Made of Bliss
| December 16th, 2021
White Dog Bistro in Mathews, Virginia
---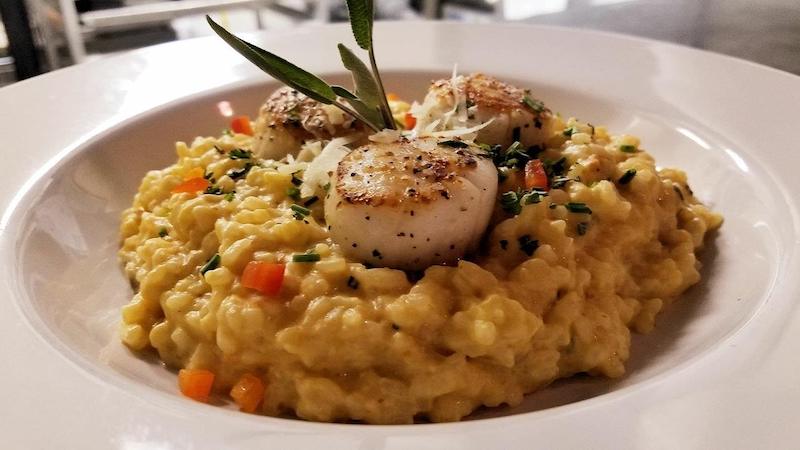 Although I haven't gotten out much since the pandemic began, especially out of town, I still have my Facebook memories. There's some solace in that. This week, Facebook reminded me of one of the most delightful meals that I've ever enjoyed. It was three years ago at the White Dog Bistro in Mathews.
Now, I doubt I need a disclaimer, but I will admit that I'm somewhat biased. I've known the restaurant's chef and owner, Walter Wilkes, since he was a baby. I had heard through the years that he was making a name for himself in the restaurant industry. And if you check his bio on the restaurant's website, you'll see just how accomplished he has become. I was rather impressed myself.
But, to be honest, I was much more impressed by my dining experience on that aforementioned visit. As I sit here at my keyboard, I'm savoring every beautiful moment of that visit.
Step into the spirit at White Dog Bistro
At the White Dog, it all begins with the atmosphere. The stately bistro was built and opened as a hotel around 1840. It is, indeed, an elegant, yet warm and inviting, structure. The building, which somewhat resembles a fine old Southern mansion, combined with Walter's and his wife Amanda's genuine hospitality, cloak the entire visit with an aura that one might imagine was part of that genteel era.
And we haven't even gotten to the food yet. Be patient. This is the sort of place where one doesn't rush. You bask in the glow. You want to relish every moment. That's why, once you're seated, settle back, relax, sip on a signature cocktail – a Mathews Dark and Stormy, perhaps – and peruse the menu.
If a glass of wine is more to your liking, you'll be impressed with their wine menu, which features a decent mix of French, Italian, and California reds and whites. Walter pays homage to his Chilean heritage with several selections from both Chile and Portugal.
Now, as regards the fabulous menu, you'll notice it features many farm-to-table and bay-to-table specialties. Take a peek at the soups, salads, and appetizers. You'll realize you're in for an extraordinary evening.
I'm still fondly remembering my first bite of Walter's Chesapeake Bay Blue Crab Cakes. These may be the most delectable that I've ever tried and, believe me, I've tried plenty.
On our visit, Walter had suggested we also order the dry-aged filet mignon, which is served with fried green tomatoes and a smoky remoulade "for a bit of Southern flair." Wisely, we took him up on that suggestion. One in our group also ordered the ribeye, served in a Tuscan style with a lemon and rosemary compound butter. We all took turns tasting each others' orders. Every dish … every bite … was amazing.
Winter wonderfuls
I asked Walter what's new on the menu since my last visit. He told me, "We have a duck and pheasant sausage dish, which is about to debut on the winter menu, that I'm excited about."
If Walter is excited, then I am, too. So excited that I'm planning on venturing out and making the trek to Mathews. It's a quaint, picturesque town on the Chesapeake Bay in Virginia's River Country, and only about 90 minutes from Richmond.
My suggestion is that you make the White Dog Bistro a destination dining event for yourself. This is one recommendation I can wholeheartedly stand behind with complete confidence that if you enjoy fine food in the perfect atmosphere, you'll love everything about your visit.
White Dog Bistro
68 Church St., Mathews, Virginia
Happy Hour of the Week
Reminiscing about my visit, three years ago, to the White Dog Bistro in Mathews put me in the mood for a somewhat classy in-town Happy Hour. I've always enjoyed Bartizan in West Broad Village, Richmond.
Even when it was the Wine Loft, the place put off a classy vibe. The small plate menu offers enough variety for any who might be looking for an upscale spot to enjoy a specialty cocktail, craft beer, or a selection from the relatively small but well-curated wine list along with such delicacies as Oysters Rockefeller, sauteed calamari or an antipasto board. And if you're into bubbles, Bartizan bills itself as "RVA's Best Bubble Bar."
Happy Hour is served from 4 to 6 p.m., Tuesday through Friday. Here's the lineup:
Drinks
Signature libations (Old Fashioned, Kentucky Mule, Coconut Mojito, Havana Mule, Or Margarita) – $8
Rail drinks – $7
Proverb wines (reds and white) – $6
Craft beers – $5
Foods
Papas Bravas (chili tajin potatoes) – $8
Lions Mane Fritter (mushroom, broccoli, paprika aioli) – $10
Charred beef tips – $8
Thai crispy brussels – $8
Bartizan
4035 Whittall Way, Glen Allen, Virginia