Mercedes-Benz and Porsche on Display
| April 19th, 2017
Get your car fix!
---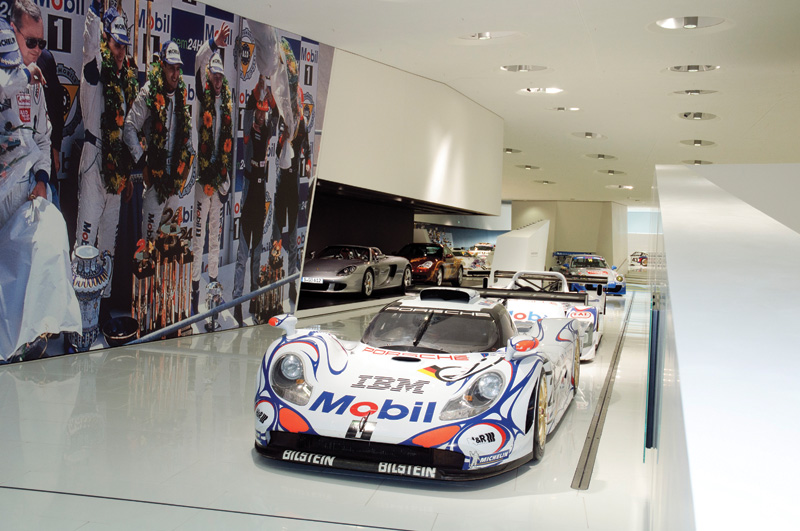 "In Germany, Stuttgart is the Victoria's Secret for luxury car enthusiasts," says Brad Simon, a young American tourist describing the swanky curves and suggestive lighting that define the city's architecturally stunning Mercedes-Benz and Porsche museums. Both brands capitalize on the region's major claim to car fame: in 1886, Gottlieb Daimler developed the first fast-running light engine for universal applications – a cornerstone for development of the automobile.
MOVING THE HUMAN SPIRIT
Star power reigns at the Mercedes-Benz Museum, which documents the entire history of the automobile, now spanning more than 130 years. To house this rich repository of automotive tradition, three architectural firms collaborated to design an award-winning structure built in the shape of a double helix spiral. "The design of the Mercedes-Benz Museum embodies the inseparable link between tradition and innovation, the DNA that has driven the evolution of the automobile since its invention," explains architect H. S. Mertz.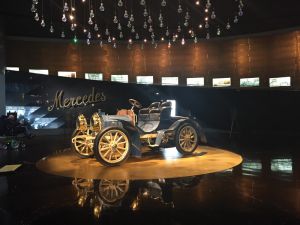 Miles of exterior polished aluminum and hundreds of sparkling geometric windows make the 178,000-square-foot building appear to float among the undulating hills of southwest Germany, especially when lit at night. Inside, no closed rooms and the lack of right angles contribute to a sense of flow. Visitors begin their discovery on the top floor and wind their way down two circular routes, meandering through nine levels of automotive history that includes 160 vehicles and more than 1,500 exhibits, ranging from simple displays to multimedia interactive showcases. Seven "Legend" rooms chronicle development of the Mercedes-Benz brand by themes and eras. Additional "Collection" rooms highlight the diversity of vehicles produced, arranged by topic. Crowd favorites include the Popemobile and Princess Diana's sexy red SL, as well as Lewis Hamilton's racy 2014 F1 World Championship car.
Visitors also have access to an on-site restaurant and well-stocked gift shop.
NO SUBSTITUTE
Less than a 15-minute drive northwest, the Porsche Museum punctuates its presence with an eight-story-tall outdoor commemorative sculpture that resembles two giant drafting compasses topped with three full-size Porsche 911 cars positioned for spaceflight. The museum itself is an optical showpiece: a sleek 60,000-square-foot structure built of more steel than the Eiffel Tower, all resting on three V-shaped pillars. Inside, handsome multilingual museum guides outfitted in European suits and white gloves explain that everything is designed to illustrate the "Porsche Concept," a description of which reads a bit like a dating profile: clever, strong, intensive, consistent, light and fast.
The Porsche Museum is not static. Not only does it rotate in-house exhibitions of 80 vehicles and 200 smaller items, but it also staffs a "rolling museum" with cars to display at regional events. Porsche aficionados swoon over popular historical models like the Porsche 356 "No. 1" Roadster, the 1950 Porsche 356 Coupe "Ferdinand" and the Porsche 356 1500 Speedster. To guarantee the historical and mechanical integrity of its collection, the museum houses a maintenance workshop, visible to guests through a glass partition in the lobby.
Admission prices at the Porsche Museum include an optional factory tour. Guests may also make reservations at Restaurant Christophorus, a moderately upscale venue within the sightlines of museum displays, the adjacent Porsche factory and the Porscheplatz. A cigar bar is nearby.
Through June 30, the Mercedes-Benz and Porsche museums will credit a 25 percent ticket discount when guests show their other ticket purchase. Both museums also offer audio guides in different languages, group discounts and store incentives.
---
Rebecca is a fulltime travel writer from Hot Springs, Arkansas. When not on the road, she is living in a series of vacation rental properties while writing her new book, Finding Home: Creating Comfort in a Chaotic World. Follow her on Twitter and Instagram, @GoBrilliantly.
---
Like wheels? Check out Boomer articles on
Transportation Museums Across the U.S.
Transportation Museums in the Mid-Atlantic
Bruce A. Elder's Antique & Classic Automobiles
Entering the Classic Car Hobby
---