Entering the Classic Car Hobby
| June 15th, 2020
Is it time for your 'Herbie'?
---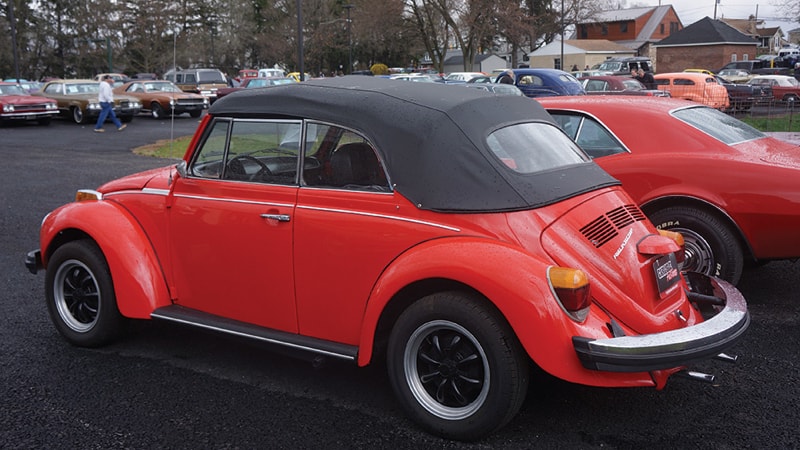 What is a classic? Boomers define classics as anything from our youth. In music, it's the British Invasion, heavy metal and classic rock. For TV shows, it ranges from crime dramas like Perry Mason to detective spoofs like Get Smart. Movies? Goldfinger and Easy Rider are just two examples of what was so cool about our generation. Google, YouTube and multiple streaming services make it possible to immerse ourselves in these classics. And what about cars?
The Beach Boys harmonized about their "Little Deuce Coupe"; Maxwell Smart chased spies in his Sunbeam convertible; and James Bond ejected passengers from his Aston Martin. If you find it fun to listen and watch but think your time to become involved with a collector car has passed, read on to discover that it's not too late to enter the classic car hobby.
WHY NOW? WHAT NOW?
Many boomers are at that sweet spot with more time and disposable income at hand (retired empty nesters with no mortgage). If that's you, the dream of owning a classic car is more attainable than you might realize. Let's first talk about money.
Forget what you see on TV, where circus-like auctions sell high-performance cars for six and seven figures. Entry-level classics, in decent condition, can be found for under $10,000. Even 1960s Mustangs sell for under $20,000, provided they're base models. One key is to be open-minded. Sure, muscle cars bring the big bucks. But don't discount orphan makes (manufacturers out of business, like Rambler and Studebaker), or less-desirable body styles like sedans and wagons. Lower demand means lower prices, which plays well when entering the hobby.
---
Like nostalgia? Browse celebrity nostalgia on our website.
Or sign up for our monthly Nostalgia e-newsletter or other e-newsletters tailored for boomers!
---
Insurance may surprise you. "Collector car" insurance is available at greatly reduced rates. Why? They know that collector cars are not daily-driven, and that owners take better care of them (you usually must prove that you have another car for regular driving).
Maintenance and repair also affect costs. If you're handy, that's great, because cars of the '50s and '60s are easier to work on. But emission and luxury add-ons made cars of the '70s and later more complex – and more expensive to fix. Base your decision on whether you have a trustworthy local mechanic or whether you think you're up to the task.
CLASSIC CAR: LET THE SEARCH BEGIN
How do you find this classic? The internet can deliver cars for sale from around the world. But realistically, you want something in your backyard. Craigslist and Facebook Marketplace default to your area. National websites with classic car ads, like eBay Motors and Hemmings, allow you to narrow your search within a radius of your zip code.
Attend local cruise nights and cars-and-coffee events and chat with some owners. If there's a local car club, join it! These fellow enthusiasts may know of cars for sale or may have one for sale themselves. When it's time to check one out, there's nothing like another (more experienced) set of eyes.
Or take a trip to check out an Bruce A. Elder's Antique and Classic Automobile Museum!
TO DRIVE OR NOT TO DRIVE
Finally, decide how you plan to use the car. "Classic" isn't limited to cars of your youth. The Antique Car Club of America (AACA) defines an "antique car" as anything 25 years old or older, which (surprise!) means that the 1995 Firebird for sale down the street qualifies. A more reliable car from the '90s is great for weekend tours. An older convertible might be all you need for Sunday ice cream runs.
When making your choice, follow the number one rule: plan to have fun with your "new" classic car!
---
Richard Reina is a lifelong automotive expert and product training director at CARiD.com. He currently owns and shows a 1967 Alfa Romeo.
---
Like wheels? Check out Boomer articles on
Transportation Museums Across the U.S.
Transportation Museums in the Mid-Atlantic
Bruce A. Elder's Antique & Classic Automobiles
---