'Mixology and Murder' McNamara Martini Recipe
February 8th, 2022
Paired with the tale of the search for the Golden State Killer
---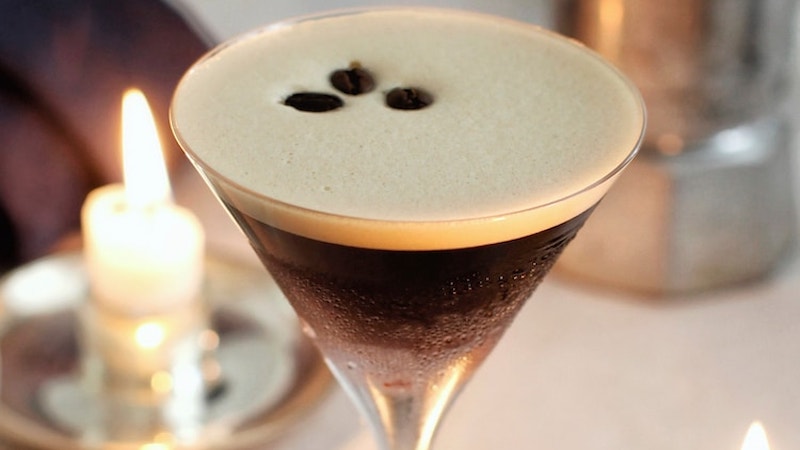 The McNamara Martini recipe was inspired by the story of a criminal who started out as a burglar (targeting at least 100 homes), progressed to rape (the statute of limitations had elapsed for these by time he was caught, but he is suspected of committing more than 50 rapes), and thence to murder (he pleaded guilty to 13 counts of murder as well as 13 counts of kidnapping). Because the crimes committed by this ex-cop were spread out over years and geographic areas, he remained on the loose for decades. Crime writer and armchair detective Michelle McNamara contributed to the final identification of the culprit.
"It was Michelle McNamara, author of the Golden State Killer book I'll Be Gone in the Dark — which has since been adapted into an HBO documentary — who suggested it would be DNA evidence that finally nabbed the killer in the end. Turns out she was right," said ATI.
The recipe and the tale appear in a stirring and chilling cocktail recipe book pairs recipes simple enough for the home bartender with anything-but-simple true crimes. Presenting Mixology and Murder: Cocktails inspired by infamous serial killers, cold cases, cults, and other disturbing true crime stories.
As part of our Boomer review of the book, the publisher has given us permission to share three recipes with our readers. Along with the review, we presented Mother Dearest, inspired by a demented killer who inspired Alfred Hitchcock to create Norman Bates in Psycho, and the Chi-Chi Chowchilla cocktail, inspired by the true story of kidnapped school children and their bus driver, who were forced into a bus buried underground in a remote rock quarry.
Read, shiver, shake, and sip! Then order up your own book, for many nights of mixing with the darkness.
Excerpted from Mixology and Murder by Kierra Sondereker. Copyright © 2021 Ulysses Press. Reprinted with permission from Ulysses Press. New York, NY. All rights reserved.
---
McNAMARA MARTINI
True crime writer Michelle McNamara must have gone through countless cups of coffee in her personal search for the Golden State Killer. So sip on this heavenly caffeinated cocktail, and discover more about the case McNamara worked so hard to solve. And who knows? This martini just might give you the kick you need to start your own sleuthing.
Serves 1
Uses a martini glass
handful of ice cubes
2 ounces vodka
½ ounce coffee liqueur
1 ounce espresso
½ ounce simple syrup
3 whole coffee beans, for garnish
1. To a cocktail shaker, add the ice, vodka, coffee liqueur, espresso, and simple syrup.
2. Shake until the liquid is chilled.
3. Strain into a martini glass.
4. Garnish with 3 coffee beans placed in the center of the drink and serve.
The true crime tale
Joseph James DeAngelo Jr. was only recently identified through modern DNA analysis technology as the Golden State Killer, a serial killer, rapist, and burglar who terrorized different areas throughout California decades ago. Because DeAngelo went on sprees at different times, in different areas, and with different MOs, he received multiple names by police and media—Visalia Ransacker, East Area Rapist, and Original Night Stalker. It wasn't until crime writer and armchair detective Michelle McNamara spent years conducting her own investigation that these crimes were able to be connected and attributed to one person: the Golden State Killer. Unfortunately, McNamara passed away in 2016, before the case was solved.
It started with unsolved burglaries committed by the Visalia Ransacker in 1974 and 1975. From 1976 to 1979, more than 40 rapes were attributed to a criminal known only as the East Area Rapist. Then the crimes escalated even further, and 10 people were murdered by a serial killer called the Original Night Stalker between 1979 and 1986. It wasn't until 2001, when DNA collected from the crime scenes decades earlier was analyzed, that these criminals were linked to the same perpetrator.
As technology progressed, investigators used the DNA evidence they had to create a genetic profile of the Golden State Killer, which they uploaded to a genealogy database. In 2018, investigators finally got the big break they needed: the DNA had a familial match to the DeAngelo family, and further investigation led to the arrest of 72-year-old Joseph James DeAngelo Jr. as the Golden State Killer. At his trial, DeAngelo agreed to plead guilty in exchange for a sentence of life in prison without the possibility of parole.
Image from AbsolutDrinks.com.
Like the McNamara Martini recipe? Try Mother Dearest
And then come up for air with the Chi-Chi Chowchilla