OKtoberfest Is Always OK with Me
| August 25th, 2022
Próst to the season of German celebrations and bier
---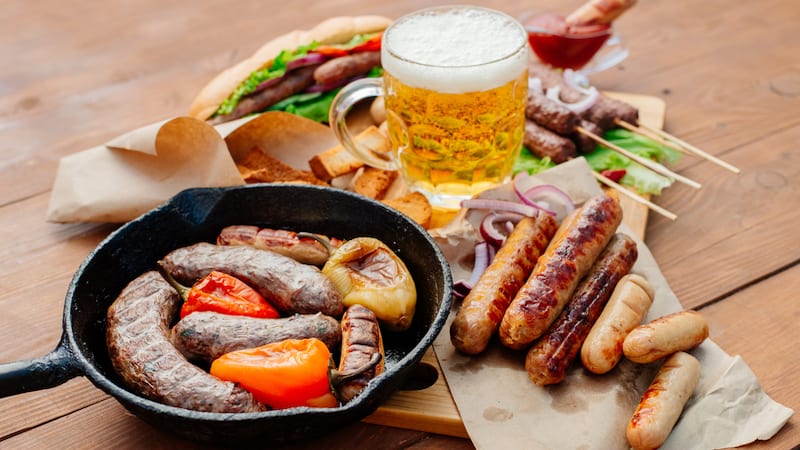 Well, September is almost here. Besides the fact that those lazy, hazy, crazy, tormentingly hot days of summer are coming to an end, one of the nicest things about September is Oktoberfest celebrations.
While I'm not sure why there are so many Oktoberfests in September, I welcome them. I welcome the music (yes, even an oom pah pah or two), I welcome the food. I especially love the hot potato salad. And I definitely welcome the beer.
If you're as welcoming as I, you might appreciate this Exhaustive Guide to Virginia Oktoberfests. I think I can call it an "exhaustive" guide because I kept writing until I got exhausted. I'm putting these events in three categories. 1 – The ones closer to home, 2 – others around the state, and 3 – those where the event organizers try to get a little too cutesy with the name. You'll see what I mean when you get to number 3.
Oktoberfest Around Town
Hanover Tavern Oktoberfest Beer Dinner
Friday, Sept. 9 at 6:30 p.m. at Hanover Tavern, Hanover
Take some delicious German foods, perfectly prepared by the culinary team at the Tavern, throw in some Oktoberfest beers and live music – it makes a great recipe for fun. Reservations required.
---
Oktoberfest at Libbie Mill
Sept. 22 from 6 to 9 p.m. at Libbie Mill, Richmond
Themed music by DJ Tony, dance performances by S.G.T.E.V. Hirschjäger Bavarian Dancers, Oktoberfest-inspired food, and vendors.
---
Bier-Garden
Sept. 23-24 at Maymont, Richmond
Beer, brats, and live entertainment in the European-style setting of Maymont's historic Carriage House Lawn. Toast the fall with a stein of Paulaner's Oktoberfest bier or a local craft beer or cider in the big Festhaus tent. Enjoy the live music, yard games, and fire pits as well as authentic German fare, plus a Kinderzone for kinder. Lederhosen and dirndls encouraged! Plus, proceeds benefit Maymont.
---
Sedona Taphouse Oktoberfest
Sept. 25, 11 a.m. to 6 p.m. at Westchester Commons, Midlothian
Live music from the Sauerkrauts and Rabble Rousers, yard games, shopping, food trucks, and fun for the whole family. And, in the spirit of Sedona Taphouse, a large selection of local beer, seasonal beers from around the world, cider, mead, and wine.
---
Hardywood Oktoberfest 2022
Oct. 1 from noon to 10 pm. at Hardywood West Creek, Goochland
Cask tapping to kick off the day. Plenty of beer including Benny & The Fest and more. Brats from Tyler's Big Fat Meat Truck, plus other festive German fare from local food trucks. Stein-holding contest and polka tunes from the Sauerkrauts, plus music from Herb & Hanson, Seth Winters, Justin Trawick & The Common Good.
---
Richmond Oktoberfest
Oct. 7 and 8 in the Old Dominion Building at Richmond Raceway, Richmond
Traditional German-style Oktoberfest party consisting of fun bands and entertainment, authentic food, and an excellent selection of German beers and wines.
---
St. Benedict Oktoberfest
Sept. 16 to 18 at St. Benedict's, Richmond
German music, dancing, food, and beverages. Double arm stein-holding contest. Shop in the Christkindlmarkt. Activities available for all ages. Kids' area has many activities including a moon bounce.
---
Sedona Taphouse Oktoberfest
Sept. 25 from 11 a.m. to 6 p.m. Main Street, Westchester Commons, Midlothian
Live music featuring the Sauerkrauts and Rabble Rousers, games, face painting, cornhole, yard Jenga, stein-holding competitions, and beer from local breweries, as well as ciders, meads, wine, and seasonal beers from around the world available for purchase.
---
HarvestFest
Oct. 29, from 10 a.m. to 8 p.m. at Lewis Ginter Botanical Garden, Richmond
A festival vibe at the Garden with live music, food, adult beverages, and family-friendly activities, like pumpkin-carving demos, scary story time, and fairy-house building. German fare includes bratwurst, warm pretzels, beer cheese soup, and German potato salad.
---
Farther Afield
Blue Mountain Brewery Oktoberfest
Sept. 30 through Oct. 9 at Blue Mountain Brewery, Afton
German menu specials every day, festive costumes, live music, and more.
---
The Great Oktoberfest 2022
Sept. 24 from 3 to 7 p.m. at The Stacks Lot at Buzzard Point, Washington, D.C.
D.C.'s largest Oktoberfest features unlimited tastings of German and American beers, game areas, live entertainment, a full pour station, raffles, and much more.
---
Middleburg Oktoberfest
Sept. 17 from 11 a.m. to 7 p.m. at South Madison and Federal Streets, Middleburg
Two biergartens, traditional German food, live music, and festival games. Local beer, wine, cider, and traditional German foods will be available for purchase from local vendors. Traditional Bavarian attire is encouraged.
---
Williamsburg Oktoberfest
Oct. 5 from 6 to 9 p.m. at Busch Gardens, Williamsburg
Your ticket includes entrance into the Oktoberfest Section of the Park with unlimited rides on Verbolten, the Swings, Der Autobahn Bumper Cars, and Mäch Tower. Plus, roaming Howl-O-Scream Characters, games, live DJ, 3 drinks (beer or wine) per person, and dinner.
---
Too Cutesy
COTU Rocktoberfest
(See what I mean about too cute?)
Sept. 24 and 25 at Center of the Universe Brewing, Ashland
Get ready to rock with 5 bands, liters of beer, and German fare.
---
Porktoberfest
Sept. 4 from 3 to 8 p.m. at Old Ox Brewery, Ashburn
Celebrate your Labor Day Weekend with the release of our Oxtober Bier, a pig roast, and other delicious pork dishes, live music, games, and more.
---
Tomtoberfest
Sept. 23 and 24 at Lee Park, Charlottesville
Presented by the Tom Tom Foundation, Tomtoberfest features nearly 100 arts, food, and drink vendors, including a craft beer garden with exclusive New Belgium drafts, as well as more than 60 organizations from the technology and creative sectors, and a wide variety of performances and kid-friendly events.
---
Yorktoberfest
Oct. 23 from noon to 5:30 p.m. at Riverwalk Landing, Yorktown
Unlimited beer tastings, live music, and food.
---
While exploring, check out some of the